Chope's Bar & Cafe
16165 S. Hwy 28
La Mesa, NM
(575) 233-3420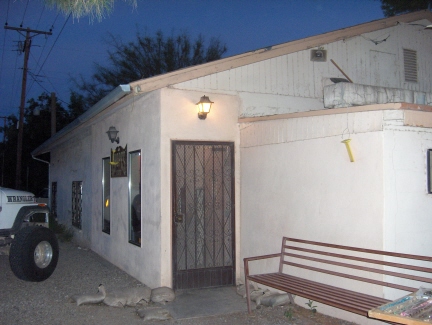 When you approach La Mesa, about 15 miles south of Mesilla on State Highway 28, you get more of a feeling that you are approaching a religious shrine than a small farming village in southern New Mexico. The "holy ground" you are entering is for possibly the best chiles rellenos anywhere (for once the reality lives up to the hype). It is much like going to Mamou, Louisiana to experience the very best Cajun music, except in La Mesa pilgrims are given a gustatory reward (unless by some very bad karma or extremely unkind trick of fate they end up in La Mesa on a Sunday or Monday when Chope's is closed).
At Chope's you enter the realm of world-class roadfood (not the gourmet kind of Mexican food found at Rick Bayless' restaurants in Chicago). It is no longer a question at Chope's of whether certain items are good, it becomes a matter of whether they are the best. I get discouraged sometimes because the salsa at Chope's may not be as good as at some restaurants in Las Cruces, the green chile may not be as fresh some times of the year as at harvest season, or some of the dishes may not live up to what I consider the signature dishes: the chile relleno and the enchiladas. At other restaurants, however, I would hope to find just one outstanding dish, while Chope's has so many excellent ones that any minor disappointments really become insignificant.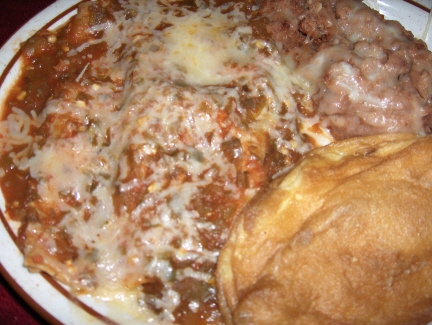 Chope's green enchiladas made with fresh green chiles
The Green Enchiladas are some of the best found anywhere, but may be a little hot for some people. While many restaurants use a puréed green chile to pour on top of the tortillas, Chope's uses large chunks of fresh chiles that demonstrate the texture and flavor of the green chiles that are used. A white cheese is used that is perfectly melted (and it looks as if some yellow cheese is also mixed in). Chiles come locally from the Mesilla Valley, and are at their freshest around harvest season from early August through September. I have been a fan of red enchiladas since the days in my youth when I was able to try them at La Posta, the Pink Adobe in Santa Fe, and other New Mexico restaurants that seemed to establish them as their own style of cuisine rather than just a menu item on a Mexican combination plate. Usually I am not nearly as enthralled about the green variety, which comes from the freshly picked chiles that are not allowed to ripen to their preferred (to me) natural red state. The green chile at Chope's, though, seems to break all of my established tradition in New Mexican food, with the green enchiladas served at harvest time being possibly the most satisfying dish served at the restaurant, even surpassing what I think is the best example of chile relleno that can be found. One thing I like about the green sauce is that it does not come out as a liquid that soaks into everything else on the plate. Wikipedia describes New Mexico style enchiladas as often being prepared fused together on a pan or in a casserole dish and tend to be served in a manner reminiscent of lasagna. I cannot think of a better example of New Mexico style green enchiladas than the ones at Chope's.
The Red Enchiladas are normally a little milder than the green ones, and some of the chile effects can be offset by ordering an egg on top (usually they are perfectly cooked with enough yoke to cover the egg but if you wish you can leave some of the red chile unadulterated by runny egg so as to have a pure chile experience). While I have had many excellent red enchilada experiences in New Mexico, Chope's provides one of the best, and certainly one of the ones that is the closest to the traditional style. While the quality of the green enchiladas is tied somwhat to harvest season, the red ones seem to be equally good year round.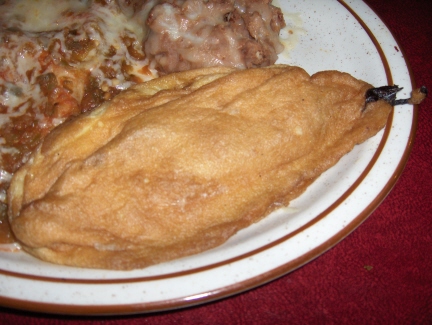 Chope's chile relleno without sauce on top
If Chope's is known for anything it is the Chile Relleno that somehow seems different from those served anywhere else. Of course the freshness comes from its local source in the Mesilla Valley. While the Hatch chiles, grown north of Las Cruces, have become famous worldwide, there is actually quite a large variety of chiles grown in both the Hatch and Mesilla Valleys that include the milder Anaheims that are largely exported and the more spicy varieties that are popular locally. Chope's serves a somewhat flat shaped chile that is quite spicy compared to many of the long skinny ones that are more common throughout the country. While being more spicy does not necessarily make a chile better quality, I do think this is an important criterion for a New Mexico style restaurant. It is also important for the chile to be roasted and prepared properly, as are the ones served at Chope's. I have always been impressed that Chope's does not put a sauce on top. The relleno really does not need to have any type of sauce, since the chile, the cheese inside, and the perfectly cooked batter stand by themselves and provide all the flavor needed for an excellent chile relleno.
For some reason the New Mexican restaurants in the southern part of the state prefer Refried Beans, such as the ones served at Chope's, to the whole beans that are normally found in the north. I do not usually pay much attention to beans that are not northern style, but the ones at Chope's are cooked so perfectly that I think they are almost as good as the whole beans.
The Chips are so nondescript I can barely remember them well enough well enough to write a review when I get home. I have always liked them, though.
The Salsa is usually memorable for being so spicy it almost numbs the taste buds before you even get a chance to try any of the delicious main dishes. I think the freshness, though, is also memorable, and makes it a very good example of New Mexico salsa.
Sopaipillas are light and fluffy, and I think are almost as good as the ones I remember from La Posta. While they tend to be a bit on the greasy side, it is highly recommended to order one or more to go along with the meal, providing a soothing effect to the mouth that counteracts the spicy chile. The enchiladas at Chope's are hot enough that I probably would not attempt to eat a plate of them without the relief of a sopaipilla and honey interspersed between bites of the hot chile (although an egg on top of the enchiladas does provide some soothing effects).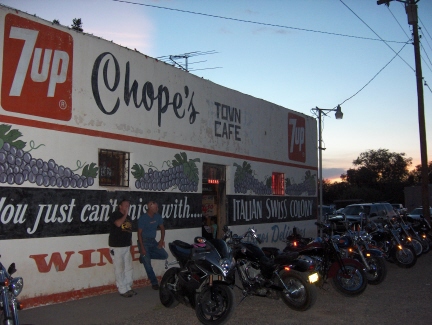 Chope's Bar, located next door to Chope's Cafe, serves the same food as the restaurant
What is now Chope's Bar was the original restaurant, and is located next door to Chope's Cafe. The bar serves the same food as the restaurant, and this can be a great help during the times that the restaurant is full and you have to get on a waiting list for a table. In fact, I think one of the major drawbacks of this place is having to drive for miles deep into the heart of the Mesilla Valley farm country and not knowing if you will face a long wait once you arrive (Chope's does not take reservations, but I'm sure they will fill you in on the estimated wait time if you call ahead of time). My photo of Chope's Bar makes it look as if it is a biker bar, but it is actually popular with a large part of the local population and not just one segment of it.
The restaurant itself is in an old house, and has what I would describe as a less than optimum dining arrangement. The main dining room is adjacent to the kitchen and is small, crowded, noisy, and busy, but also tends to be very friendly where it is easy to talk to the staff and other patrons. The larger dining room is quieter and provides slightly more space between tables, but they are still rather crowded.
The restaurant is open only until 1:30 p.m. for lunch, but the 8:30 p.m. closing time should give most diners enough time to reach La Mesa and wait for a table if necessary.
I have to look hard to find drawbacks to eating at Chope's, but I do believe the enchiladas are too heavily saturated in corn oil. I have come to appreciate the canola oil used at Las Trancas, but overall I still do not think they can cook enchiladas that are quite as good as at Chope's.
Of course the main drawback to Chope's would be if you do not want to eat food that is this spicy for whatever reason, and I can understand that this would be the case with many people. I think just about every visit to Chope's should include a chile relleno, in which I have yet to find a flaw. These are spicy as well, but I think within the range of most people's experience. If you try the relleno,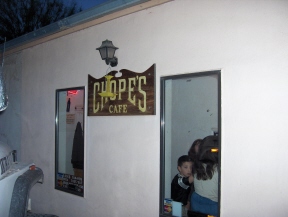 and it does not scare you away, you may want to try the enchiladas as well.
Some combination dinners are available, but I usually find it better to order the items I want, and the price does not come out much higher. Some of the best bargains are available on the lunch specials, but choices are limited.
Coming from El Paso, La Mesa can be reached from IH-10 by taking the Vado exit (NM 227) and going west to Vado. You then turn left on NM 478 and go south less than a quarter mile, where NM 227 again goes to the west (there are few if any signs that give directions). From Vado you should follow NM 227, and keep going straight after it turns into NM 28. Once you are on Hwy 28 La Mesa is the next town.
From Las Cruces or Mesilla it is easy to reach Chope's--just take NM 28 south.
Go to Index
RESTAURANT DETAILS
RATING: 25
Cuisine: Mexican New Mexican
Cost: $$
Hours: Closed Sun. & Mon.
Cooking Oil: Vegetable
Smoking: No Smoking
Alcohol: Beer, Wine, Mixed Drinks
| | |
| --- | --- |
| Chile Index: | |
Most Recent Visit
Aug. 11, 2007
Number of Visits: 10+
Best Items
Chiles Rellenos, Green Enchiladas, Red Enchiladas
Special Ratings
Chiles Rellenos:


Red Enchiladas:


Green Enchiladas:


Beans:


Rice:


Chips:


Salsa:


Sopaipillas:

MORE ABOUT THIS WEB SITE