El Comedor Restaurant (Closed)
2190 Avenida de Mesilla
Mesilla, NM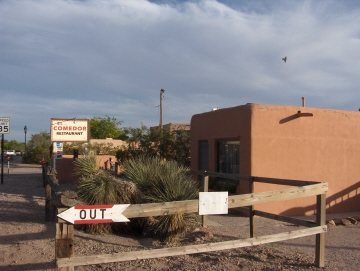 Mesilla, just outside Las Cruces, is a historic village where tourists flock to La Posta and other well known restaurants as much for the atmosphere as the food. Many of the locals, however, head to El Comedor to experience some "real" New Mexican food. While I think El Comedor offers a good example of New Mexican food typical of the southern part of the state, it does fall short in some areas.
Starting out with chips and salsa, these are better than at most other New Mexican restaurants-- especially the perfectly crisp and golden brown chips.
Although it is always hard to choose between red and green chile, I think the red here is a good choice. The Red Enchilada turned out to be the best dish I tried. It contained a mixture of white and yellow cheese, had more than adequate sauce on top, and was flavorful but not too spicy.
The Chile Relleno was made with a Hatch chile-- pretty good except the egg batter was kind of tasteless. Also I didn't think the chile (red or green) poured on top was the best style for a relleno, although it is common in the southern part of the state. The relleno was very spicy, and is the primary reason for this restaurant's five-chile heat index.
Normally I would not try the Beef Taco but the waiter made a mistake in my order and brought it instead of chicken. I thought the taco was good, as was the Chile Verde, although the amount of chile verde that comes on the combination plate is really just enough to sample.
The meat items seem to be the best things to get here, enchiladas are average for the Las Cruces area, chiles rellenos are below average, and the service was not good the time I went.
Go to Index
RESTAURANT DETAILS
RATING: 20
Cuisine: Mexican New Mexican
Cost: $$
Smoking: No Smoking
| | |
| --- | --- |
| Chile Index: | |
Most Recent Visit
Mar. 23, 2005
Number of Visits: 1
Best Items
Red Enchiladas, Chile Verde, Chips
Special Ratings
Red Enchiladas:


Chile Relleno:

With Sauce
Beef Taco:

Ground Beef
Chile Verde:


Chips:


Salsa:

MORE ABOUT THIS WEB SITE