Important Notice:
An update of this review can be found at okgourmet.com .
Los Mariachis
2790 Avenida de Mesilla
Mesilla, NM
(575) 523-7058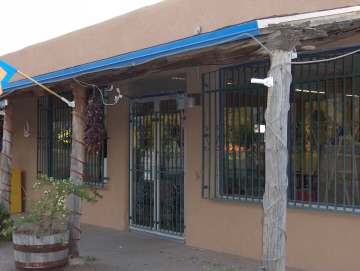 Probably the best way to describe Los Mariachis Restaurant is "New Mexico meets Mexico." The menu is similar to just about any Mexican restaurant in El Paso or Ciudad Juarez, but it is prepared "New Mexican" style, i.e. using local New Mexico chiles.
Breakfast, lunch, and dinner are served, with a long list of traditional Mexican items on each menu. The restaurant does not dilute the red and green chile, or add comino and other spices as is the custom in many restaurants south of the border, but the Mexican dishes are provided to give more variety and offer items that are not as spicy as the New Mexican food.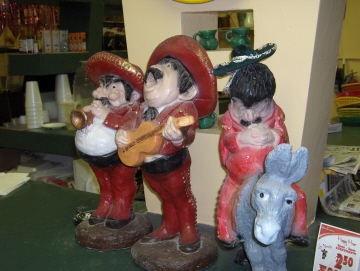 I can relate to the mariachi on the right, who seems to have run out of energy
Located near the southern edge of Mesilla, New, Mexico, there are two major reasons that few people have probably tried Los Mariachis other than locals. One is the nationally known La Posta Restaurant a few blocks to the north across from the plaza in Mesilla. While La Posta is reputed to be one of the premier examples of New Mexican cuisine, in my opinion it is simply a way for tourists to experience this type of food for the first time without getting anything remotely spicy. At the other extreme is Chope's, a few miles to the south on New Mexico Highway 28, that serves some of the spiciest, most hard core, and best New Mexican food in the entire state.
While many visitors to both of these restaurants probably pass by Los Mariachis, I think there is good reason to consider Los Mariachis as an alternative to the more popular restaurants, particularly by those who are visiting La Posta thinking they are getting true New Mexican food. Some of the items at Los Mariachis may not be up to the standard set by Chope's, but the red chile is probably on par, with the green chile not far behind. There is also the possibility that Chope's may be closed, and an alternative may be needed to find true New Mexican food (although I would also consider Nellie's in Las Cruces or a couple of other Mesilla restaurants for which I have written reviews).
Although I have probably convinced just about everybody to go elsewhere, my opinion is that Los Mariachis serves some truly outstanding New Mexican food based on what I have tried so far. The Red Enchiladas had a deep red color and a good chile heat index--I almost gave it a 5-chile heat index, but it's not quite that hot. One of the things I appreciate about the food here is that it does not leave a greasy or corn oil aftertaste--you can experience the taste of the chile and the cheese as they should be. The cheese is a mixture of yellow and white, helping to bring out the best possible taste of the chile.
I ordered a Chile Relleno partly to test the green chile that they put on top. The green chile was not quite puréed, but cut into small chunks (sort of halfway between Mexican and New Mexican styles). The large stuffed chile tasted as if it came from the Mesilla Valley, but the egg batter was greasy and not as good as others in the Las Cruces area. This has been my only real disappointment at Los Mariachis, but the disappointment was only relative to the other restaurants in the Las Cruces area that serve some of the best chiles rellenos in the country.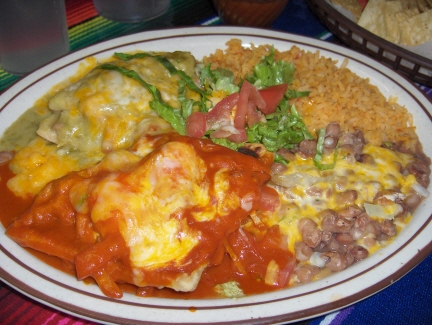 Stuffed sopaipillas, one red and one green, make an almost perfect meal of New Mexican food
Stuffed Sopaipillas are another way to try traditional New Mexican food, with sopaipillas substituted for the corn tortillas that come with the enchiladas. I made several substitutions in my order, including deleting the ground beef and ordering one sopaipilla with red chile on top and the other with green chile. I will have to say that everything came together perfectly for me on this dish, with both the red and green chile being outstanding (although I thought the red was better). The whole beans I requested instead of the refried beans that are normally served were an excellent base material that served to cool down my mouth from the fiery chile. The green chile definitely rates Los Mariachis a "five chile" heat index score, although as I stated previously, the red chile is not quite as hot.
The Salsa is one of the best around Las Cruces, and the Sopaipillas were quite good also. Sopaipillas are not served with the stuffed sopaipilla plate, but I have had them with other meals.
I did not try the chile rojo, but from seeing it on other tables I think this would be a very good choice.
Los Mariachis serves the same type of agua fresca drinks typically found in restaurants in Mexico, with the same type of refreshing but not too sweet flavor. The Limeade I ordered bore the evidence that the fresh lemons and limes I observed in a large pile were being put to good use. Also available is horchata and melon (canteloupe).
Los Mariachis was clean and the service was excellent. This is the kind of down home place that the locals would frequent even if the food were not as good as it is. I do understand the popularity of La Posta in that it has a great ambiance for enjoying New Mexican food, although New Mexican food purists will most likely enjoy Los Mariachis much more.
As far as the food I have tried at Los Mariachis, I think it demonstrates why New Mexican food is one of my favorite cuisines.
Go to Index
RESTAURANT DETAILS
RATING: 24
Cuisine: Mexican New Mexican
Cost: $$
Hours: Open Daily
Cooking Oil: Vegetable
Smoking: No Smoking
Alcohol: Beer
Special Features: Serves breakfast
| | |
| --- | --- |
| Chile Index: | |
Most Recent Visit
Apr. 22, 2007
Number of Visits: 2
Best Items
Stuffed Sopaipillas, Red Enchiladas, Salsa
Special Ratings
Red Enchiladas:


Stuffed Sopaipillas:


Chile Relleno:

With Red or Green Chile
Beans:


Rice:


Chips:


Salsa:


Sopaipillas:


Limeade:

MORE ABOUT THIS WEB SITE