Note:&nbsp I have information that Bangla Bazaar moved to Edmond but it is not confirmed.

The search for authentic ethnic food does not always lead to traditional restaurants, as is the case with Bangla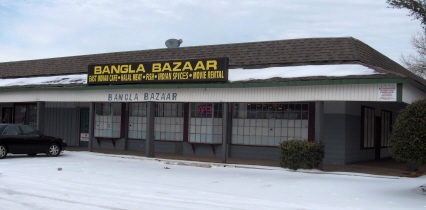 Bazaar. While primarily selling groceries from Pakistan and Bangladesh, Bangla Bazaar rents movies and seems to be a popular gathering place for the city's community of immigrants from these and other countries.
Bangla Bazaar also has a small kitchen in the back of the store where Biriyani Chicken is prepared and served as either a take-out dish or for dining in the store. The delicately seasoned and marinated chicken is served with a plastic fork, this being an ample enough tool to extract the chicken meat which, once you get past the skin, practically falls off the bones. I understand that this is a delicacy in Bangladesh and Pakistan, and it would be hard to imagine any versions of the dish that are better than the one served here.
The Biriyani Chicken comes on a bed of rice that also has a flavorful spice, and would probably make a pretty good meal by itself.
Some other dishes are available at lunch, mostly chicken, that I have not yet been able to sample.
Although it is possible to eat in the store, Bangla Bazaar is not really set up as a restaurant. There is one large table that is usually occupied by the owner's family, except when customers need to consume orders on the premises. Sodas and yogurt drinks are available from the cooler, but otherwise no drinks are served. The owner says he has plans to provide a full restaurant with individual tables in August 2006, along with an expanded menu. I think it would be well worthwhile to check it out at that time.
In the meantime some very unique and delicious dishes are available now. The Biriyani Chicken is a little spicy, as I suspect are the other dishes that are served. Although this is not actually Indian food, it satisfies my craving for Indian food better than a lot of the dishes served at the city's Indian restaurants. While this falls under the "fast food" or "take-out" category of food, the flavor and quality are anything but the "fast food" variety. If you are looking for something a little bit different, but delicious, this would be a good bet.