Important Notice:
An update of this review can be found at okgourmet.com .
Bellini's Ristorante & Grill
6305 Waterford Blvd.
Oklahoma City, OK
(405) 848-1065

A number of years ago I thought Bellini's had the best Italian food in Oklahoma City, while Tommy's (a restaurant that was located at N.W. 122nd St. & May Ave.) had the best pizza. It was not terribly surprising that both restaurants were good, since they both had the same owner. I was surprised when Tommy's was turned into Poblano Grill, a restaurant that specializes in Tex-Mex food that has yet to cause me anywhere near the excitement that Tommy's pizza used to do. I am glad, though, that Bellini's is still going strong.

The owner's change of concept at Tommy's seemed to go along with a decline in the food at Bellini's. I found it harder to find great food at Bellini's, and the design of the restaurant was such that it was almost impossible to avoid cigarette smoke anywhere in the restaurant or outside patio (the latter would have been a pleasant expeience next to a duck pond if it were not for the smoke). The high prices made it less attractive to go back for another try.

Sometime between my visits in 2004 and 2008, however, Bellini's was remodeled, breaking up the one large room into smaller dining sections. A new ordinance prevented smoking, and it seemed like a totally different restaurant. The food also seemed much improved, leading me to think the owner had changed chefs along with the restaurant's interior. I do not know if this is the case or not, but I experienced food that was as good as that which brought me to Bellini's and Tommy's in the "old days." Whatever happened to Bellini's (whether real or only in my perception) has now been corrected and it has reclaimed its place as one of the city's great restaurants.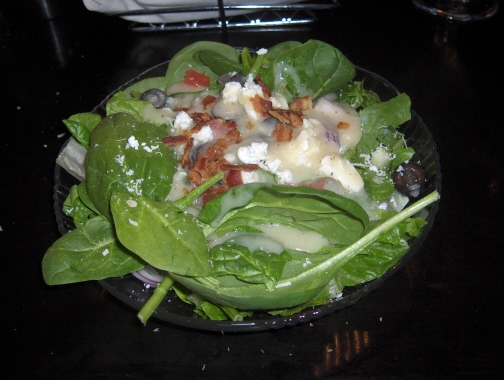 Bellini's salad is one of the best
The salad is not usually my main reason for going to an Italian restaurant but the one here rises well above the norm. Bellini's House Salad includes fresh greens that are some of the best in any salad around here. The dressing was good and pieces of fresh bacon (not bacon bits) rounded out the flavors.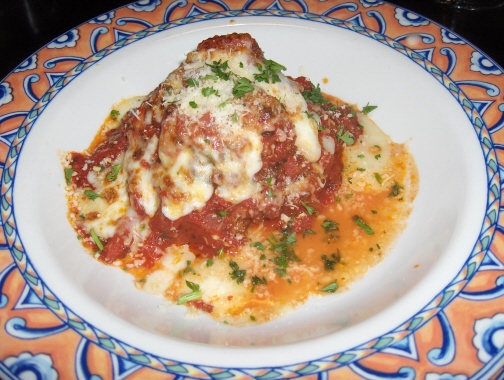 Lasagna at Bellini's split into a half order
Lasagna used to be my favorite dish at Bellini's, and I am happy to report that I think it is still as good as I remember from when the restaurant first opened. The cheeses were excellent and the sauce consisted of tomato chunks that gave it a fresher and more vibrant taste than the typical tomato sauce. Some herbs were evident but I am sure it had additional ingredients that contributed to its flavor. The meat was made with a beef and pork mixture, which is standard for lasagna (or at least the ones I think are especially good). I still think Vito's has better tasting meatballs, but the rest of the lasagna seemed just as good or better at Bellini's. At least I enjoyed the lasagna here about as much as anywhere in the city.
Prices are fairly high at Bellini's, but plates are large enough to be split comfortably between two persons (at least for my own appetite), as was the lasagna shown in the photo. A lunch menu is also available that I suspect serves smaller portions.
I have seen an improvement of the lasanga in recent years to the point where the dish is as I remember it when Bellini's first opened. This is probably an indicatation that the other food has improved as well. I remember Tommy's having quite good dishes besides the pizza, and the expanded menu at Bellini's probably includes some of these dishes as well. The chefs at Bellini's appear to be bringing out the best from these recipes, so I am expecting great things from this restaurant.
Go to Index
Restaurant Web Site
RESTAURANT DETAILS
RATING: 24
Cuisine: Italian
Cost: $$$
Hours: Open Daily
Accessible: Yes
Smoking: No Smoking
Alcohol: Beer, Wine
Most Recent Visit
Jan. 7, 2008
Number of Visits: 7
Best Item
Lasagna
Special Ratings
Lasagna:


Salad:

MORE ABOUT THIS WEB SITE