Important Notice:
An update of this review can be found at okgourmet.com .
Charm Thai Cuisine
5805 N. W. 50th St.
Oklahoma City, OK
(405) 792-2153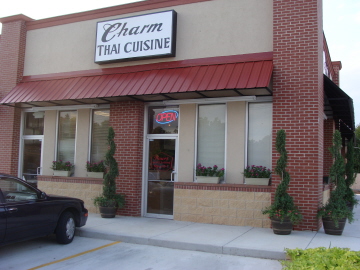 Charm Thai Cuisine is small, but as the name may imply, they make the most of the space by providing a modern, clean, and comfortable setting. The restaurant had been open for only a short time when I first visited in 2009, but it had already gained a reputation through verbal reports and Internet postings that this was one Thai restaurant that was a "must try."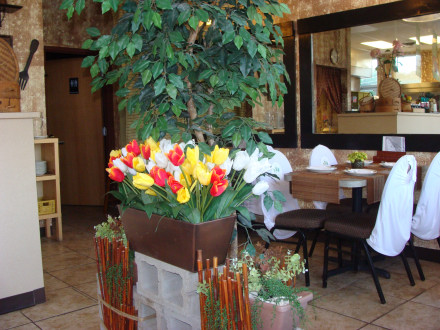 Charm Thai's dining room
I already had high expectations for Charm Thai because it is part of the Sala Thai group of restaurants (which also includes Spoon Thai on Britton Rd. and I understand they recently opened Clay Pot at N.W. 36th and May). Sala Thai is probably my favorite long time Thai restaurant in the city, and is notable not only for serving authentic food but for serving it long before most of the city's other Thai restaurants joined the trend. The restaurants in the Sala Thai group have different cooks, but they all follow the owner's original recipes that have been served since the first restaurant opened.
The cook at Charm Thai used to be at Little Sala Thai (now Spoon Thai) on Britton Rd., and was the first to Cook Sala Thai's recipes at a satellite restaurant. I do not know if this makes her a better cook than the ones at the other restaurants, but since I have been going to both Little Sala Thai and Charm Thai I have found the food to be very consistent with the original restaurant.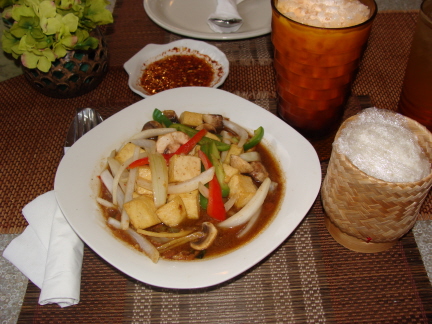 Thai ginger (pad khing) with tofu
I will have to admit that I almost never have a Thai Ginger (pad khing) dish I do not like, so this may not be the best test for a Thai restaurant. However, the fact that everything with the plate here was up to expectations is probably a good sign that the rest of the food will be equally impressive. Visually I am not very fond of brown sauce because I have had too many Americanized dishes that have the same appearance. However, the spices and flavor were good, and the Thai ginger plate had what I judged to be a true Thai taste. The chiles served on the side were better than most. It was hard to judge much from the tofu since it was good, but much like that which is served in most other restaurants. The portion looked small, but came with a substantial serving of rice. Overall I liked the dish here about as well as any I have tried.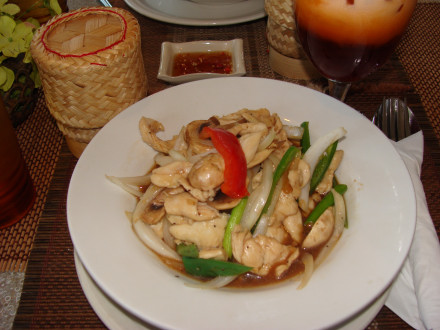 Fresh chili
When I ordered the Fresh Chili (number C6 on the menu) it was mostly to try something new. The menu at Charm Thai does not include the Thai names for dishes, so I assume a dish such as "Thai Chili" is probably a creation of the chef. In this case it came with a "house special sauce," and this was probably the best feature of the dish. The chicken was also good, but I felt as if it should have had more vegetables mixed in. The dish was advertised as having "fresh basil" but it had very little basil flavor. There were jalapeno chiles, but I mostly used the chile sauce supplied on the side to give it some heat. It was good except that I thought it would be more of a basil dish.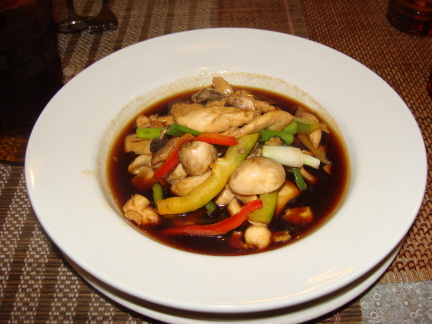 Teriyaki chicken
Teriyaki Chicken is a dish I sampled so I did not get the full experience of having it for a meal. However, it seemed to be very much like the Thai Chili but sweeter and without as much spice. I think this is more of a traditional Japanese dish than a Thai one, but I have had similar dishes in Japanese restaurants that I liked better. The chicken and vegetables were good, however.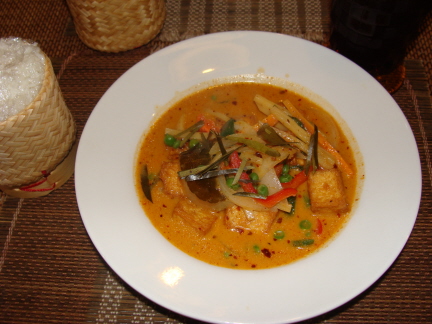 Panang curry with tofu
Panang Curry is one dish that was noticeably better here than at other Thai restaurant in the city. In fact, the curries in general have been one of the best items at Sala Thai over the years. The Panang curry had a particularly good flavor and good consistency-- the best way to eat the curry was with a spoon but it was not as thin as many that I find. There was also a little more substance to the tofu and vegetables than I find in many restaurants.
The Thai Tea was very good and tasted home made.
I was impressed with both the quality and flavor of the food, and I think if you like Sala Thai you will also like Charm Thai. My main criticism is that the menu is not always very descriptive of the actual dishes. Also some dishes such as the teriyaki chicken do not taste very much like traditional Thai food I have had in other restaurants (but the staff will make recommendations if your goal is to order the most authentic Thai food).
I was very glad to find out that the cook can prepare dishes with a spice level that is balanced just right for the flavors and ingredients of the individual dish (as experienced Thai chefs are able to do). I usually find the results of this type of cooking much more satisfying than when I have to guess how many stars I should tell them to prepare it.
The fact that Charm Thai is competing against several other very flavorful Thai restaurants, though, is a good situation for Oklahoma City. Charm Thai is one of the better restaurants in a very good group.
Go to Index
RESTAURANT DETAILS
RATING: 23
Cuisine: Thai
Cost: $$
Hours: Open daily except Sun. evening
Accessible: Yes
Tea: Thai tea
MSG: No
Smoking: No Smoking
Most Recent Visit
Sep. 21, 2011
Number of Visits: 3
Best Items
Thai Ginger, Panang Curry, Thai Tea
Special Ratings
Thai Ginger:


Panang Curry:


Fresh Chili:


Teriyaki Chicken:


Thai Tea:

MORE ABOUT THIS WEB SITE