Chelino's Mexican Restaurant
9501 N. Council Rd.
Oklahoma City, OK
(405) 728-2770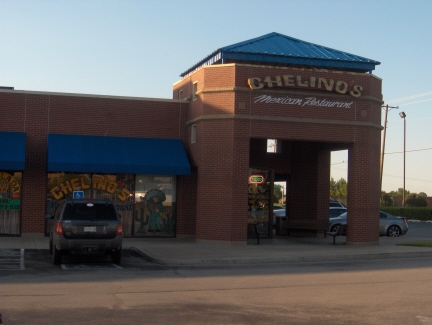 Note: In 2013 Chelino's moved from its old loction on Council Road to its new location at 6509 Northwest Expressway
I used to have a good guide to a Mexican restaurant's quality and authenticity before I even made my initial visit by whether it was located north or south of Interstate 40. All the restaurants in north Oklahoma City seemed to exclusively serve Americanized Tex-Mex food, while most of the places on the south side had authentic Mexican dishes if you knew what to order. Now things have changed quite a bit, and most restaurants (at least the ones north of I-40) serve both true Mexican food and the anglosized versions of certain dishes.
I did not know what to expect at Chelino's, though, since its eleven locations are scattered throughout both the north and south sides of the metro. The menu is the same at all restaurants, and it does not seem to serve "special food" at the S. Robinson location that is not available at the other restaurants. While other Mexican "mini-chains" serve food in the north side branches that is so toned down it is hardly recognizable as Mexican food, Chelino's seems to have successfully exported the "real deal" to the north side.
Chelino's made it a little bit easier for me by offering a section of the menu with the heading "100% Estilo Mexico," listing the same type of dishes I have commonly found at restaurants in El Paso, Austin, and San Antonio that cater to Hispanic customers. I found that if you ask the waiters for recommendations at Chelino's they typically steer people to the Americanized dishes, but with 16 items listed in the "Mexican style" menu, and probably others elsewhere on the menu, there is no reason to end up with "dumbed down" Mexican food unless that is what you wish.
I have had some previous experience with "dumbed down" food at the Chelino's in Edmond when my desire was to eat only meatless dishes. This taught me: (1) the enchiladas and other American style Tex-Mex dishes at Chelino's were not as good as at other restaurants in OKC, and (2) Chelino's has very limited choices of vegetarian dishes.
The comments my friends made about Chelino's were that the meat dishes were the restaurant's specialty, so it stands to reason that I might be disappointed ordering something else. It does serve seafood which I have not tried, but otherwise I think the best that could be done to avoid meat would be to order the guacamole salad.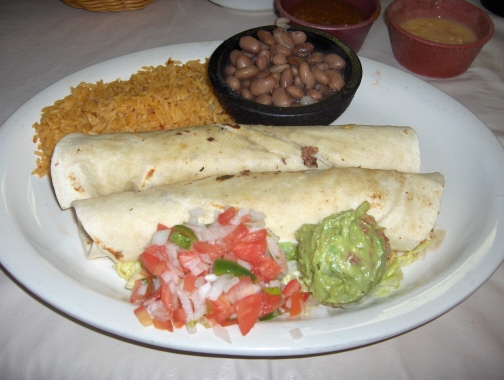 Tacos al carbon with flour tortillas
Since I now do not mind ordering meat, I decided to try the Tacos al Carbon. These were suggested as one of the recommended taco dishes (once I let them know I wanted "Mexican style" food). The two tacos served were made with carne asada stuffed in flour tortillas with guacamole and pico de gallo on the side. Fajitas are made with the same type of marinated beef, but I was told they had additional spices while the tacos al carbon would have more of a pure meat flavor. I thought the tacos al carbon were quite good, and I enjoyed the "extras" served on the side. My preference is to use corn tortillas, and these were provided at no extra charge (the tacos came out of the kitchen on flour tortillas). The tacos al carbon were not quite equal to the better ones served in El Paso and along the border, but they were close.
The Rice was very good, fresh, and flavorful. This was one of the few versios I have tried in Oklahoma that was enjoyable in itself rather than simply providing filler.
Whole Beans are available as a substitute for refried beans, and I enjoyed these as well.
The Salsa was not as "wimpy" as most in OKC, and had a good kick to it. Unfortunately, it did not have a very good flavor, being made seemingly mostly of tomatoes and jalapeños. Chelino's also had a more authentic salsa served on request that had a much better flavor, but it was so spicy I could not eat much of it. It was good to put on the tacos, but I thought if too much was consumed with the chips before the meal it would numb the taste buds to the point that the flavors of the food could not really be discerned (I hope most readers realize that this may be a slight exaggeration, but in this case I do not think it is too far off).
The Queso served before the meal was better than average, but was still not what I would call true Mexican style.
Sopaipillas are served free as part of all meals, but I think I can classify them as the worst ones I have tried in OKC. With as many employees as Chelino's has, I think they should send somebody to New Mexico to learn how to make good sopaipillas.
Overall, though, I was happy at Chelino's. Prices were not terribly high, and the tacos were good. My friends were right in saying that the meat dishes here are worthwhile.
Go to Index
RESTAURANT DETAILS
RATING: 19
Cuisine: Mexican
Cost: $$
Accessible: Yes
Smoking: No Smoking
Alcohol: Beer
Additional Locations: 10 in the OKC metro
| | |
| --- | --- |
| Chile Index: | |
Most Recent Visit
Jul. 13, 2008
Number of Visits: 1
Best Items
Tacos al Carbon, Rice
Special Ratings
Tacos al Carbon:


Rice:


Guacamole:


Chips:


Salsa:


Salsa:

special
Sopaipillas:

MORE ABOUT THIS WEB SITE