Cocina de Mino Restaurante Mexicano (Closed)
12325 N. May Ave.
Oklahoma City, OK


Cocina de Mino is a mini-chain of Mexican restaurants with a large restaurant in south Oklahoma City (a review is on this web site), and three suburban locations. It used to be that I could count on any south side Mexican restaurants being better quality and less Americanized than their counterparts elsewhere in the city, but I am not sure this is the case any more. While the north side of OKC was the domain of dumbed down Tex-Mex food and south OKC was where I had to go for anything authentic, an increased popularity in "real" Mexican food has led to expanded options on the north side.

Cocina de Mino offers the same menu at all of its locations, so at least in theory anything can be ordered at this restaurant that is available on the south side. How well the different restaurants do in execution of the food is another matter, but at least customers have more of a choice between Tex-Mex and authentic northern Mexican food. Items have been included on the menu such as tacos, steaks, fish fillets, and Mexican style eggs that would be similar to Monterrey and northern Mexico style cuisine. While some restaurants like to list the authentic dishes at the end of the menu, Cocina de Mino has many of them prominently displayed as "Specialties" and this is a good sign.

Cocina de Mino has not made a complete break with American style Mexican food because one of its most popular features is the chips, salsa, and queso that are automatically served before the meal, as well as the "complimentary" sopaipilla served for dessert. Of course they are not really "complimentary" since the prices at Cocina de Mino are quite a bit higher than would be found at traditional Mexican restaurants. I can enjoy chips and salsa as much as the next person, but it is disappointing that most of these "free" items are so mediocre that the experience does not come anywhere close to eating Mexican food in El Paso or other cities in the United States where very good Mexican food can be easily found.

Having said that, though, the rest of my experience at Cocina de Mino was fairly enjoyable, recognizing that we are not close to the border or in a traditionally strong area for Mexican food.

I should start with an explanation of the "chile index." The food itself was not very spicy, but Cocina de Mino offers a home made spicy salsa that I thought was excellent and spicy enough to turn some otherwise bland dishes into good ones. Some of the food served had seasonings that were spicier than in other Oklahoma restaurants, although someone from New Mexico would probably not describe it as "spicy." Anyway, I thought the spice level was appropriate for the food served.
Tacos al carbon
Tacos al Carbon are an item that is generally served in authentic Mexican style restaurants, and which has only recently become as popular in Oklahoma City as I have seen in other places. In Mexico the tacos al carbon and fajitas are different, with different marinades being used. I have not tried the fajitas at Cocina de Mino, but the tacos al carbon were very good with the meat being good quality (I ordered chicken). The meat had a smoky flavor that indicated it was cooked over charcoal, and was quite interesting. The pico de gallo and Guacamole that came with the tacos were rather bland, but the spicy salsa did the trick of enlivening the flavor. The waiter had recommended the beef tacos, so there is a strong chance they might be even better than the chicken.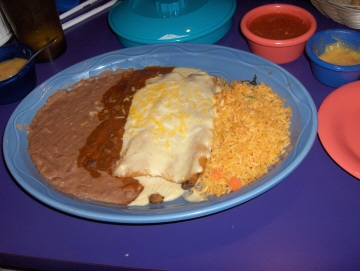 Cheese enchilada, chicken enchilada, and spinach enchilada
The enchilada plate came with the customer's choice of enchiladas, and I sampled three of them. The Cheese Enchilada was a good Tex-Mex version, with good cheese inside and a flavorful chile con carne sauce on top (it is the dark colored one on the left in the photo). Even though I like the fact that Cocina de Mino offers food other than Tex-Mex dishes, this Tex-Mex classic was one of the best I have tried in Oklahoma City.
The Chicken Enchilada was bland, and I did not think even the spicy salsa could save it. The default at Cocina de Mino is to serve sour cream on top, and to me this is not a real enchilada (the word "enchilada" comes from "chile," and I think this should be used instead of sour cream).
The Spinach Enchilada had flavorful spinach inside, and it made a fairly good combination with the sour cream on top.
The Refried Beans were better than usual, but the Rice was about average.
A complimentary Sopaipilla was made with whole wheat dough, and was fairly good. It was covered in powdered sugar, and tasted fresh rather than processed. I would rather that they just skip the whole thing, though, and charge lower prices for the food (a better dessert would have been sherbet as is popular in south Texas, and if Cocina de Mino cannot serve something like this we can always go to Braum's for some excellent flavors).
Cocina de Mino does not serve aguas frescas such as lemonade or horchata, so I do not think it can be taken very seriously as an authentic Mexican restaurant until it does. Still, though, the menu selection was quite good compared to the way things used to be in Oklahoma City.
Go to Index
RESTAURANT DETAILS
RATING: 18
Cuisine: Mexican Tex-Mex
Cost: $$
Accessible: Yes
Additional Locations: 6022 S. Western Ave., 3830 N. MacArthur, 618 S. Air Depot (Midwest City)
Smoking: No Smoking
Alcohol: Beer
| | |
| --- | --- |
| Chile Index: | |
Most Recent Visit
Feb. 6, 2009
Number of Visits: 1
Best Items
Spicy Salsa, Tacos al Carbon, Cheese Enchilada
Special Ratings
Cheese Enchilada:


Chicken Enchilada:


Spinach Enchilada:


Tacos al Carbon:


Rice:


Refried Beans:


Salsa:

Spicy
Chips:


Queso:


Guacamole:


Flour Tortillas:


Corn Tortillas:


Sopaipillas:

MORE ABOUT THIS WEB SITE