Cous Cous Cafe
6165 N. May Ave.
Oklahoma City, OK
(405) 286-1533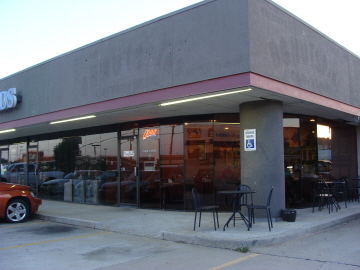 Cous Cous Cafe was so new on my initial visit in January 2008 that it did not even have a sign in front indicating its location (this seems to be working for them, though, since there is still no sign in 2010). For those who have trouble finding Cous Cous Cafe, as I did at first, it is in a small shopping center on May Ave. about a block south of N.W. 63rd between Golden Corral and the old Denny's.
Cous Cous is also interesting because it is very near Zorba's Restaurant, with Cous Cous Cafe on the west side of May Avenue a short distance (maybe two blocks) north of Zorba's. My initial belief was that both restaurants offered Middle Eastern food and would be in competition with each other. Both have sandwiches and familiar items such as falafel. Zorba's is a large restaurant with a bar that caters to families and large groups, while Cous Cous is rather small with a few tables and no alcohol is served. Although Cous Cous looks more expensive from the decor, I do not believe it is actually priced any higher than Zorba's by the time you add up all the items that are typically ordered to make a full meal.
The main difference in the two restaurants, though, is in the food. Cous Cous Cafe serves food from Morocco while Zorba's has dishes from "Spain to Cyprus" (but I suspect some of the food at Zorba's is fairly Americanized, based on my experiences at Mediterranean restaurants in other cities). I am not an expert on Morocco, but I would be very surprised if the cuisine found there is very far different from the food served at Cous Cous Cafe.
Staying true to tradition includes serving French Bread rather than pita at Cous Cous Cafe. The bread tasted home made, and I was happy this was chosen to go with the meal (although I have not been served bread since my initial visits in 2008, so I do not know if it is still available).
The food choices at Cous Cous come from the menu (listed on the restaurant's web site) or daily specials. The owners said there are different nightly specials throughout the week, but they are repeated each week. They plan to add more specials in the future, and to keep the ones they already have.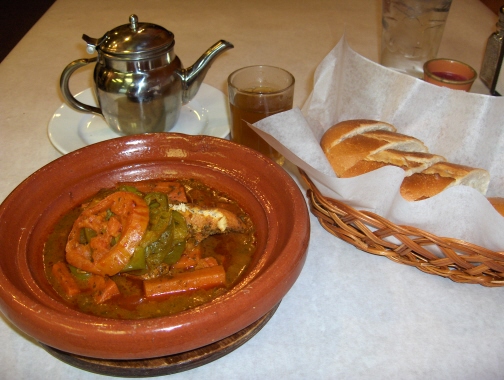 Tajine plate of cobia fish fillet
My initial visit on a Saturday night had two specials, lamb or fish served in a tagine dish where the meat was served in sauce that resembled a stew. The one I chose was the Cobia Fish Fillet Tagine with a white, distinctly non-fishy tasting, mild fish (a great find for an inland city!). Cobia is popular in Morocco, and I think the tagine dish must be a traditional recipe. The sauce was made with prune, apricot, and honey, but was not as sweet as this may sound. Instead, this was one of the most well balanced, flavorful sauces I have ever tried, and paired with an excellent fish, made one of the all time best Mediterranean style dinners I have experienced.
There was no salad served with the meal, but with vegetables such as carrots and tomato cooked in the tagine, the dinner covered just about all of the food groups.
A Vegetable Tagine is also available, providing even larger quanties of vegetables. I thought it was quite good as well, but it seemed that this dish was really made to have a meat or fish to balance the vegetables.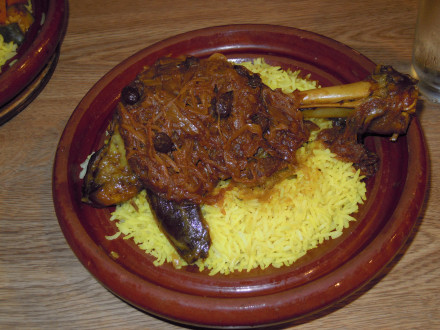 Lamb special



On a later visit I was able to try the Lamb, a dish consisting of a very tender "fall off the bone" leg of lamb with a sweet sauce on a bed of rice. It was listed as a daily special, and still has not made it to the menu, but I believe it is served on a regular basis. I did not write down whether or not it was called a "tagine." It seemed to have the same type of sweet sauce as the fish tagine, but did not have the carrots and other vegetables served in the tagine. Whatever it was called, it was quite good, and was one of the better dishes I have tried at Cous Cous.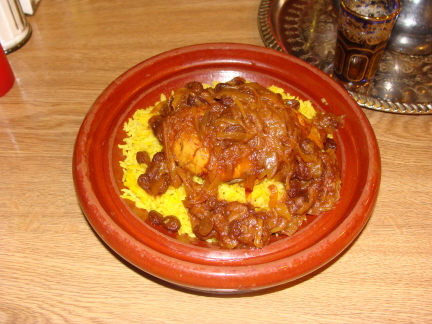 Chicken tagine
Still not having exhausted the tagine choices, I ordered Chicken Tagine on a subsequent visit. This was probably as good as the fish, but there was something about the cobia being so different from the typical Oklahoma fish that made it my favorite of the tagines tried here. Still, I would recommend the chicken as well. Like the lamb it did not come with carrots or other vegetables, but had a flavorful sweet sauce.
Cous Cous offers a few dishes that I think are not Moroccan, but are fairly typical and probably expected in Mediterranean style restaurants in the U. S. Some of the ones I have sampled have not been exceptional, and my choice would be to go to other restaurants that specialize in this type of food while mostly sticking to the Moroccan cuisine at Cous Cous Cafe.
One definite highlight of Cous Cous Cafe was the Moroccan Tea made with a traditional recipe of green tea and mint. The tea was slightly sweetened, and evidenced all the balance of flavors I found in the food. To me this tea is a special treat, especially since some other Mediterranean restaurants that used to serve similar tea have now discontinued it.
Dessert items have always been too tempting to pass up, and all are freshly baked from the kitchen. There is a greater variety than the traditional baklava found at many Mediterranean restaurants.
The down side to Cous Cous Cafe is that there is not a lot of choice in the menu items, and even less choice if you are looking for non-meat dishes. I am very impressed with the tagine dishes, but so far I have found the restaurant to be somewhat one dimensional by not having other items that I think are as good as this one. I believe they will eventually add other dishes of similar quality such as the leg of lamb that is currently served as a "special," but seems to be available much of the time.
Even though choices are limited, there are several items that fall into my "special meal" category. The hot Moroccan tea makes it even better. I would highly encourage people to try Cous Cous Cafe if they can. The friendliness of the staff, comfortable decor, and reasonable prices for good quality food are additional reasons I can recommend it.
Cous Cous Cafe may be a little hard to find, especially since there is no sign with its name either on the building or on the street. It is worth spending some time looking for it, though, if necessary.
Go to Index
RESTAURANT DETAILS
RATING: 23
Cuisine: Moroccan
Cost: $$
Accessible: Yes
Smoking: No Smoking
Alcohol: No
Most Recent Visit
Oct. 23, 2010
Number of Visits: 4
Best Items
Lamb, Cobia Tagine, Moroccan Tea
Special Ratings
Lamb:


Cobia Tagine:


Chicken Tagine:


Vegetable Tagine:

Reviews
OKC Talk
EatAroundOKC


MORE ABOUT THIS WEB SITE