Important Notice:
An update of this review can be found at okgourmet.com .
Caffé Pranzo
9622 N. May Ave.
Oklahoma City, OK
(405) 755-3577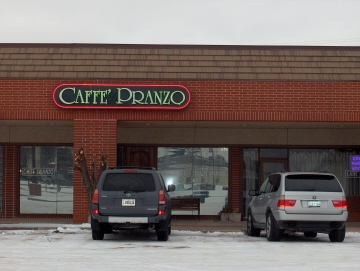 I have been told by some owners of Italian restaurants that there is no such thing as "Italian food," but rather that each region in Italy has developed its own cuisine with certain specialties that seem to set it apart from other parts of the country. Perhaps this is why each Italian restaurant in the U.S. seems to have its own special dishes, its own twist on the food it serves, and its own way of preapring sauces and other essential ingredients.
Caffé Pranzo does indeed have certain dishes that stand out, and this is what has made it one of my favorite Italian restaurants. The quality of the food indicates that there are probably several more outstanding dishes that I have yet to discover.
Prices are a little higher than at most restaurants, and it would probably be classified as one of the city's "special occasion" restaurants (although not to the point that dressing up would be necessary). While some Italian restaurants in town seem to cater more toward families with pizza for the bambini and entrées for the adults, Caffé Pranzo is a more quiet and intimate place geared for a leisurely meal.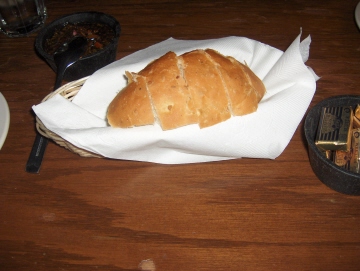 Complimentary bread is given to each table
It usually takes time for the meal to be prepared, with the employees keeping a watchful eye to ensure that everything is done correctly. The wait is made less burdensome by fresh bread and a tangy and quite unique olive oil mixture for dipping. Customers are not just given a slice or two of bread, but a whole loaf, and it is quite good.
Several appetizers are available, and I was told the onion soup was quite good. The menu on the restaurant's web site lists everything that is served.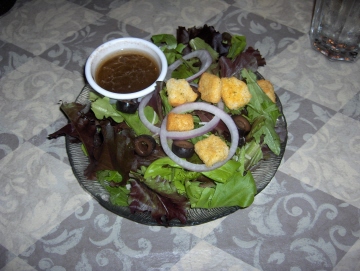 Dinner salad
Several salads can be ordered, but I thought the Dinner Salad that is available with entrées was just about perfect, with fresh salad greens, olives, and a tangy dressing. This is definitely one of the restaurant's better features.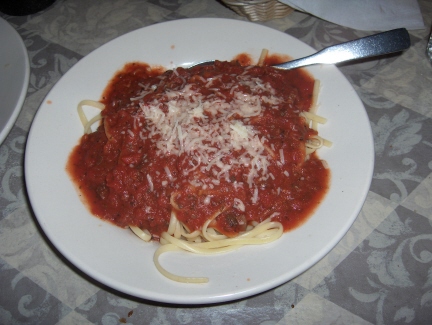 Linguini with marinara sauce
The first dish I tried that grabbed my attention was Linguini with Marinara Sauce. This not only had an excellent plum tomato sauce but also a pasta that was flavorful in its own right. I find the sauces at many Italian restaurants to be overly spiced, and I prefer the ones that are light and fresh tasting such as the one here. Other sauces are also available but I seldom try them, I like this one so much.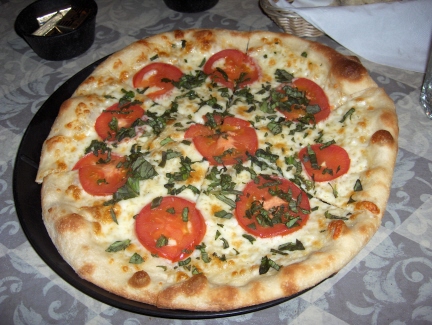 Margherita pizza
I have had mixed results with the brick oven pizzas at Caffé Pranzo. One time I found the Margherita Pizza to be outstanding, possibly the best in OKC. This was definitely a fresh tasting pizza with the crust tasting just right. On another occasion I ordered the same pizza but found the crust to be droopy, and not crispy enough. Both times I thought the fresh basil was one of the best features, but the second time there was not enough tomato.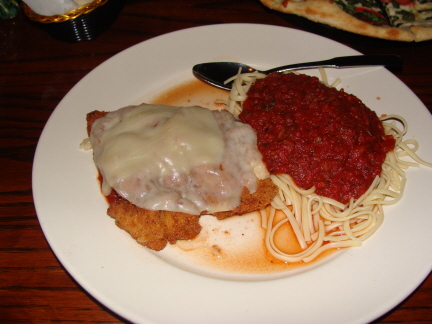 Chicken parmigiana
The Chicken Parmigiana had a high quality cut of chicken with one of the best breadings anywhere, and was covered with cheese and marinara sauce. Having sampled several versions of this dish at different restaurants, I thought this was one of the better ones. Having stated that this is a restaurant where several items stand out as ones I particularly like, I would have to put the chicken parmigiana at the head of the list.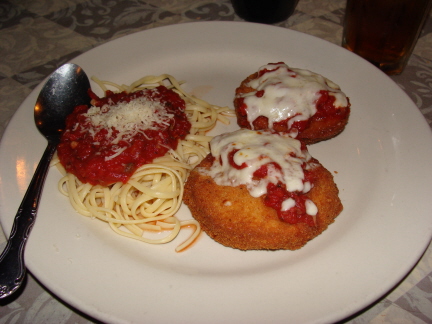 Eggplant parmigiana
Eggplant Parmigiana was also an excellent item, and I liked the fact that the flavor of the eggplant was well disguised. Of course the breading, sauce, and cheese had the same excellent quality that I found with the chicken parmigiana.
The Lasagna had a fairly high tomato sauce to pasta ratio, and some flavorful chunks of Italian sausage. As has been the case with several of Caffé Pranzo's dishes, the pasta seemed to be of better than usual quality.
The main disappointment I have had was with an order of Manicotti that was not hot throughout, leading to the conclusion that it had been frozen or refrigerated, and not heated properly before serving. My dining companion did not want to send it back to the kitchen, and it was not cold to the point that it was inedible, but it was nevertheless strange that it would come out this way.
The manicotti comes with a choice of sauces (marinara or alfredo) or a mixture of both can be put on the same order. This provided a convenient way to test both sauces. As I suspected, I preferred the marinara sauce, but I did not care for the alfredo sauce as much as I thought I would. Maybe others have more of a taste for it than I do.
Even Papa Dio's, which is probably my favorite Italian restaurant in Oklahoma City, has certain dishes that I think are better than others, so it does not surprise me that the same would be the case at Caffé Pranzo. Caffé Pranzo has a surprising consistency in quality, though, compared to many other Italian restaurants. I say this because the few times I have had a bad experience here I did not tell the staff so they could make it right, which I assume they would have done. The fact that the salads, soups, and even the eggplant are good here, though, tell me that this is a very good restaurant overall.
There is much on Caffé Pranzo's menu I have not tried, so I do not think I have reached the point of having a conclusive list of recommended dishes. The ones I have listed as "best items," though, are among the best in the city.
Go to Index
Restaurant Web Site
RESTAURANT DETAILS
RATING: 23
Cuisine: Italian
Cost: $$$
Hours: Closed Sat. lunch & Sunday
Accessible: Yes
Smoking: No Smoking
Alcohol: Wine
Most Recent Visit
Aug. 22, 2009
Number of Visits: 6
Best Items
Chicken Parmigiana, Salad
Special Ratings
Linguini Marinara:


Eggplant Parmigiana:


Chicken Parmigiana:


Margharita Pizza:


Lasagna:


Manicotti:


Tomato Bisque:


Salad:

MORE ABOUT THIS WEB SITE