Important Notice:
An update of this review can be found at okgourmet.com .
Dot Wo Chinese Seafood Restaurant (Closed)
3101 N. Portland Ave.
Oklahoma City, OK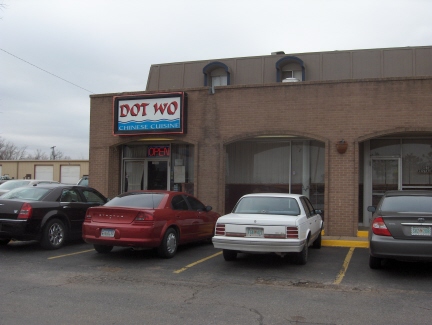 The Dot Wo on Portland is the original location of this restaurant mini-chain, and was established with the intention of providing authentic San Francisco style Chinese food (particularly seafood). Dot Wo has since expanded to Edmond and south Oklahoma City, with (the now closed but planned to be reopened) Fung's Kitchen being operated by different family members. During the 1990's I had heard that many of the Asian people in the city went to Dot Wo for "real" Chinese food when the best that could be found in most restaurants was a Chinese buffet and lunch specials with the typical Americanized dishes.
Although I was still largely ordering the Americanized dishes at that time along with most other customers, I found Dot Wo to have a better flavor than most restaurants that served buffets. The chefs here made an attempt to serve high quality dishes, and whether the dishes were the same as those listed on coutless other menus or they were more exotic Chinese dishes, the California style food served at Dot Wo was clearly more flavorful than people had been used to from other restaurants.
Dot Wo provided simple, well-balanced sauces, and exceled in items such as the kung pao chicken, Szechuan chicken, and hot and sour soup. Seafood was the speciality, and it was prepared in a way that would remind one of the food in San Francisco.
I speak of these things in the past tense only because there are now a lot more choices for high quality Chinese food. Dot Wo still serves the same food as always, and the additional locations provide more convenient choices for those in the far north and far south portions of the city.
The choices for traditional Chinese food (not Americanized) are more limited at Dot Wo than I would like, but the restaurant makes up for it by posting a list of daily specials. By "specials" this does not mean that they are at a special price, but rather that they reflect what is fresh and available at the market. Seafood is the specialty at Dot Wo, but a wide variety of dishes is usually available. What I think they all have in common is that you either need a big appetite or they should be shared, since the specials tend to be "banquet" or special occasion types of dishes.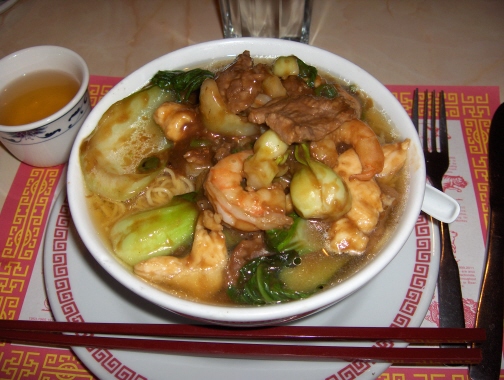 Combination Noodle Soup at Dot Wo
The menu does contain some smaller (in price and quantity) traditional dishes that I think set Dot Wo apart from the typical buffet restaurant. One that I enjoyed was the Combination Noodle Soup with beef, chicken, and shrimp. Made with bok choy, the vegetables were probably the best part of it. The broth was quite flavorful also, and a sign that care was taken to make the soup in the proper manner, with no shortcuts taken to save time or money. The shrimp was more enjoyable to me than the beef or chicken, and customers can order the type of meat they want.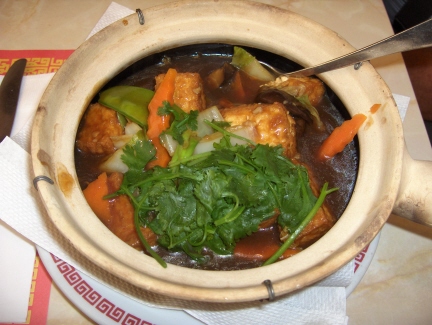 Mixed vegetable clay pot with tofu
The Mixed Vegetable Clay Pot with Tofu (or tofu hot pot) is another one of my favorite dishes from the menu, but it can be confusing because there are two menus (this one is on the regular menu, and a "Chinese menu" is also available). Many of the "Chinese menu" hot pot dishes are so large they are intended to serve more than one person, and I thought the tofu hot pot was almost at the point that I had trouble eating it all. I actually ate this dish several times at the Edmond restaurant before I ordered it here, and both were equally good. The sauce was an outstanding feature of the hot pot, although it seemed to have a very dark color compared to most authentic Cantonese style dishes. The tofu was also very good, and the vegetables might have been a little better than at the Edmond Dot Wo. I enjoyed the dish quite a bit, and it was one of the better ones that I have tried in OKC.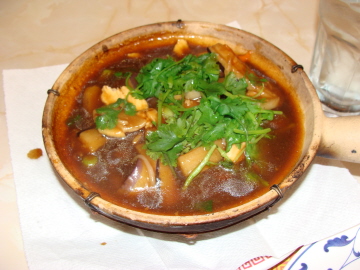 Eggplant clay pot from the Chinese menu
Eggplant Clay Pot was one of the items from the Chinese menu, and this is probably my favorite that I have tried so far. From experience I have found that not everything on the Chinese menu at Dot Wo is better than items I can order from the regular menu, but it is worth asking for both menus (as well as looking at the daily specials board) to know about all the choices available.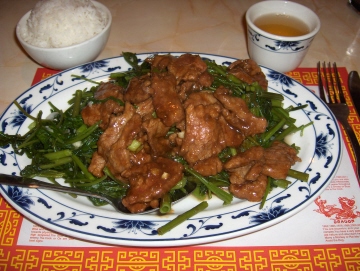 Beef and Chinese broccoli
Beef and Chinese Broccoli was a traditional Chinese dish served at Dot Wo that was a good example of the portions being almost too big for one person. The one pictured here made it to my house as leftovers rather than missing any of this delicious dish.
The specials and food from the Chinese menu are predominantly Cantonese style. This is non-spicy food with a high use of rice noodles, garlic, ginger, and other spices. I have found that some of the best dishes from the regular menu, though, seem to be spicy ones from the Szechuan and Hunan regions.
One such spicy dish (although not spicy by Szechuan standards) is Kung Pao Chicken. I do not mind even if this dish is not very authentic (although I do not know whether it is or not) because the sauce is a step above just about anywhere else in Oklahoma City (and most of the rest of the country, for that matter). Kung pao tofu has been one of my favorite dishes at the Edmond Dot Wo, but is not served at the Portland location. The same sauce, though, is served at both locations, and is probably the best part of the dish.
To me the Hot and Sour Soup at Dot Wo is hands down the best in Oklahoma City. It comes in a small bowl with lunch specials but it is so good I do not mind paying for it when I order a dinner plate. Of couse hot and sour soup is not Cantonese, but they do it so well at Dot Wo it does not really matter whether it traditionally goes with Cantonese food. Like the kung pao plates, the soup is not all that spicy by Chinese standards, but I think that is one reason it is so popular.
I have been disappointed with some of the fish I have ordered, and this has been surprising considering that it is a Chinese seafood restaurant. The shrimp has been better, but my sampling of both fish and shellfish has not been extensive enough to really make blanket statements about the seafood at Dot Wo. What I can say, though, is that I have found the best Chinese seafood to be at Chow's Chinese Restaurant.
In the past writeup I reported that I seemed to have developed a better rapport with the people at the Edmond Dot Wo than at the original restaurant, and because of this I tend to have better experiences in Edmond. This was an accurate statement, but I do not believe it necessarily reflects negatively either on me or the management of the Portland Dot Wo. Rather it was mainly that the Edmond restaurant had (and still has) a manager who was exceptionally helpful in explaining the food they could prepare whether you wanted American style or authentic Chinese food.
After going to Fung's Kitchen (owned by the same family as Dot Wo) a few times, though, I found out that the Portland Aveune Dot Wo had much of the same food that was on the authentic Chinese menu at Fung's, but most of these dishes were not served in Edmond (because there are fewer customers there who request it). The lesson at the Dot Wo on Portland is the same that I have found at numerous Chinese restaurants--they have few customers who ask for the Chinese menu or authentic Chinese food, so sometimes you have to ask for it and make an effort to find out if anything is served that is not listed on the menu. It was easier to order authentic Chinese dishes at Fung's since they had many of the items listed on the regular menu, specials were listed on a board daily, and a Chinese menu had everything listed that was served. In short, my problems with Dot Wo have not been because of the food itself, only that it has been so hard to find some of the things I enjoy the most.
Even though Fung's Kitchen opened up the possibility of a lot of new dishes to me, I had a problem there because of MSG being put in the food when I requested that it be omitted. Dot Wo may not have quite as many authentic Chinese dishes to order as Fung's, but I have always found that when I ask for no MSG the food is served that way. Dot Wo is still one of the best Chinese restaurants in town, and will remain one of my favorites even when Fung's reopens.
Go to Index
RESTAURANT DETAILS
RATING: 23
Cuisine: Chinese
Cost: $$
Hours: Open Daily
Accessible: Yes
Additional Locations: 10600 S. Pennsylvania Ave., 64 E. 33rd St. (Edmond)
Tea: Jasmine (bags)
MSG: Yes
Smoking: No Smoking
Buffet: No
Most Recent Visit
Jun. 22, 2009
Number of Visits: 10+
Best Items
Eggplant Clay Pot, Tofu Clay Pot, Noodle Soup, Szechuan Chicken, Hot and Sour Soup
Special Ratings
Combination Noodle Soup:


Eggplant Clay Pot:


Tofu Clay Pot:


Szechuan Chicken:


Hunan Vegetables:


Hot and Sour Soup:


Spring Rolls:

MORE ABOUT THIS WEB SITE