Elephant Café (Closed)
3917 N. College Ave.
Bethany, OK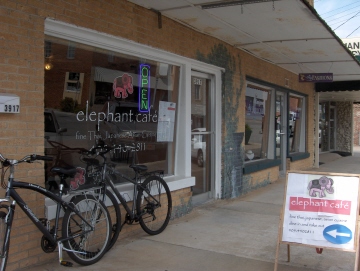 Big! Rice & Noodles in downtown Bethany came and went before I could write an article about it, but the good news is that it lives on as Elephant Café, a restaurant with an expanded menu and the same delicious noodle dishes as before. I will have to say that I became an immediate fan of Big! Rice & Noodles because of the fact that the limited menu tasted like real Asian food, and not the dumbed down version that so many restaurants think they have to serve in order to be popular.
Big! Rice & Noodles specialized in noodles and fried rice, and I thought these were some of the best to be found anywhere. The original cook left, though, and this was the reason for the name change and the new menu. Her niece and the niece's husband now operate Elephant Café, offering the Thai menu that was originally served, a number of Japanese items, and some Chinese dishes. Both restaurants offered Asian dishes from various countries, but the Japanese menu is new with Elephant Café.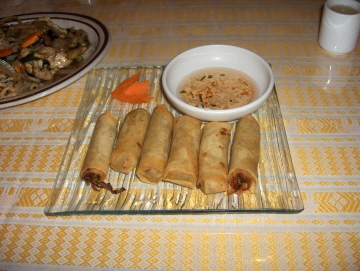 An order of Bangkok rolls
I quickly discovered that the appetizers were one of the main attractions here, and some of them are served on the "Lunch Combo" plates (perhaps the best deal at the restaurant). A regular order of Bangkok Rolls is shown in the photo, and comes with six crispy rolls with chicken, vegetables, and cucumber mint sauce. It is almost worth ordering just for the sauce, something I find far more satisfying that the typical "sweet and sour" sauce served in Chinese and other Asian restaurants.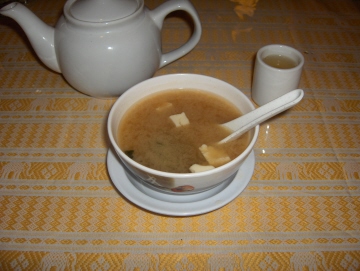 Lunch Combo plates come with a choice of soups, including miso
Miso Soup is one of the choices available on lunch combos, and I thought it was excellent (even if you order it with Thai food). Chinese Hot and Sour Soup is also available, but Thai style soups are only available in large bowls, and do not come with the combo plate.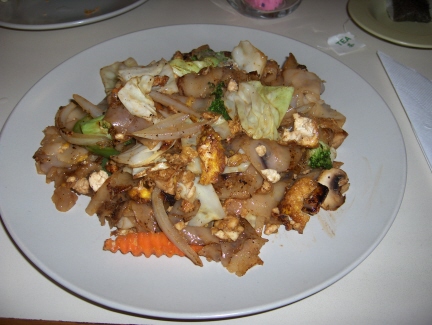 Drunken noodles, otherwise known as pad kee mao
Drunken Noodles is a dish I tried at the original restaurant as well as Elephant Café, and it had the same vibrant flavor at both. Several noodle dishes are very good, but this one stands out because of the basil, which the owners take great care to prepare fresh. The wide flat rice noodles in this dish seem to be among the most filling of the various types of noodles that are served. Pad kee mao (the Thai name of the dish) came with a home made chile paste, but did not have a red pepper beside it on the menu, signifying "hot and spicy." Some chile served on the side, though, made it more to my taste for spicy Thai food.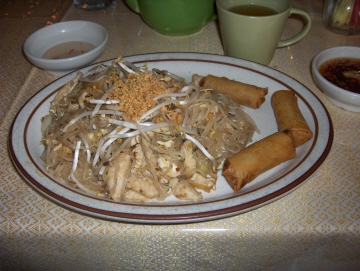 Pad thai
Pad Thai is usually pretty "safe" for people who are not familiar with Thai food, and is a good way to get an introduction to Southeast Asian style food. While I did not find it to be as flavorful as the other noodle dishes I have tried at Elephant Café, it was still a good dish with fresh ingredients. I had to ask for chile on the side to make it as spicy as I desired, but it is probably best that they serve it mild and let customers add chiles to their own taste.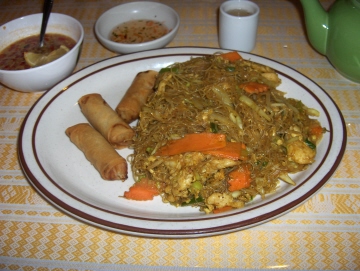 Mee siam is a Malaysian version of pad thai
I was very happy to find that one of the noodle dishes served was Malaysian styled Mee Siam, and as far as I know this is the only Malaysian dish served in the Oklahoma City area. This dish is made with rice noodles, chicken, shrimp, egg, scallion, shredded cabbage, carrots, and bean sprouts, and is called the Malaysian version of pad thai. I thought it had an excellent flavor, and was a lot more interesting than the regular version of pad thai. All of the noodle dishes at Elephant Café are non-spicy, and I generally add my own chile, but this was one of the dishes in which the flavor was really enhanced by adding the extra spice. I really thought it rivaled the drunken noodles in being the best noodle dish served here.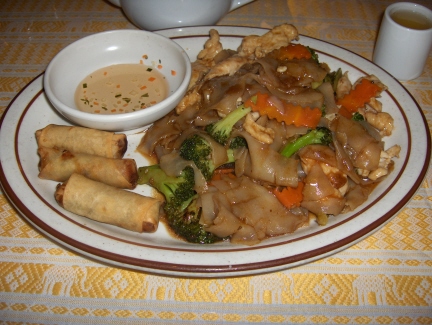 Pad see yew
Pad See Yew, similar to pad thai but with wide flat noodles, was another good non-spicy dish (I emphasize this in case anyone thinks most Southeast Asian food has to be spicy). While the drunken noodles was one of my favorite dishes once I added chile sauce, the pad see yew is the one I thought had the best flavor if I wanted something non-spicy and was not planning to add any chiles to it.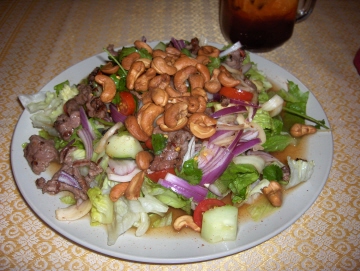 Grilled beef salad
Elephant Café has various salads, both spicy and non-spicy, but one that is typically eaten as a meal is nam dtok nua, or Grilled Beef Salad. I think this restaurant goes out of its way to ensure that the lettuce is fresh and green, but this is just the first step. The dressing was a complex blend of flavors that gave a true Southeast Asian taste, and the mix of cucumbers, tomatoes, and cashew nuts had enough substance to make the salad filling as well as good. Although this was a beef salad, the beef was just one small part of the flavor components. This was definitely one of the best beef salads I have tried.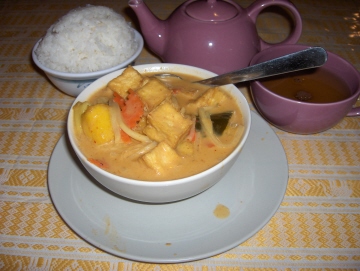 Mango curry
The Mango Curry was a very pleasant surprise because it is something I do not see in a lot of restaurants, and I thought was much better than most of the curries I have tried. I would say the texture was to my liking--soupy but not watery. The flavor, though, was even better, with the mango giving it a sweet taste to offset the spicy curry. When a curry is good with tofu it is a big hit with me, but I think the reason this one worked is that it had a number of other vegetables thrown in to give it more substance. This dish is normally served with chicken, but I would say try the tofu if this is something you think you would like. I should mention also that the jasmine rice served with the curry dishes is a worthwhile experience in itself, and this is far more than the ordinary white rice served in many restaurants.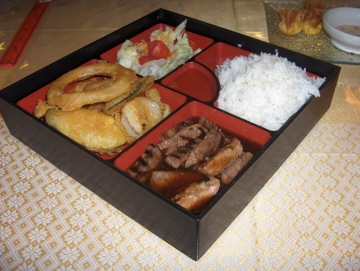 Steak teriyaki is just one of the several Japanese dishes served
I make no secret of the fact that I think Tokyo is the best Japanese restaurant in Oklahoma City, but I was almost as impressed with the Japanese dishes at Elephant Café. The selection of items is limited compared to Tokyo Restaurant, but Elephant Café offers teriyaki, tempura, house rolls, and appetizers such as gyoza. I thought the Steak Teriyaki was very good, but probably more importantly the side dishes that went along with it were good as well. I should mention that the chef is quite experienced with Japanese food, and it shows with the food that is served here.
Miso Soup is also very good, and is available in a small bowl on the lunch combo plates (even if you order Thai food).
Chinese food is also available if the Thai and Japanese choices are not enough, but since I have not yet tried them I cannot comment on them.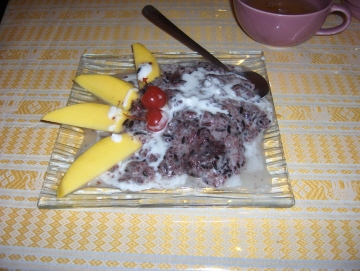 Sticy rice mango is one of the desserts available
I leaned in Seattle that desserts are one of the most worthwhile features at many Thai restaurants, and the same is true at Oklahoma's Elephant Café. The restaurant's menu says Sticky Rice Mango is "a most famous desert in Thailand," and although the Southeast Asian country is known more for its tropical rain forests than its large desert expanses, the desserts served there are justifiably famous (as I think this dish at Elephant Café may soon become around the Oklahoma City area). The black sticky rice, coconut milk, and sliced mango provide nutrition as well as good flavor, and make me think that even those of us on a diet (or who should be) can afford the indulgence of this Thai dessert. I am especially glad that I do not have to wait until the next time I go to the west coast to find an outstanding version of this dish.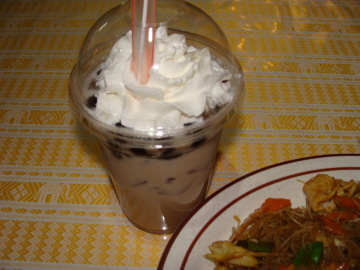 Bubble tea is available with Thai tea, chocolate, momgo tea, lychee, and green tea
The Bubble Tea was one of the best I can remember trying in Oklahoma, and several flavors are available.
The availability of spicy and non-spicy food makes Elephant Café a good choice for just about anyone who likes Asian food. I have never had a bad meal, and one of the best points of the restaurant is the consistency at which it produces delicious and good quality meals. Both the Thai and Japanese menus are limited compared to restaurants that serve only one of these cuisines, but I think customers will be quite happy with whatever they order here. The only thing I have tried that I probably would not order again is the Pineapple Fried Rice, that was excellent at Big! Rice & Noodles (the original restaurant), but disappointing when the restaurant changed to Elephant Café (but maybe they were just having an off day).
A lot of work has gone into the décor, making this one of the most comfortable and pleasant restaurants around. Its location in downtown Bethany really makes it seem more like a small town restaurant than is usually found in a large metropolitan area such as Oklahoma City, and it seems to have a large group of regular customers (among which I am a recent convert) who feel quite at home.
Go to Index
RESTAURANT DETAILS
RATING: 23
Cuisine: Thai & Japanese
Cost: $
Hours: Open Daily
Accessible: Yes
Tea: Jasmine (brewed)/ Thai Tea
MSG: No
Smoking: No Smoking
Alcohol: No
Special Features: Lunch combo plates
Most Recent Visit
Mar. 25, 2009
Number of Visits: 10+
Best Items
Drunken Noodles, Mee Siam, Mango Curry, Grilled Beef Salad, Steak Teriyaki, Sticky Rice Mango
Special Ratings
Drunken Noodles:


Mee Siam:


Pad Thai:


Pad See Yew:


Mango Curry with Tofu:


Grilled Beef Salad:


Pineapple Fried Rice:


Hot and Sour Soup:


Steak Teriyaki:


Miso Soup:


Bangkok Rolls:


Sticky Rice Mango:

Reviews
Eat Around OKC
MORE ABOUT THIS WEB SITE