Important Notice:
An update of this review can be found at okgourmet.com .
Fung's Kitchen BBQ & Seafood Chinese Restaurant
3231 N. Classen Blvd.
Oklahoma City, OK
(405) 524-4133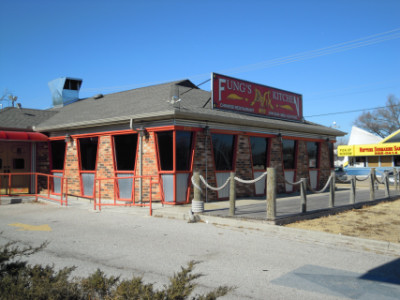 If the menu at Fung's looks familiar, it may be because it is similar to the one at Dot Wo, a local mini-chain of Chinese restaurants owned by the same family. When Fung's Kitchen was in its old building on N.W. 23rd Street I used to think it was quite a bit less expensive than Dot Wo. Now with Fung's "bistro" concept at its new location the prices do not seem to be much different than at Dot Wo. It is still not very expensive, but is not the bargain it once was.
The outside of the building does not give a clue to the modern interior
One feature that does distinguish Fung's Kitchen from Dot Wo is Fung's extensive Chinese menu of traditional dishes served "family style." These are mostly Cantonese style dishes, although some represent other regions of China. Dot Wo is more limited on its traditional Chinese dishes, so it is many times worth the trip to Fung's Kitchen for this type of food.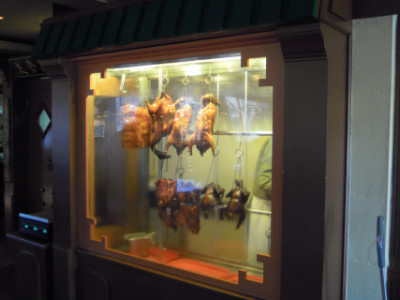 Roast duck and other animals are on display
Fung's Kitchen is one of two restaurants I have found in the city that offer whole roasted ducks (whole and half ducks are available on the Chinese menu, as well as individual servings). I have been told by friends that these are not the ducks found swimming around in Martin Park, but are farm raised. This is a significant step in bringing authentic Chinese food to Oklahoma City, and is an indication that they are serious about the food they serve.
Since Fung's Kitchen reopened on Classen Boulevard it also began serving dim sum on weekends. I have not heard anyone comment that it compares to the dim sum served in Los Angeles, but at least it offers a choice to the single restaurant that has been serving dim sum in Oklahoma City.
One problem I have encountered at both the old and new locations of Fung's Kitchen is that they give me the regular (American style) menu, but I have to ask for the Chinese menu (it took several visits at the old restaurant before I even discovered they had another menu). The ducks in the display case, though, should be an indication to anyone familiar with real Chinese food that there is more to this restaurant than sweet and sour chicken. It did help at the old restaurant that they had a changeable board with specials listed (offering traditional Chinese dishes). The new restaurant, though, has many things on the Chinese menu that used to be listed on the board.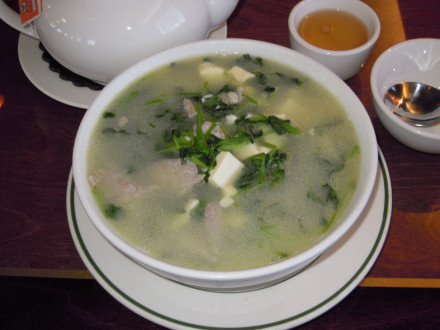 Water cress and sliced pork soup
One good item I found on the Chinese menu was Water Cress and Sliced Pork Soup from the "Soup and Fire Pot" section (number S6 on the menu). This was a excellent flavored soup with tender meat and a thick broth that was almost a meal in itself. Probably most impressive was the fresh water cress vegetable that was neither too chewy nor too soft, and which I think I would have a hard time finding in most other Chinese restaurants.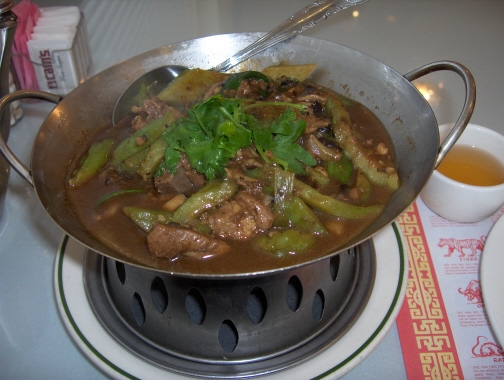 Bittermelon with spare ribs in black bean sauce
Apparently not all dishes from the old restaurant are available at the new one. One item I can no longer find is Bittermelon with Spare Ribs in Black Bean Sauce, a dish I was particularly anxious to order when I got it at the N.W. 23rd Street location. The spare ribs are slow cooked, and are available at the new restaurant even though I do not see them served with bittermelon. They would be quite worthwhile on their own, though, and are available on the "BBQ & Marinated Entrees" plates, as well as other dishes.
Since the bittermelon dish used to be served, I would think it might still be available as a special order (and I certainly enjoyed the one I tried). Bittermelon is a green vegetable that tastes exactly as the name describes, and is not recommended unless served with the right meat and/or the right sauce (as it was in this dish). Black bean sauce is becoming more common in Chinese restaurants, but is almost never available in "Americanized" restaurants. When I was thinking about ordering this dish the waitress gave me some assurance that this was one of the better dishes, and after trying it I would have to agree. The only problem was trying to eat it all, since it was meant to be served "family style" (and not as a meal for one person).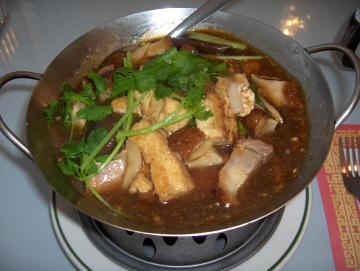 Eggplant with Salty Fish in Hot Pot
Eggplant with Salty Fish in Hot Pot was a dish I tried at the old restaurant from the "specials" board, and was available other times I returned. Since both eggplant and salty fish are listed on the Chinese menu at the new restaurant, this may also be a dish they can prepare as a special order if the customer so desires.
The salty fish, like the bittermelon, was not as intimidating as it sounded, since the chefs at Fung's know how to do it right (the fish is quite salty, though, if you eat it "straight"). Eggplant is more the type of food I do not normally like, but the one here was good (Asian eggplant is longer and skinnier than the American vegetable, and I think this has something to do with it). The eggplant was floating in an oil, but I have seen this same type of oil used in other Chinese eggplant dishes, so I think this must have something to do with balancing the flavors. In any case, this is another recommended dish that I am glad I tried.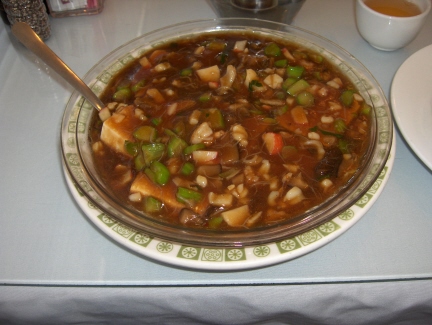 Fujian tofu
Fujian Tofu is a dish on the current menu (number VG6 on the Chinese menu) that I tried at the old restaurant, and which was quite impressive. This was another recommendation of the waitress, and it seems the employees' suggestions have not yet steered me wrong. This delicious casserole dish had a thick sauce with soft tofu and so many other ingredients that they would be hard for me to list. This seems to be one of the dishes from a region other than Guangdong that they do as well as the Cantonese food. Fung's has long been known for having one of Oklahoma's most celebrated Chinese chefs, and I definitely think it is worthwhile experiencing the different creations served here.
On my first visits, before I discovered that there was a "secret" Chinese menu, I tried some items from the regular menu. I should point out that even the regular menu has some traditional dishes, but they are less expensive and are probably considered less exotic than dinners from the Chinese menu. Also many of the items from the regular menu are more suitable for solo diners than some of the "family style" plates from the Chinese menu.
One example of food available from the regular menu is Hong Kong Crispy Noodles wih Vegetables, a plate that had an excellent brown sauce over lightly toasted noodles. This dish kept an appealing texture and flavor throughout the meal (with the noodles getting soft from the sauce but not too soggy). The vegetables were very good, and overall I was quite pleased with it.
So far I have tried to order things at Fung's Kitchen that are not available at Dot Wo, but it is probably a safe assumption that the things I like at Dot Wo will also be good at Fung's Kitchen. One reason for making this assumption is that I have seen the same staff working at both restaurants, and I even found out about the "secret" menu at the Portland Avenue Dot Wo when a waitress who recognized me from Fung's Kitchen showed it to me.
It is probably safe to say, then, that the kung pao chicken at Fung's Kitchen would be very good, since I have found it to be one of the best items at Dot Wo. The hot and sour soup is another item that I would recommend at Fung's Kitchen, since I think the one at Dot Wo is probably the best in the city.
A slight disappointment to me was the fact that they carry the "bistro" concept so far that if you order a "family style" item nothing else comes with it (not even a bowl of steamed rice). They do have lunch specials that come with rice, both from the Chinese and American menus, but otherwise I think the price of the meal can add up fast if you start ordering extras. My bowl of pork and water cress soup, though, was a meal in itself, and was certainly more than filling enough. In fact, this has been the case with everything I have ordered at Fung's Kitchen.
There are only a few restaurants in the city that offer the variety of authentic Chinese dishes served at Fung's, so I think it is certainly worth a try.
Go to Index
RESTAURANT DETAILS
RATING: 24
Cuisine: Chinese Cantonese
Cost: $$
Hours: Open Daily
Accessible: Yes
Tea: Jasmine (bags)
MSG: Yes
Smoking: No Smoking
Most Recent Visit
Jan. 25, 2011
Number of Visits: 6
Best Items
Spare Ribs, Fujian Tofu, Water Cress and Sliced Pork Soup
Special Ratings
Spare Ribs:


Fujian Tofu:


Water Cress and Sliced Pork Soup:


Hong Kong Crispy Noodles:


Eggplant Hot Pot:

not on the menu
MORE ABOUT THIS WEB SITE