Hunan Chinese Restaurant (Closed)
10948 N. May Ave.
Oklahoma City, OK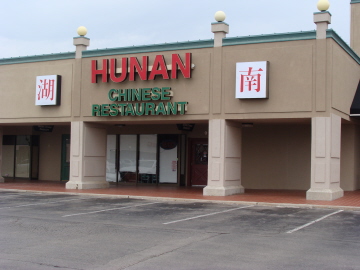 Hunan is one of the oldest Chinese restaurants in Oklahoma City, so probably just about everyone has an opinion about it. If you have not been in a while, though, you may find some things that are a little different than before. Hunan not only got a new chef a few years ago, it has now changed locations from the former restaurant that used to be a Pancho's Buffet in Casady Square to a relatively new building at the northeast corner of May Avenue and Hefner Boulevard. Even though I have tried many dishes over the years, I find it is sometimes best to keep an open mind when I go back. The menu is varied and interesting enough that I have not had the desire to eat from the buffet in quite some time.
Hunan still offers both a lunch and dinner buffet as it has since the restaurant opened. The buffet is what originally got me hooked on the restaurant--I found it to be more flavorful and offering more choices than most. Items in the buffet have MSG but not to the level that bothered me (I generally react to even moderate levels). The item I remember best from the buffet was the green beans. One additional feature, though, is that many dishes are served on a rotating basis for additional variety.
Being a restaurant that has been around for a long time has both its pluses and minuses, depending on people's viewpoint. The buffet and a large part of the menu strives to offer the same dishes (mostly American style) that people have been ordering since the restaurant opened. With a new chef, though, I have found it worthwhile to look for traditional (Chinese style) dishes, or to ask for recommendations. The variety of non-Americanized Chinese food is not as great as is served in some the the Asian District restaurants, but there are enough to make Hunan a cut above the typical suburban Chinese restaurant.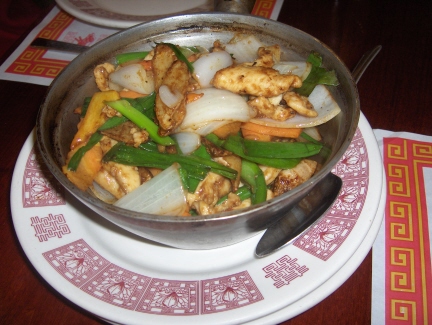 Hot pot with chicken and green onion
The Hot Pot with Chicken, Ginger, and Green Onion is a dish that shows the type of more authentic style Chinese food that has made me a fan of Hunan. With the opening in 2009 of the new restaurant on May Avenue, hot pots are no longer served, but the same food is still available (although on a plate instead of a hot pot). I thought this dish had the flavor of true Chinese food, although it had more sauce than I typically find in food that I consider to be "authentic." Regardless of how authentic it is, though, I think it is something most people will enjoy.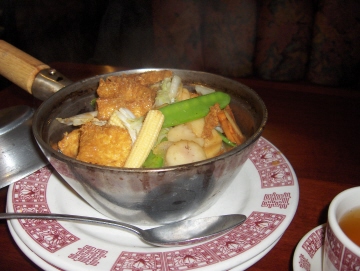 Bean Curd Family Style in a Hot Pot
The Bean Curd Hot Pot was my favorite dish at Casady Square, and is now available without the hot pot as Bean Curd Family Style. I have always enjoyed the way the tofu was cooked, the assortment of vegetables was quite good, and the sauce was quite flavorful. I suggest asking for extra ginger, but some may not care for it this way. I do not think this dish is strictly vegetarian because of some of the ingredients used in the sauce, but it is one of the better meatless dishes I have found in OKC.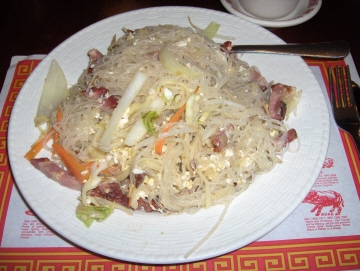 BBQ pork rice noodles
Rice Noodle dishes are placed inconspicuously at the back of the menu, where I have learned to look in many restaurants for the most flavorful and non-Americanized dishes. The rice noodles are "dry," meaning that they are not swimming in soy or other types of sauces, but they do have a light sauce to go with the noodles, vegetables, and meat. The noodles at Hunan were as good as ones I have had in other restaurants where I was assured they were "Chinese style." Even if the dish were not authentic, it would still be one of my favorites in terms of flavor when I want to eat something light (the thin rice noodles do not fill me up the way some of the heavier Italian style noodles do).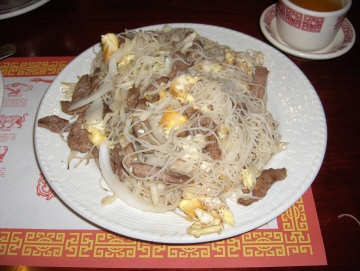 Beef lo mein
Beef Lo Mein did not impress me as much as the rice noodles, and it had a slightly different flavor (although I think it is also considered a "dry" dish).
I once tried Szechuan Chicken that was actually chicken with garlic sauce, and was one of the better versions I have tried with a nice blend of flavors so that the garlic was not overpowering. I have not located it on the restaurant's current menu, so I think it must be something they will cook by special order.
The Hot and Sour Soup here is good but not my favorite in OKC. Hunan does not serve Chinese style noodle soups or other types of soup I like to have for a light meal.
The lunch menu offers quite a few dishes at a good price, but mostly ones with a lot of sauce (American style). The ones I think are most worthwhile, though, are the spicy Hunan and Szechuan style plates.
Hunan seems to be a little more inconsistent than most Chinese restaurants in terms of offering some items that I think are much better than others. By getting away from the buffet, though, and trying quite a few items from the menu, I have found several dishes I like quite a bit. Frankly, this is more than I can say for many suburban Chinese restaurants.
Go to Index
RESTAURANT DETAILS
RATING: 21
Cuisine: Chinese
Cost: $$
Hours: Open Daily
Accessible: Yes
Tea: Jasmine (brewed)
MSG: Yes
Smoking: No Smoking
Alcohol: Beer, Wine, Sake
Buffet: Mon.-Sat. Lunch & Dinner
Most Recent Visit
Aug. 5, 2009
Number of Visits: 10+
Best Items
Chicken with Ginger and Green Onions, Bean Curd Family Style, Rice Noodles, Green Beans
Special Ratings
Chicken with Ginger and Green Onions:


Bean Curd Family Style:


Szechuan Chicken:


Rice Noodles:


Beef Lo Mein:


Kung-Po Chicken:


Hunan Chicken Strips:


Green Beans:


Hot and Sour Soup:


Chicken and Corn Soup:

MORE ABOUT THIS WEB SITE