Inca Trail Peruvian Restaurant (Closed)
10948 N. May Ave.
Oklahoma City, OK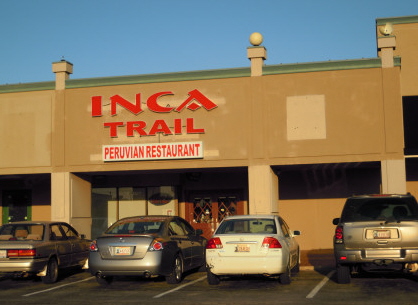 Inca Trail is not the only restaurant in Oklahoma that serves Peruvian food, but it is the first I have tried that serves Peruvian cuisine exclusively. This allows a greater selection of Peruvian dishes than is found at other restaurants, and usually restaurants that specialize in only one cuisine are of better than average quality for the dishes served. While some other restaurants serve chips, salsa, and other items they think many people want when they eat "Latin American" food, I think it is a good thing that Inca Trail provides a more authentic South American experience by not including them with the meal.
Inca Trail seems to be doing just fine by not mixing Peruvian food with Tex-Mex appetizers, and a large number of customers seem to appreciate the food here. I think most people appreciate Inca Trail not because it is somewhat of a novelty in Oklahoma City, but because they really like the food.
Taqueños are an available appetizer
On my first visit Taqueños were a free appetizer item served before the meal. Inside the dumplings were a mixture of chicken and cheese, and it was a much better snack than the chips and salsa I typically get with Tex-Mex food (and at some other Peruvian restaurants that include Mexican food on the menu).
On a subsequent visit I was served a loaf of bread as an appetizer instead of the taqueños, and I had mixed feelings about this. While I did not think the bread was anything special compared to the taqueños, I was more than happy with the meal without considering any appetizer. If the restaurant has changed to bread in order to keep costs in line, I am glad they are still serving the same excellent food on the main meals.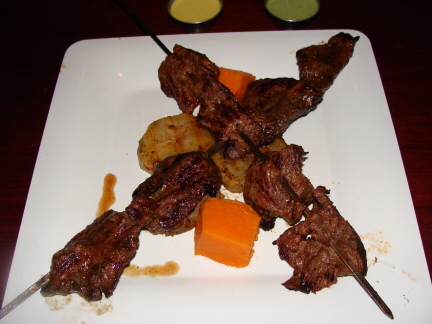 Anticuchos
Inca Trail still has a large selection of appetizers available if you want to pay for them, and I found out that some of them are suitable as a meal. This was the case with Anticuchos, two skewers of grilled beef marinated in aji panca. The meat did not come with rice or other side dishes normally included with the dinners on the menu, but otherwise was more of a meal than an appetizer. I was impressed that the meat was not as tender as many that are served in restaurants, but it had an excellent flavor that tasted like "real meat" (that had not been altered by tenderizer). It was marinated, and was some of the best tasting beef I have had in Oklahoma City. It reminded me of beef I have had in steak restaurants in Mexico that was not as tender as most steaks in the U.S., but had an excellent flavor. I was very impressed with this dish, and it is one of my favorites at the restaurant.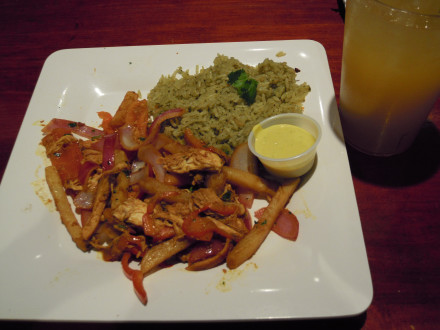 Pollo saltado
Pollo Saltado is a popular Peruvian dish, and is similar to some Mexican dishes by being spicy. One of the differences between pollo saltado and most of the Mexican chicken dishes is that the Peruvian one uses soy sauce and garlic as seasonings (probably due to the Chinese and Japanese influence on South America's west coast). This dish was good, though, not only because of the Asian flavorings, but also because of the excellent chicken, Latin American peppers, and the surprising (but very good) french fries cooked with the dish.
The Rice served on the side was infused with cilantro, and had an excellent flavor.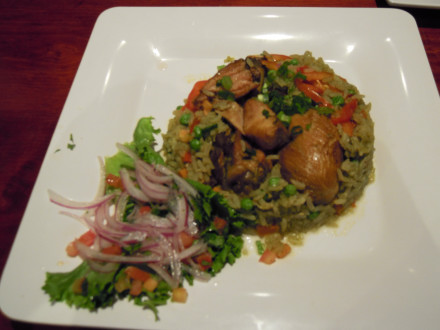 Arroz con pollo
Although I enjoyed the flavor of the pollo saltado, the chicken was more enjoyable on the Arroz con Pollo. This dish had chicken drumsticks, as opposed to white meat used in the pollo saltado, and this is probably the reason I liked it better. The rice on this dish, although much the same as the one served with the pollo saltado, had peas and other vegetables added for more flavor and variety. This dish was non-spicy, as I found most Latin American food to be that is served south of Mexico. Really the only reason I did not like this dish better than the pollo saltado was that it did not have soy sauce. The spicy chile was good on the other dish, but was not missed on this one.
A side dish was included that tasted much like pico de gallo, and I think was a South American version of it.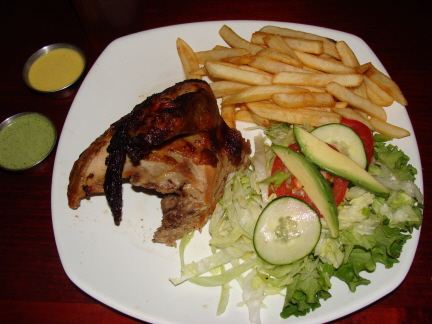 Pollo a la brasa
Pollo a la Brasa was a rotisserie style chicken that comes in a whole, half, or quarter chicken (the dish in the photo was a quarter chicken). The meat was marinated for two days, and the meal was served with a yellow aji amarillo sauce (this sauce has come with several meals at Inca Trail) and a green cilantro sauce. Even though the flavor of the chicken was very good, I still thought the dark meat that came with the arroz con pollo was the best (although I assume that if you order a half chicken of pollo a la brasa that there would be some dark meat included).
The french fries were excellent, and it came with a fresh salad. The lemon juice dressing on the salad was really more of a flavoring that what we would consider as a dressing (and I find salads in authentic Mexican restaurants to be prepared in a similar fashion).
Maracuya, made with passion fruit, is one of the special Peruvian drinks available. This was very refreshing, but was somewhat thin compared to Mexican style aguas frescas.
It is tempting to compare Inca Trail with Mexican restaurants, although there are as many differences in the cuisines as similarities. It seems to me, though, that there are not many Mexican restaurants in Oklahoma that deliver as much flavor as in the Peruvian cuisine at Inca Trail. This, along with the excellent meat and reasonable prices, make Inca Trail one of my favorite places in the city.
Go to Index
RESTAURANT DETAILS
RATING: 23
Cuisine: Peruvian
Cost: $$
Hours: Open Daily except Sun. dinner
Smoking: No Smoking
Accessible: Yes
Most Recent Visit
Apr. 18, 2011
Number of Visits: 2
Best Items
Pollo Saltado, Anticuchos
Special Ratings
Anticuchos:


Pollo Saltado:


Arroz con Pollo:


Pollo a la Brasa:


Maracuya:

MORE ABOUT THIS WEB SITE