Important Notice:
An update of this review can be found at okgourmet.com .
Italia Express
12203 Warwick Dr.
Oklahoma City, OK
(405) 728-7744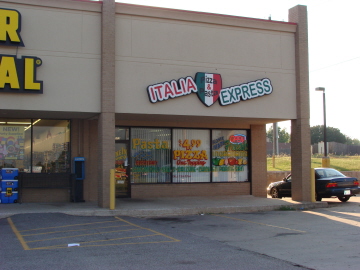 Italia Express has been a long time favorite at Penn Square Mall, but in 2008 a second location opened at N.W. 122nd Street west of MacArthur Boulevard on Warwick Drive. I have heard that the new location is run by two brothers, but I just know that they look as if they could be brothers. I do understand from them, though, that they had a number of years of experience preparing pizza and other Italian food in the Dallas area before coming here. It is clear that they opened this restaurant with a mission to provide excellent pizza, and not just to replicate the many pizza restaurants that are found on almost every major street corner in northwest Oklahoma City.
Italia Express has about a half dozen tables, but food is served fast food style, with orders taken and food served at the counter. Pizzas are prepared in view of the customers, and they only take a few minutes to cook. The cooking procedure does not look that different from many other restaurants, and does not follow any fancy procedure such as cooking in a wood fired oven, but for some reason the pizzas here come out better than just about anywhere else in OKC. Although I may change my list later, I currently think Italia Express has one of about the three best pizzas in Oklahoma City, along with Papa Angelo's and Flip's Wine Bar.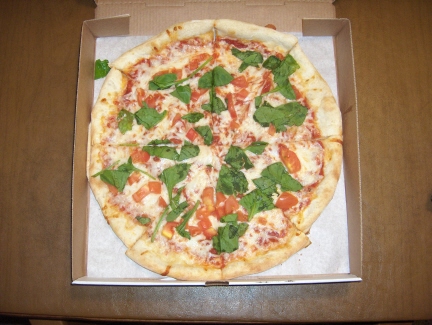 Spinach pizza
A Spinach Pizza was a build-your-own ingredient pizza that I tried on my first visit, and it was enough to make me a huge fan of the food here. The crust was thin, crispy, and fresh. The sauce was excellent, and the tomatoes and spinach added on top were garden fresh. It was a pretty standard pizza done to near perfection. I don't know their secret, but whatever it is does not make this a more expesive pizza than is served other places, and in fact it is quite reasonably priced.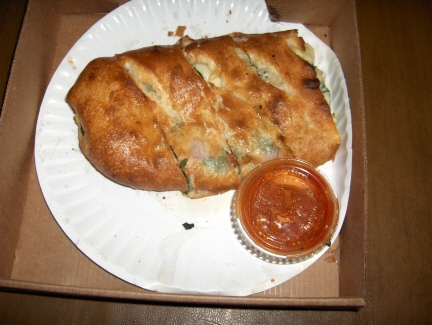 Spinach and tomato calzone
I tried a Calzone to sample some of the other food available, but it was not only less satisfying than the pizza as a meal, I also did not think it matched it in flavor. Meiki's is a nearby Italian restaurant that specializes in pizzas and calzones, and while I did not like their pizza as much as at Italia Express, I thought the calzone was better. The calzone at Italia Express can be heated in a short period of time, though, and is really ideal for a quick meal. Both a vegetarian and meat version (with pepperoni & sausage) are available. I have not yet tried the meat version, so my asessment of it may be different than the one with spinach, tomato, and ricotta cheese.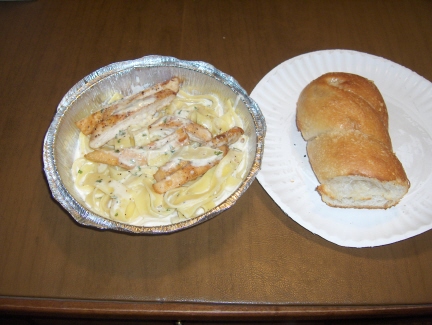 Chicken fettuccini alfredo
Chicken Fettuccini Alfredo is one of the more substantial dinners available (or you can get it without chicken), and in fact is one of several typical Italian dishes served. I thought the dish was heavy on the sauce, and was not a very complex or well flavored meal. The individual ingredients were good quality, though.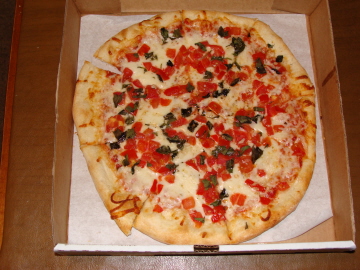 Margharita pizza
Margharita Pizza was not on the menu, but I found that when I requested it they were happy to prepare it. Like the spinach pizza, I found this to be and example of the true reason to come to Italia Express, and one of the best pizzas I have had in a long time. Just as the spinach was a notable feature of the first pizza I tried, the fresh tomatoes on this one were outstanding.
A large variety of pizzas are available, and I think one thing that makes them so popular is that you can get just about any toppings you want. One thing I have found, though, is that the quality of the basic ingredients (crust, sauce, cheese, and toppings) will always be good when you come here.
Italia Express is not a fancy Italian restaurant, but mainly a pizza place (most people order take-out). If you can do without the ambiance of an upscale restaurant, though, the pizza here is about as good as you can find anywhere in OKC.
Go to Index
RESTAURANT DETAILS
RATING: 22
Cuisine: Pizza & Italian
Cost: $$
Hours: Open Daily
Accessible: Yes
Additional Location: 1901 Northwest Expressway
Smoking: No Smoking
Most Recent Visit
Nov. 3, 2010
Number of Visits: 5
Best Item
Pizza
Special Ratings
Margharita Pizza:


Spinach Pizza:


Calzone:


Chicken Fettuccini:

MORE ABOUT THIS WEB SITE