Las Palomas Mexican Cafe (Closed)
2329 N. Meridian Ave.
Oklahoma City, OK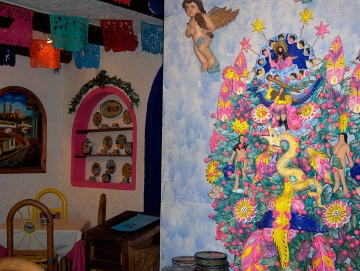 A person who is unfortunate enough to be color blind would miss much of the excitement of Las Palomas, a small Mexican restaurant on the west side of Oklahoma City with a second location in Noble, just south of Norman. The décor of Las Palomas is not only festive, but religious in nature with original art work by Miguel Ramirez, whose business cards are located next to the cash register.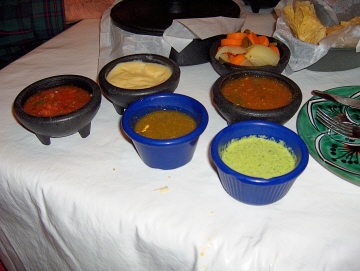 Salsas in most El Paso restaurants have nothing over the delicious varieties at Las Palomas
The colorful nature of Las Palomas not only applies to the decorations, but also to the extensive variety of food that is served. While the standard queso and wimpy salsa are served upon seating, the waitress on one of my initial visits was quick to point out that several other varieties of Salsa were available, and the restaurant seemed as interested to see customers' reactions to these delicious and piquant works of visual and gustatory art as they are eager to serve them. None of the salsas had an outrageous spice level, but all were sufficiently hot to meet my approval as a certified "chilehead." The one that was dark green in color (in the middle of the bottom row of the photo) was my favorite. All were good, however.
More recently the variety of salsas has diminished, but the dark green one was still available, so for me this was enough.
Thick and flavorful chips were served, and I was glad to have chips that were somewhat worthy of the excellent salsas.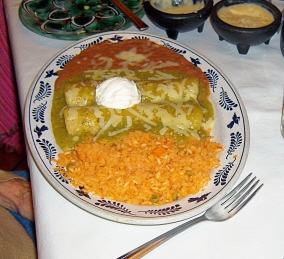 Enchiladas Suizas may be as good as the ones in Sanborns, a popular Mexican restaurant chain
The menu is somewhat representative of the owners' home town of Monterrey in northern Mexico, along with some more typical Tex-Mex dishes. An example of food from northern Mexico is Enchiladas Suizas, green enchiladas with a large dab of sour cream on top. In my mind these are the "classic" green enchiladas, served the way they should be, made famous by a chain of family dining style restaurants in Mexico called Sanborns, but served throughout the northern part of the country. Las Palomas seems to have replicated this style of enchilada quite well, and I would even say ordering the enchiladas suizas here would be as good as getting them at Sanborns.
The enchiladas suizas probably cost twice as much at Las Palomas as they would in Mexico, but most of the Mexican restaurants in the northern part of Oklahoma City seem to be quite high priced. At least here you can get something that is authentic, with the flavors people in Mexico would enjoy if they went out to eat.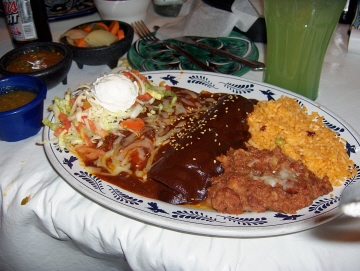 Sope, Tamal, Enmolada, Beans and Rice, with a glass of Lemonade
Another type of enchilada, the Enchilada Enmolada (mole enchilada) is just about equally authentic. Made with the dark northern Mexico style mole, this was surprisingly flavorful. Mole seems to be an extremely hard dish to get just right, and there are several versions in around the country that I use as the standard. The mole at Las Palomas was not quite the best I have tried, but still was very good. I would not hesitate to order it on a combination dinner, but like most mole, it would not be my first choice for a main order.
A Beef Sope I tried had enough toppings to give flavor to the soft shell, and was good as well. I probably would have liked it more had I not experienced a superb version of this dish at Hacienda Don Elias that I think sets the standard for OKC.
The Beef Tamal had a flavorful masa and the shredded beef was quite good. The sauce used to top it, though, was sort of distracting and I probably did not enjoy the dish as much as if it had been served plain.
A side order of Rice I was served was burned--the only real flaw in the food I have experienced here.
The Lemonade is made from scratch at the restaurant but it was not sufficiently flavorful that I would be anxious to order it again.
Some good sources tell me that the Chile Relleno is one of the best dishes at Las Palomas. If this is so, I certainly think some of the other dishes are right up there with it in stature.
SPECIAL DISHES
In 2007 Las Palomas lost one of its chefs who used to make special dishes on weekends such as caldo tlalpeño, a popular dish in northern Mexico that is seldom served in the United States. Other special dishes were served as well, and unfortunately these special dishes that have now been discontinued were a large reason I enjoyed Las Palomas more than other OKC Mexican restaurants. I am showing the soup they used to make in the photo below for educational purposes, with the hope that Las Palomas or some other restaurant will serve it in the future.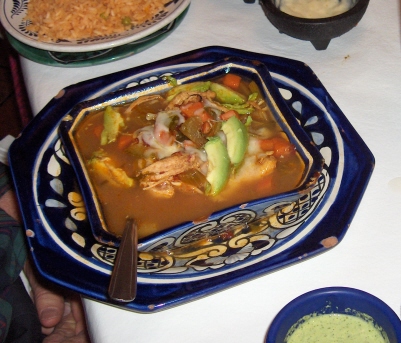 Caldo tlalpeño is good and authentic, but is no longer served at Las Palomas
The soups in Mexico known as "caldo" tend to be thick with just about everything in the kitchen thrown in for extra nutrition and flavor. The Caldo Tlalpeño shown in the photo is one such dish with chicken, avocado, and chipotle chiles thrown in for spice. This type of traditional cooking is one of the types of Mexican food largely missing in U.S. Mexican restaurants, and unforunately is now missing at Las Palomas since the chef left who used to prepare it. When it was served, I thought it was the best dish at the restaurant.
I have had to downgrade the restaurant's rating since some of the food that distinguished it from other Oklahoma restaurants is no longer available. One remaining noteworthy item is enchiladas suizas, but other dishes are about the same quality I have found elsewhere. I think the owners would like to serve some of the Mexican specialty dishes that used to be offered, and I hope it can happen again. In the meantime, there are still some good dishes at Las Palomas.
Go to Index
RESTAURANT DETAILS
RATING: 19
Cuisine: Mexican Nuevo León
Cost: $$
Hours: Open Daily
Accessible: Yes, but parking spaces are too small for a van with a lift
Smoking: No Smoking
Alcohol: Beer
Additional Location: Noble, OK
| | |
| --- | --- |
| Chile Index: | |
Most Recent Visit
Jan. 11, 2008
Number of Visits: 3
Best Item
Enchiladas Suizas
Special Ratings
Enchiladas Suizas:


Tamales:


Mole Enchiladas:


Sopes:


Refried Beans:


Rice:


Salsa:

various types
Queso:


Lemonade:


Sopaipillas:

MORE ABOUT THIS WEB SITE