Important Notice:
An update of this review can be found at okgourmet.com .
Lemongrass Thai Restaurant
253 S. Santa Fe Ave.
Edmond, OK
(405) 330-6888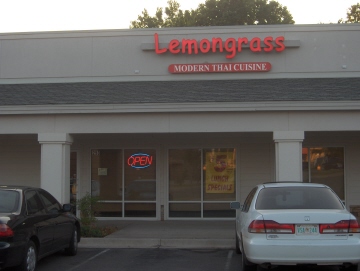 Lemongrass took over the former space of Thai Basil, and thus continued providing Thai food in an upscale setting to the west side of Edmond. Usually I am worried when a Thai restaurant places as much emphasis on the decor as Lemongrass has done, since I many times find the food to be "dumbed down" for American tastes. I did not find this to be true here, though, and in fact the little I have been able to sample has been among the best I have found in the OKC metro.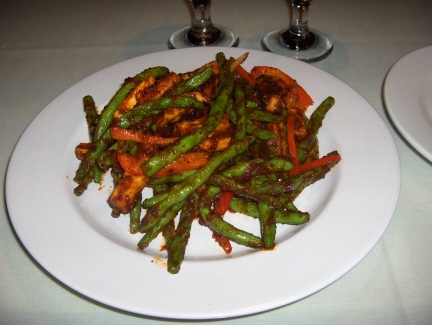 Pad prik king
Pad Prik King is one of my favorite Thai dishes, and I do not know why I prefer this type of curry to the ones that have coconut milk (this is a "dry curry"). I was especially impressed that Lemongrass had a good tofu that was substituted for the meat (the dish can also be served with chicken or other meats). The green beans were fresh, and tasted as if they were straight out of a garden. The quality of the Pad prik king may not be indicative of the other dishes served, but it would have been a red flag to me if this dish had turned out to be disappointing (if a restaurant cannot prepare pad prik king correctly then there is usually little hope for the other dishes).
I need to try more dishes to see how the food tastes overall, but I have tried enough to know I would like to go back. I think customers have to tell the chef if they want it spicy, but otherwise the food is served "Thai style," with so many flavors it is hard not to be impressed.
Go to Index
RESTAURANT DETAILS
RATING: 23
Cuisine: Thai
Cost: $$
Accessible: Yes
Tea: Jasmine
Smoking: No Smoking
Buffet: No
Most Recent Visit
Jul. 31, 2008
Number of Visits: 1
Special Ratings
Pad Prik King:

MORE ABOUT THIS WEB SITE