Little Sala Thai Restaurant (Closed)
1428 W. Britton Rd.
Oklahoma City, OK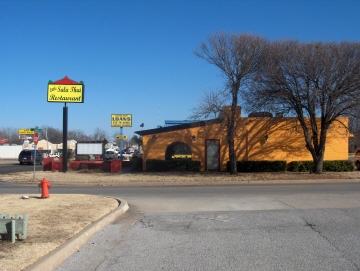 My judgment of what constitutes "authentic" Thai food is admittedly subjective, but is based on a lot of experiences at Thai restaurants and reading reviews by other people. I look for fresh ingredients and Thai flavors such as coriander, lemon grass, basil, kaffir lime leaves, galanga, and ginger (some of the items Little Sala Thai's menu states are used in the food). The color is important, so that it does not look as if it has been drowned in soy sauce or other dark sauces that make it hard to tell what other ingredients are included. I have been to enough places where the sauce tastes sweet to believe that this is actually an adaptation for American tastes rather than the type of food Thais would eat.
So far my visits to Little Sala Thai have passed every test for determining that it is the type of real Thai food that I like. This does not mean it is exactly as the food served in Thailand, but I believe it is pretty close. In trying different dishes, I have experienced pretty much the full range of Thai flavors as represented by the ingredients listed on the front of the menu (coriander, lemon grass, etc.).
Little Sala Thai is in a small building that looks as if it used to be a fast food restaurant, and this is the same setting I have found for many very good Thai restaurants. The inside has been remodeled, so patrons are spared the discomfort of fast food tables and furniture. The old "ordering counter" is still there, but the owner comes to each table to take orders, and it certainly no longer has the atmosphere of a fast food restaurant.
Lunch specials are available for those who have limited time, and most dinners do not take long to cook (as is the case with most Thai food). Little Sala Thai is not inexpensive, but I am impressed that the prices are better than at many of its competitors.
The original Sala Thai is located on N.W. 23rd Street, and is one of the most well known Thai restaurants in Oklahoma City, having operated at the same location for a number of years. Sala Thai was taken over by new owners in 2006, though, and Little Sala Thai is operated by members of the same family.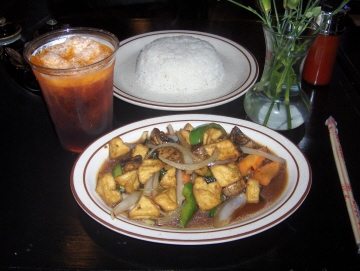 Thai basil with tofu
Thai Basil with garlic sauce is one of the entrées available, and comes with a choice of meats. Little Sala Thai also offers a better than average tofu, though, even though it is not listed as one of the choices. Since the menu states "Vegetarian Dishes Available," they must be used to preparing tofu or other meat substitutes. I found this to be one of the best basil dishes in Oklahoma City, probably surpassed only by Thai Palace in Edmond. This is probably not surprising, though, since the owner of Thai Palace was the long time owner and chef at the original Sala Thai until Thai Palace opened. It seems that Sala Thai has kept the tradition of trying to serve food Thai style rather than Americanizing it.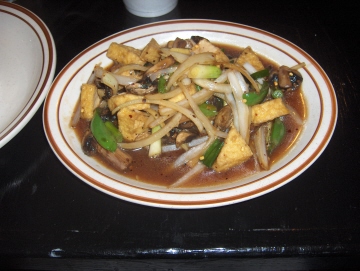 Ginger Thai style with tofu
Ginger Thai Style is the same dish I usually order as pad khing. There is not a lot to this dish other than tofu or a choice of meat, a few vegetables, onions, ginger, and the sauce. Thus the sauce becomes critical in its success, and I found the one here to be one of the best.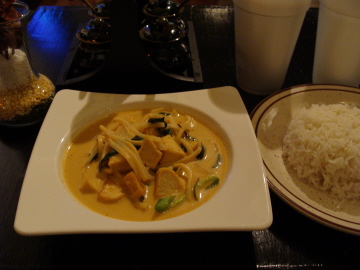 Red curry with tofu
Red Curry with Tofu did not disappoint as an example of the type of real Thai flavor I have come to expect in the better quality and more authentic Thai restaurants. The curry had a good consistency (not too runny or too thick), and of course the spiciness can be adjusted according to preference. One of the things I liked most about it, though, was the vegetables, which according to the menu are "bamboo shoots, eggplant and basil." On the back of the menu is a list of the "Chef's Suggestions," which include Panang, green, and Massaman curry. Even though the red curry is not on this list, I would compare the one here with some of the best I have tried.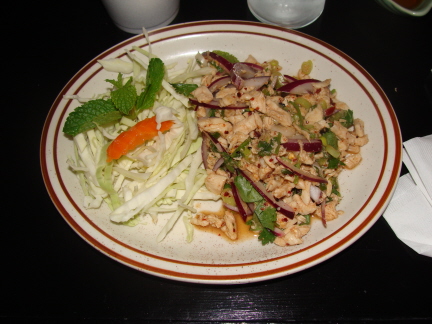 Chicken larp
Chicken Larp is a refreshing Thai salad with basil, cabbage, and other vegetables. The authentic version is usually so spicy it is hard to eat, but at Little Sala Thai they will adjust the spiciness according to taste (I suggest getting prik nam pla, or spicy fish sauce, on the side to add your own spiciness). This dish was very good and very fresh, and offers a good alternative to the normal curries generally served in Thai restaurants.
A generous portion of aromatic rice supplemented the main dish, giving me more than enough quantity of food to be filling. I certainly consider this restaurant to be one of the city's best bargains when it comes to good Thai food for the money spent.
I have not tried to find out how spicy they can make the food, but I am convinced that those who like it hotter than I do would be satisfied. If patrons order spicy food the restaurant does not try to guess whether they really want it as spicy as ordered, they just serve it that way. Thus everyone should be forewarned.
A very good Thai Tea is served, as well as the standard choice of drinks.
I am sorry that Little Sala Thai finds it necessary to serve some American style Chinese dishes such as sesame chicken and sweet and sour chicken. The Thai food here is of high enough quality it is really what I would recommend trying. I certainly have not sampled everything served, but so far I have been pleased.
Go to Index
RESTAURANT DETAILS
RATING: 23
Cuisine: Thai
Cost: $$
Hours: Closed Sun.
Accessible: Yes
Tea: Thai tea
MSG: No
Smoking: No Smoking
Alcohol: No
Most Recent Visit
Aug. 31, 2009
Number of Visits: 5
Best Items
Thai Basil, Ginger Thai Style, Chicken Larp
Special Ratings
Thai Basil:


Ginger Thai Style:


Chicken Larp:


Thai Tea:

MORE ABOUT THIS WEB SITE