Namasté Indian Cuisine (Closed)
76 E. 33rd St.
Edmond, OK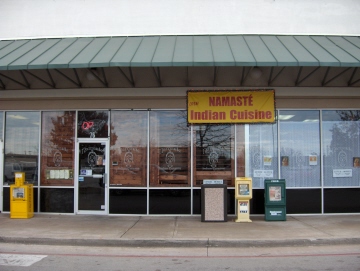 I was only able to visit Namasté Indian Cuisine a couple of times before it closed, but the food was so interesting I thought it would be worth a follow-up to the report I made after my first visit.
Namasté opened in 2006, but it did not take long for it to become known by word of mouth, even before the phone number was listed or it had a working web site. Perhaps the fact that this small establishment relied on the food quality rather than allowing customers to gorge themselves on a buffet set it apart from other Indian restaurants, but I think it was also the variety of menu selections that made it popular. With combination plates, Tandoor dishes, Biriyani rice, meat and vegetable entrées, and south Indian breakfasts, there was something for just about everyone. The food was not over the top on the spice scale, in fact much of it was quite mild.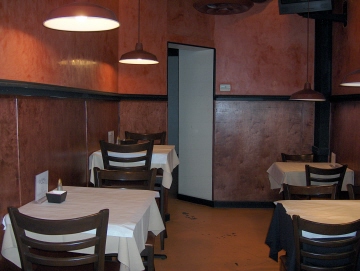 A new dining room added more space to the original one, shown in picture
Namasté went through several changes, including an expansion of the dining area, then a downsizing to the original restaurant space before it closed. The owner tried several promotions including breakfasts served on Saturday, and a Monday night all you can eat dosa night. It was the latter that made me want to return for more visits, but before I could do so the restaurant closed in the summer of 2008. I am just glad I found out how good the restaurant really was before it closed.
I usually like to start my visits at Indian restaurants with a sampler plate. Several combination platters were served at Namasté, all but one containing meat dishes. On my initial visit, then, I tried the vegetable platter containing two vegetables served in sample sizes, along with white rice and naan. While everything was good on the platter, my hunger could not be alleviated without consuming large portions of the rice and bread that filled most of the plate (but this was not too unusual for Indian restaurants). Althought the naan bread was fresh and flavorful, the white rice seemed to lack the herbs and spices normally associated with Indian cooking.
Channa Masala is normally one of my favorite dishes, and the one here was flavorful, although not as spicy as at other Indian restaurants (but probably average for Oklahoma Indian restaurants).
Aloo Saag Wala, a potato dish with herbs and spices, was probably the best item I tried at Namasté. While many restaurants make the mistake of serving undercooked or unflavorful potatoes, the ones in this dish were just right, with the spices making it even better. The heat level was about medium on the scale of Indian food, and this was the only dish I tried that approached what I have found to be the typical Indian spice level.
Baingan Bartha was a dish that took eggplant, one of my least favorite foods, and gave it not only a good flavor but a non-repulsive texture as well (not an easy feat when it comes to eggplant).
Pakora fritters made with spinach were served as appetizers with all meals, along with three sauces (tamarind, mint, and cilantro). Although the fritters were somewhat greasy, I really thought this enhanced the meal quite a bit, with the sauces being far superior to the ones served in most restaurants.
The hot Chai was sweeter than any other version I had tried, and although at first I did not know quite what to think about it, this is actually the way many Indians like to drink it.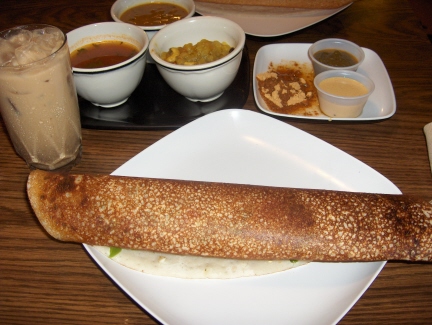 Monday night offered several types of dosas
When I discovered the Monday night all you can eat Dosa special, this was the highlight of my experience at Namasté. Several types of dosa were prepared fresh, and I liked not only the quality but also the variety. I found myself ordering more, not because I was hungry, but because they were so good. Several sauces were served, and I thought this was one of the best experiences I have had at an Indian restaurant.
The Iced Indian Tea was also very good, and perhaps better than the hot tea I normally order.
In my original review I wrote:
Namasté is a small restaurant in one of Edmond's many strip shopping centers (and in fact is a few doors down from Dot Wo), but the lively décor and friendly staff make dining a pleasant experience and help ease the apprehension of those who may be unfamiliar with many of the Indian dishes. With a menu as extensive as the one at Namasté, the wait staff is undoubtedly well prepared to answer questions and help customers make the right choices.
I think many people regret, as I do, that we did not have more opportunity to experience the different types of food that were served here.
Go to Index
RESTAURANT DETAILS
RATING: 22
Cuisine: Indian
Cost: $$
Hours: Open Daily
Accessible: Yes
Tea: Chai
MSG: No
Smoking: No Smoking
Buffet: Lunch
Special Features: Serves breakfast on Sat.; All you can eat dosa Mon. night
Most Recent Visit
Jul. 21, 2008
Number of Visits: 2
Best Items
Dosa, Aloo Saag Wala
Special Ratings
Dosa:


Aloo Saag Wala:


Channa Masala:


Baingan Bartha:


Pakora:


Naan:


Rice:

MORE ABOUT THIS WEB SITE