OK Cocina, located next door to the lively OK Corral night club, is designed for those who want a break from the typical Tex-Mex cuisine served around the city. Specializing in tortas and sopes, this could be classified as Mexico City street food. Orders are taken at the counter and patrons may either sit at one of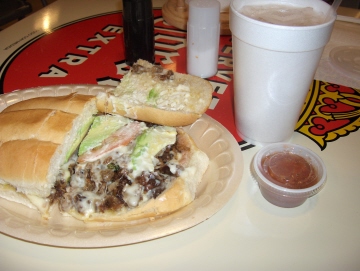 the small tables or get an order to go (the tortas, being Mexican sandwiches, are particularly well suited as take-out orders.

The Tortas come in numerous varieties with a heavy emphasis on ham and other types of meat, although some vegetarian sandwiches are served. Most tortas are mildly spiced with bell peppers or similar condiments, but if chiles are requested a warning should be issued that these are seriously hot!!

I tried a Chicken Torta made with moist and delicious white meat, avocado, chiles, Mexican white cheese, and a variety of other toppings. Other than the fact of being unprepared for the jolt to my mouth the chiles would provide, this was a delicious and very satisfying meal. There are times I might prefer a large plate or combination dinner that is served at most of the restaurants in town, but when a lighter meal is preferred OK Cocina is a great choice. The sandwiches are large enough that most people should not go away hungry.

A Tapadita Torta was similar except that it came with beef fajita meat. I did not order this one with hot chiles, but a container of salsa was provided that added both heat and flavor. I thought the meat was dry, and I would probably recommend chicken over beef at OK Cocina.

Sopes are also available, consisting of different types of meat on a tortilla crust (in this case I don't think a vegetarian variety would be the best choice).

Chips taste home made. They are supposed to be served with every meal but they have not always been served to me.

Two types of salsa were served--mild and very hot. Both were good.

Licuados are one of the types of drinks served. Tasting somewhat like a smoothie, they come in mango or tamarindo. The ones here are sweetened with cinnamon giving them a sweet, but not overly sweet flavor.

I would say the Horchata is even better, with a home made flavor.

The most popular drink seemed to be the Mexican Cokes served in one liter bottles. There has been some controversy lately as to whether the Mexican Cokes still use real sugar or have converted to corn oil as the U.S. company has done, but my experience with the south-of-the-border soda pop is that it was always a lot better than its American counterpart.

Beer is served, and several television screens are set to show Mexican sporting events or other programs of interest. The whole feel to the restaurant is of a young people's hangout rather than a family restaurant, although the food can certainly be enjoyed by all ages.

OK Cocina has the same owners as the OK Corral night club next door. At night the security guards block off a large parking lot for the night club, and along with the the only ramp that would make the restaurant accessible for wheelchairs. However, I did not observe any disabled parking in either parking lot, so it seems that OK Cocina does not care about providing accessibility to either establishment.