Important Notice:
An update of this review can be found at okgourmet.com .
Oklahoma Station Bar B Q
4331 N.W. 50th St.
Oklahoma City, OK
(405) 947-7277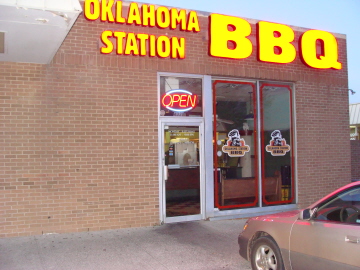 Oklahoma Station B-B-Q has taken on a tough task by attempting to compete with the many popular barbecue joints in a state where the business is fiercely competitive and those who propagate "Q" with even the slightest imperfections can fall by the wayside in about the same amount of time it took the early settlers to make the Oklahoma land run. Oklahoma Station has not been immune from the downturn in the economy, since the second location on Northwest Expressway was closed as of 2010. I do not think it had anything to do with the food, though, since the original location on NW 50th seems to be as popular as ever.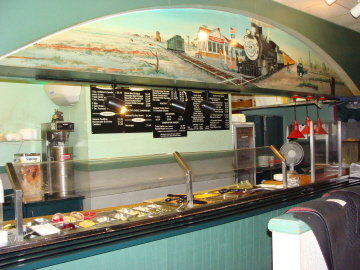 The serving line
Oklahoma Station keeps it simple with a few types of meat available. The Sliced Beef Brisket is cooked for several hours in a smoker using hickory wood, giving it the smoked flavor for which Oklahoma barbecue is famous. My sandwich had excellent quality meat, excellent flavor, and excellent sauce. I really do not think they could do it much better in any of the backwoods barbecue places in eastern Oklahoma that I sampled in my younger days. Many barbecue joints have excellent ribs, but Oklahoma Station is one of the few I have found in which the brisket is of equal quality.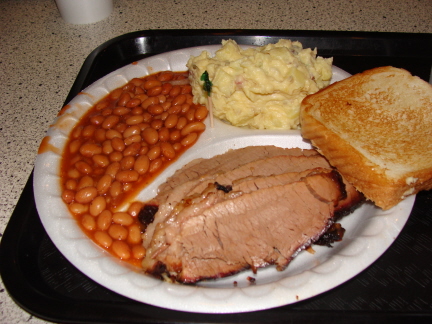 Sliced beef brisket
I haved also noticed that chopped brisket is more popular than the sliced one at many restaurants because the sauce is better able to permeate the meat when it is chopped. At Oklahoma Station, though, I find the meat tender and flavorful enough to eat by itself (although I think it is better with the sauce). Because of the quality of the meat, this is one of the few places that I prefer sliced brisket.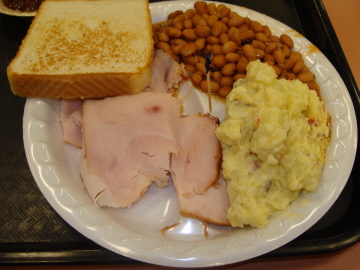 Half order of smoked turkey
Brisket seems to be Oklahoma Station's specialty, but it is not the only meat available. In order to try to stay on a more healty diet, I have tried the Smoked Turkey several times. While the brisket passed one of my tests for good barbecue, that it could be enjoyed when eaten plain without sauce, the turkey did not quite measure up. Compared to most other barbecue restaurants the turkey here was quite flavorful, and the smoke from cooking was evident, but it was not what I considered to be a great example of Oklahoma barbecue. It was a good healthy meal, though, about which I had no complaints.
I sampled the Polish Sausage and thought it tasted very good, but I still would not recommend it over the brisket. After eating sausage from a Czech town in Nebraska when I was younger, I will not go wild over anything I try now unless it is comparable. Like the turkey, though, just because the sausage at Oklahoma Station is not the best I have tasted does not mean it is not good.
The mild and hot sauce were both worthy of high quality meat here. Not surprisingly, I preferred the hot sauce.
The Beans were burned on one occasion when I had them at the Northwest Expressway location, but were very good at this restaurant.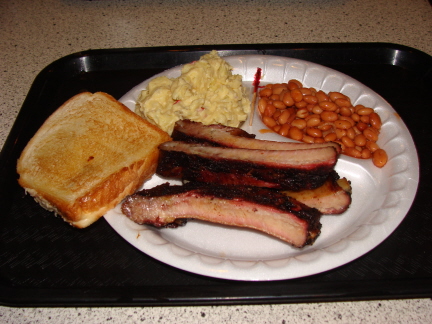 Pork spare ribs
The Pork Spare Ribs were excellent, but unlike the brisket I would not say they were better than at a number of other restaurants (but they were certainly just as good).
One outstanding feature of Oklahoma Station, that is not available at all barbecue restaurants, is the excellent selection of side dishes. I have not determined which one I think is best, but probably the potato salad and okra would be on the list. Desserts and salads are also available, and Texas toast is served with all meals (except sandwiches). Many of the city's cafeterias have closed, and to me Oklahoma Station offers a good alternative, with a good choice of all types of dishes.
Half orders of meat are available, and this smaller portion along with the good side dishes make Oklahoma Station one of my favorite places to go on a regular basis.
I have discovered that high quality iced tea is an integral part to the full enjoyment of a barbecue meal, and the fresh brewed tea here is among the best.
It is quite difficult to practice any form of vegetarianism in Oklahoma, as any abstinence from meat deprives a person of some the best meals served in the state, among which the barbecue at Oklahoma Station would be included.
Go to Index
RESTAURANT DETAILS
RATING: 24
Cuisine: Barbecue
Cost: $$
Accessible: Yes
Smoking: No Smoking
Alcohol: No
Most Recent Visit
Sep. 2, 2009
Number of Visits: 5
Best Item
Brisket
Special Ratings
Brisket:


Spare Ribs:


Potato Salad:


Beans:

MORE ABOUT THIS WEB SITE