Important Notice:
An update of this review can be found at okgourmet.com .
Hefner Grill
9201 E. Lake Hefner Parkway
Oklahoma City, OK
(405) 748-6113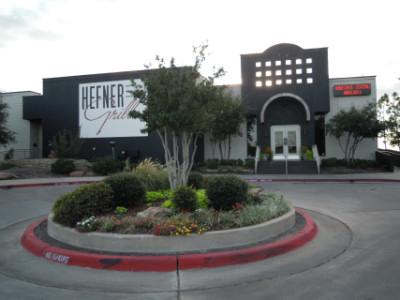 Located on the east shore of Lake Hefner, Hefner Grill makes the most of Oklahoma's frequently spectacular sunsets visible across the lake through the restaurant's giant plate glass windows. Originally I thought the view was a fringe benefit to the good food here, but now I think they have raised the prices to the point that you have to pay for the view.
The restaurant seems to have made a gradual transformation from the time when it was called Pearl's Lakeside Seafood Grill, but appears now to be independent from Pearl's. The former Lakeside Grill, now called Hefner Grill, is pretty much the same except that a few menu items have been added. The price change is the main factor that makes me enjoy Hefner Grill less than Lakeside Grill.
Hefner Grill has dropped some of the Cajun influences that Pearl's uses as one of its themes, and is one of the main things that distinguishes it from the Pearl's Restaurants that are still operating around OKC. Hefner Grill still specializes in the southern style shrimp and catfish that were popular at Pearl's, but also includes fish specialties from other regions. Some of the Cajun side dishes and seasonings have been dropped, but blackened fish is still available.
Shrimp is probably the most popular dish, and this is supposed to be the place to get catfish. On a visit soon after the change from Pearl's the waitress told me that the salmon was farm raised, but all other fish were caught in the wild. Even though I appreciate the wide variety of fish served here, the shrimp always seems to be the best item at Hefner Grill (as well as Pearl's and Lakeside Grill that were here before).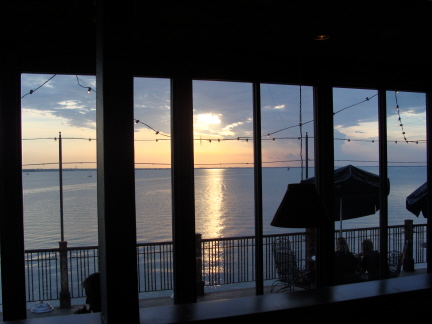 View of Hefner Grill's outdoor patio
Hefner Grill is located off of Lake Hefner Parkway (State Highway 74) at the Britton Road exit. There is a cluster of restaurants along the lake shore, and all are known for being "noisy" (this is a code word signifying that they probably serve almost as much alcohol as food). Hefner Grill has a bar, but I have not found it to contribute substantially to the noise level of the restaurant.
After several visits I finally made it when the weather was warm enough to check out the outdoor patio. As in other Oklahoma City restaurants, though, the patio has become the de facto smoking area for the restaurant since state law has all but eliminated indoor smoking. The views, though, are just as good from inside the restaurant if you want to avoid the smoke, as I do.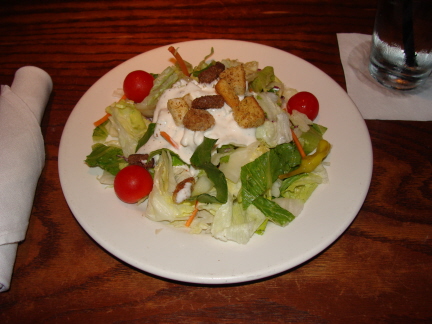 House salad
The dinner seafood entrées used to come with a House Salad, but now they cost $3 extra. This is actually one of the best parts of the meal, though, and may be worth the price. The lettuce is fresh, and the dressings are made from scratch. I thought the Cajun style vinagrette dressing was flavorful and fresh, but others have been equally good.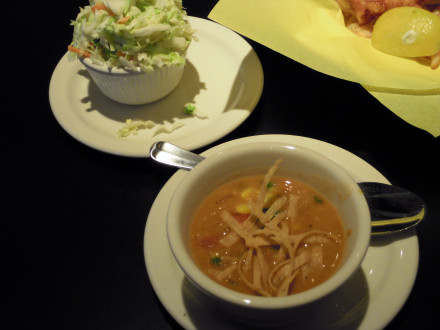 Southwestern bean soup
Several soups and appetizers are available as well. Pearl's served a Seafood Gumbo that had a dark color, and was filled with so much rice, seafood, and other ingredients it was easier to eat with a fork than a spoon. I do not know if the gumbo now served is the same, but Maryland crab bisque is also available for a soup.
The Southwestern Bean Soup, made with white beans, was flavorful, nutritious, and very good quality. It was the soup of the day (served on Tuesdays), and may be representative of the quality of soups served on other days of the week.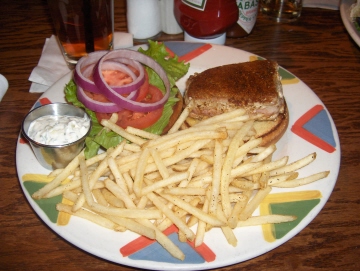 Tuna sandwich
Several sandwiches are served, and they are not cheap but they are good quality. The Tuna Blackened Sandwich made a good casual meal for a moderate appetite. However, I no longer found the tuna sandwich on the menu after the change from Lakeside Grill to Hefner Grill.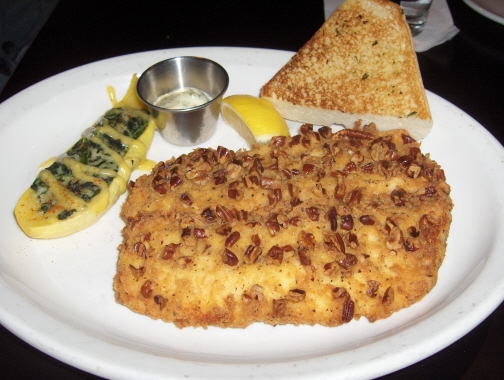 Pecan crusted trout with squash rockefeller
At the original Pearl's I had Pecan Crusted Trout that was split open and filleted. The skin was left on the bottom to keep it moist, and the top was deep fried. The cooking method was called "light deep frying" because it was only fried for a short time, leaving the crust crispy but the fish moist as if it were baked. This dish was quite a unique and delicious experience. I do not want to leave the impression that the fish was top quality, because it did have to be flown in. The cooking style used at Pearl's, however, might well compete with some of the best fish houses in the country. I certainly thought the pecan crust was first rate, and the fish itself was fresh enough to be free of the telltale "fishy" taste found at so many restaurants.
After the change to Lakeside Grill I found the trout to be more greasy than before with the fish not being as flavorful. It still did not taste "fishy," though, so it was still a good dish. After just one sample, though, I am reluctant to speculate whether this reflects a general trend, and I have not tried it at all at Hefner Grill (the latest incarnation of the restaurant that opened in 2010).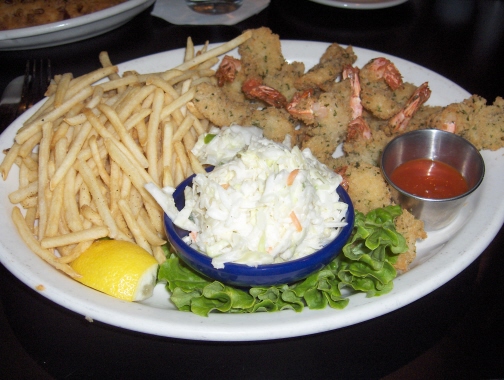 Dinner portion of fried shrimp
Fried Shrimp has been the standout dinner I have tried, with a fresh shrimp and a good tasting crust. My standard for judging shrimp is based on trips to Galveston, Texas, and for years Oklahoma had nothing that approached the fresh catches found along the Gulf. These days, though, the shrimp is getting a lot closer to tasting fresh, and Hefner Grill has some of the best. This has been true at the previous restaurants (Pearl's and Lakeside Grill) as well.
I am not crazy about Shrimp Cocktail, but the one at Hefner Grill seemed fairly good, with large shrimp and a flavorful sauce.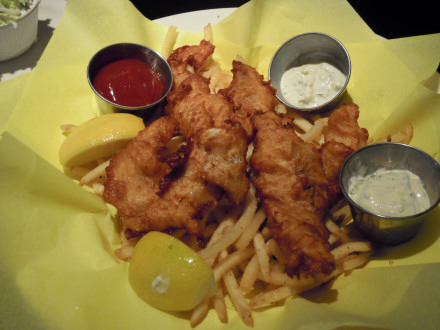 Haddock fish and chips
In the past I have driven all over Washington, Oregon, and northern California trying to find good fish and chips (as well as sampling several places in London), so this gives an idea how picky I am about this dish. Of course Willy's Fish and Chips at Hefner Grill did not compare with ones I have had in other places, but they were surprisingly good. The tilapia at Lakeside Grill may have been slightly better, but the dish at Hefner Grill was still enjoyable (I wrote in my notes that it was made with pollack, but the menu says haddock, so I do not know which is correct). In any case the batter was good, and I skipped the sauces in favor of my favorite condiment with this dish, malt vinegar (which thankfully was available).
Of course, most restaurants in Oklahoma are pretty expert at making french fries, so as expected the "chips" part of the dish was quite good.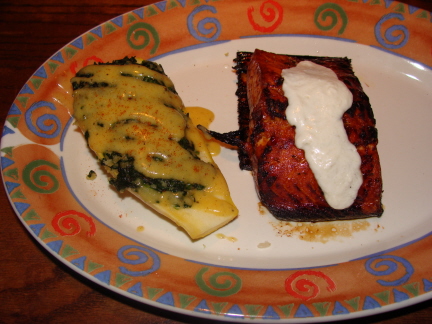 Cedar plank salmon at Lakeside Grill (but still served at Hefner Grill)
Even though salmon is my favorite fish, I am even more reluctant to try it outside of the Pacific Northwest than the fish and chips. It would have been a mistake, though, to pass up the Cedar Plank Salmon at Lakeside Fish Grill. I try to be objective in writing these reviews, and my objective judgment is that shrimp has always been the best dish at this restaurant. Subjectively, though, I am such a big fan of salmon (when it is done right) that this turned out to be a standout dish at Lakeside Grill.
I was a little less impressed with at at Hefner Grill, though, because the fish did not taste as fresh and was too much on the "white" side (as oppsed to the pink or red colors found with most Pacific Northwest salmon). The maple glazed sauce may also be different from the one described at Lakeside Fish Grill as soy sesame seed glaze with wasabi. In any case I still liked it, but not as much as before.
Many of the side dishes seemed to be the weakest link at Pearl's, but less so at Lakeside and Hefner Grill. The Cole Slaw at Hefner Grill, for instance, was one of the best I have tried in Oklahoma City.
The outstanding feature of Hefner Grill is not so much that it has the best seafood in Oklahoma City, but that almost everyone seems to like it and to come away happy with the meal. Most things are fried, but the cooking methods seem to be a little bit healthier than most places that serve fried food. There is enough variety that you can stay away from fried seafood if you want, and several non-fish items have been added to make it more of a fine dining restaurant (and not just a place for seafood).
I will have to say that I thought Lakeside Fish Grill was the best of the restaurants that have been in this location, and Hefner Grill has made several changes that do not seem to be for the better. I still enjoy Hefner Grill, but I am inclined to stick with some of the things they do best, such as fried shrimp or fish and chips.
Go to Index
Restaurant Web Site
RESTAURANT DETAILS
RATING: 21
Cuisine: Seafood
Cost: $$$
Hours: Open Daily
Accessible: Yes
Smoking: No Smoking
Alcohol: Beer, Wine, Margaritas
Special Features: Lunch specials, Sunday brunch
Most Recent Visit
Oct. 10, 2010
Number of Visits: 7
Best Item
Fried Shrimp
Special Ratings
Fried Shrimp:


Cedar Plank Salmon:


Pecan Crusted Trout:


Fish and Chips:


Southwestern Bean Soup:


Crab Cakes:


Cole Slaw:


Garlic Mashed Potatoes:


Squash Rockefeller:


Salad:

MORE ABOUT THIS WEB SITE