Important Notice:
Steve's Gastronomic Home Page has moved to okgourmet.com , and any new reviews or updates can be found on the new web site.
Poblano Grill
13593 N. May Ave.
Oklahoma City, OK
(405) 755-8111



Click here for the latest version of this page on okgourmet.com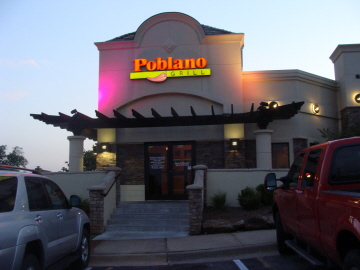 I have many years of experience with the former Poblano Grill that was located at Rockwell and Hefner (the building later became the home of Jo's Pizza), and for years I thought going to Poblano Grill was just a step above eating at El Chico (and for me this was not a good thing).
Poblano Grill's current location at North May Avenue and Memorial Road, though, was such a different experience that I thought it would be best to write a completely new review (and not include any material from my previous experiences). Poblano Grill now has a different menu, and the food seemed different enough that I am now as enthusiastic about returning as I used to be about trying to find any other alternative for Mexican food in order to avoid going to Poblano Grill.
I think many of the bland tasting dishes I tried at the old Poblano Grill are still here at the new location, but the "authentic" dishes that have been added since the old menu I picked up at the Hefner Road location seem to be quite good, and I would say true to the Mexican style of cooking.
I am trying to keep up with the different locations of the restaurant, but it seems that every menu and every telephone directory has a different list of addresses. What I know for sure (as of 2012) is that the location at May and Memorial is open while the one at Hefner and Rockwell has been closed for 2-3 years.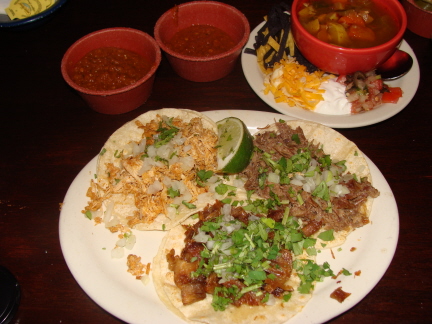 Street tacos with chicken, carnitas, and beef (and a bowl of tortilla soup)
Street Tacos are an example of the new menu items that add some authentic Mexican dishes to the selections. These were Mexican style tacos with soft tacos, onion and cilantro garnishes, and a choice of meats. These tacos are inexpensive and very good.
I have now had two different experiences with the Chicken Tacos. At first the chicken tacos were more flavorful than most, and I thought the shredded and seasoned meat was one of the best I had experienced in the city. The second time, though, I thought the chicken was dry. I generally enjoy most chicken I get in restaurants, and for me to think this was dry would probably make it a three to four star experience for most people (instead of the five stars I gave it because of my first visit). For now, though, I am leaving it at a five star rating.
The Carnitas Taco made with pork was the most impressive of the different varieties on both visits. For one thing, good carnitas are hard to find in restaurants (and this was one of the best). In addition, these were moist, while I find the ones at most restaurants to be dry.
The Shredded Beef Taco tasted like barbacoa, and I thought it was very good. I did not think it was exceptional as the tacos calvillo at Abel's are, but I give the ones at Poblano Grill five stars because of the flavor and the quality.
Street tacos come with two sauces meant to give more flavor and seasoning to the meal: a chipotle tomatillo and a roasted tomato sauce. However, after trying both, I ended up using neither on the tacos. Instead, I found the spicy salsa (salsa caliente) served on request with the chips at the beginning of the meal to be perfect with the tacos (there is also a diablo salsa available for those who like it even spicier).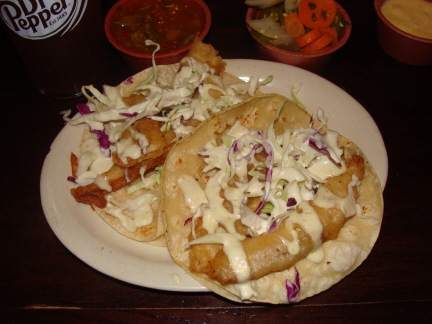 Baja fish tacos
The Baja Fish Tacos made with tilapia were very good, but were probably not comparable to the street tacos in providing a memorable experience. What I will say, though, is that I thought they were comparable to the fish tacos at Miguel's Baja Grill in Moab, Utah (a restaurant that is quite well known and recognized for its fish tacos).
The Tortilla Soup (shown in the photo of the street tacos) was good, but not comparable to several that are served in El Paso, Texas (which for me is where I find the best tortilla soup).
For side dishes I have to refer to my experiences at the Hefner Road location, at which I enjoyed the rice and the papas tejanos the most.
The Queso was better than at most Mexican restaurants, but the chips were disappointing.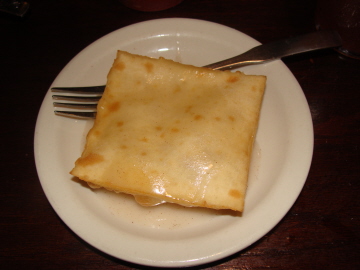 Sopapilla
The Sopapilla was better than most, but still not like the ones they serve in New Mexico.
The restaurant is pleasant and the service seems to be good. Although I do not think of Poblano Grill as cheap, it does seem reasonable compared to most other restaurants I visit (especially if you order the traditional Mexican items such as the street tacos).
They do not have traditional Mexican aguas frescas drinks, but beer is served. This is not a truly authentic Mexican restaurant, but I am glad for the steps they have taken to offer much better food than they did in the past.
Go to Index
RESTAURANT DETAILS
RATING: 21
Cuisine: Mexican
Cost: $$
Hours: Open Daily
Accessible: Yes
Additional Locations: 1909 S. Douglas Blvd., 1613 S.W. 74th St., 2701 S. I-35 Frontage Road
Smoking: No Smoking
Alcohol: Beer
| | |
| --- | --- |
| Chile Index: | |
Most Recent Visit
Feb. 14, 2012
Number of Visits: 2
Best Item
Street Tacos
Special Ratings
Street Tacos:

chicken
Street Tacos:

carnitas
Street Tacos:

beef
Fish Tacos:


Tortilla Soup:


Chips:


Salsa:


Salsa:

caliente
Queso:


Sopapilla:

MORE ABOUT THIS WEB SITE