Important Notice:
An update of this review can be found at okgourmet.com .
San Marcos Restaurant No. 3
12201 N. Rockwell Ave.
Oklahoma City, OK
(405) 722-1172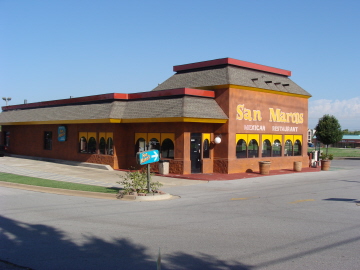 San Marcos follows a familiar pattern in Oklahoma City of a Mexican restaurant expanding north from Capitol Hill with several branch locations. Unlike some other "mini-chains," though, the food at the north suburban branches tastes much the same as I would expect to find in the strongly hispanic area where the original restaurant is located. San Marcos does make some concessions to Tex-Mex style food by providing chips, queso, and sopaipillas (all of which tend to raise the prices), and by offering several familiar Tex-Mex items on the menu. A large portion of the menu, though, is devoted to traditional northern Mexico style cuisine.
Many of the traditional dishes are a meat lover's delight, with steaks, ribs, and grilled meat of all kinds. Based on the vegetarian items I have tried, I would not recommend them as much as the meat dishes (some of them, such as the enchiladas, tend to be Tex-Mex style). Probably San Marcos' greatest strength, though, is in its variety. San Marcos serves traditional Mexican food and Tex-Mex, spicy and non-spicy, large dinners and a la carte.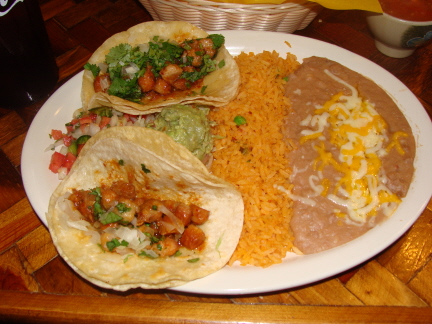 Pork tacos
The item I have enjoyed the most has been the Pork Tacos from the "Mexican Tacos" section of the menu. The restaurant is very up front about identifying which items are traditional Mexican dishes and which are Americanized. This is one that is about as traditional as I have found in Oklahoma, with soft tortillas, seasoned meat, and a garnish of onions and cilantro. Of course they also provide a very spicy salsa on request that goes well on the tacos.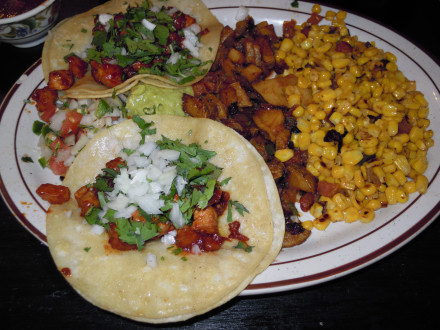 Pork tacos with potatoes and corn
Even though most dishes at San Marcos come with rice and beans, the waiter suggested substituting other items to provide more variety. In this case, the Mexican Corn and Potatoes were both very good, and I think gave the plate more of a "south of the border" flavor than the standard rice and beans would have done.
San Marcos also serves tacos al carbon, barbacoa, and fish tacos under the "Mexican Tacos" section of the menu (meaning that they come with soft tortillas).
Guisado de chile rojo with beef
One section of the menu is devoted to guisado dishes (these are popular in northern Mexico). Guisado (or stew) is served with a choice of meats, and with a default red chile or optional green chile or entomatado (tomatoes). My favorite was the red chile with beef. The red chile has tended to be quite spicy, and the beef seems to be the best meat to blend with this sauce. I was also impressed with the quality of the beef.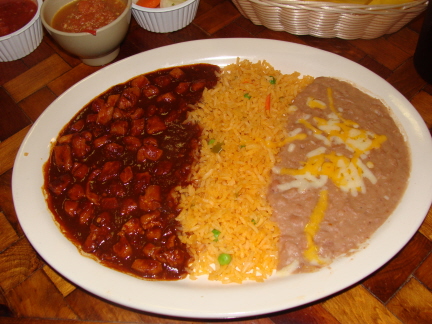 Guisado de chile rojo with pork
The Guisado de Chile Rojo can also be served with pork, but otherwise is the same as the beef dish. I thought the pork was dry, but otherwise I enjoyed this dish much the same as the beef dish, with the meat blending well with the spices.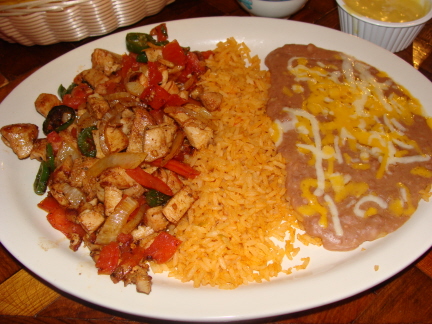 Guisado de gallina
Guisado de Gallina had good chicken, but when they had a particularly hot batch of chile I really felt it with this dish. I did have the dish one time when the chile was not as hot, but I really thought overall that the beef was better (at least with the hot chile).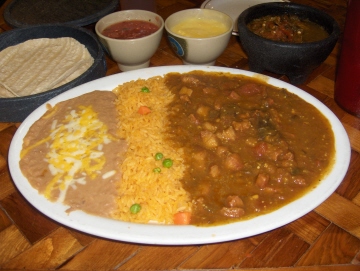 Guisado de chile verde
The Guisado de Chile Verde was not as enjoyable to me because the chile was hotter than the red, and I thought less flavorful. There can be much variation with Mexican chile, though, so at times it may be less spicy (and in any case everyone has their own taste, so the green may be worth a try).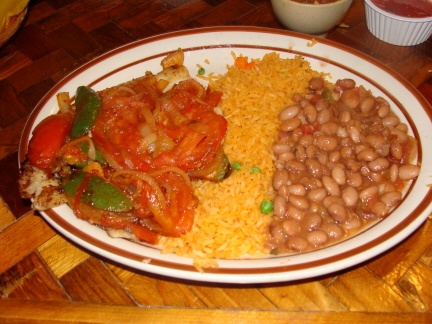 Pescado a la veracruzana
One dish I really enjoyed was Pescado a la Veracruzana, or Veracruz style fish. This was a fish fillet with onions, tomato, and green peppers. This was not the way I had seen this dish served before, and I am used to green olives being included. I thought the green peppers were too hot to add much flavor to the dish, but otherwise I enjoyed it (especially because the fish was good). Avocados were added for flavor, and I thought this was a good dish to try.
Flautas
Flautas are probably considered "traditional" Mexican food rather than Americanized, but I generally do not enjoy fried tortillas as much as the soft ones served with the Mexican tacos. I also thought the tacos had more meat.
Two Tex-Mex style dishes I liked were the Green Enchiladas and Bean Tostada. The enchilada had so little green chile that I did not consider it to be spicy. There was a time that I would have been so excited to see any green enchiladas in Oklahoma that I would have made a point to order them. The ones here, though, are probably just average in quality (although I am judging them compared to New Mexico green enchiladas).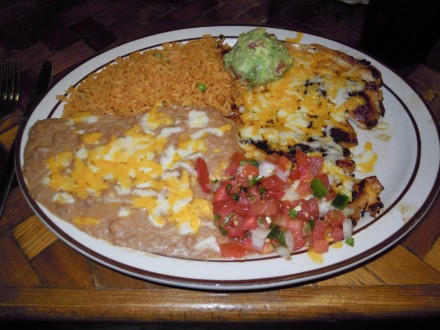 Pollo a la parrilla
Pollo a la Parrilla sounded like an authentic Mexican dish, but it was little more than a chicken breast covered with melted cheese (but the chicken and cheese were both good).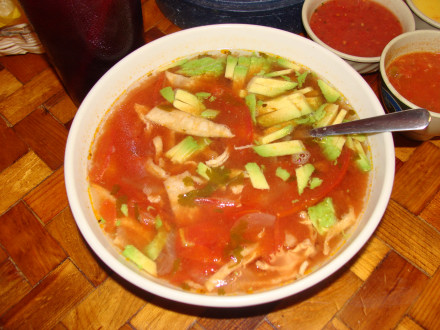 Tortilla soup
The Tortilla Soup had a good broth with fresh avocados, but I did not care a whole lot for the chicken white meat. The flavor was good but probably not very notable compared to other restaurants.
Most meals come with Refried Beans, but I usually prefer the Borracho Beans made with whole beans.
The Rice was very flavorful and well prepared.
San Marcos used to serve authentic Mexican style aguas frescas drinks, but they were discontinued in 2009 due to a lack of people ordering them. From talking to the employees I gather that the drinks are still available at the restaurant's other locations. I judged the horchata and the melón (canteloupe) to be rather thin, but serving these drinks was one of the major factors that made me enjoy San Marcos. The food is still the same now, but the experience is not quite what it was before.
Go to Index
Restaurant Web Site
RESTAURANT DETAILS
RATING: 19
Cuisine: Mexican Nuevo Leon
Cost: $$
Hours: Open Daily
Accessible: Yes
Additional Locations: 2301 SW 59th St., 4024 N. May Ave.
Smoking: No Smoking
Alcohol: Beer
| | |
| --- | --- |
| Chile Index: | |
Most Recent Visit
Mar. 12, 2011
Number of Visits: 10+
Best Items
Pork Tacos, Beef Guisado, Pescado Veracruzano, Spicy Salsa
Special Ratings
Pork Tacos:


Guisado de Chile Rojo:

beef
Guisado de Chile Rojo:

pork
Guisado de Gallina:


Pescado Veracruzano:


Pollo a la Parrilla:


Bean Tostada:


Flautas:


Green Enchiladas:


Tortilla Soup:


Guacamole:


Rice:


Beans:

refried
Beans:

borracho
Mexican Corn:


Potatoes:


Salsa:


Salsa:

hot
Pico de Gallo:


Queso:


Chips:


Sopaipillas:

MORE ABOUT THIS WEB SITE