Saturn Grill (Closed)
4401 W. Memorial Rd.
Oklahoma City, OK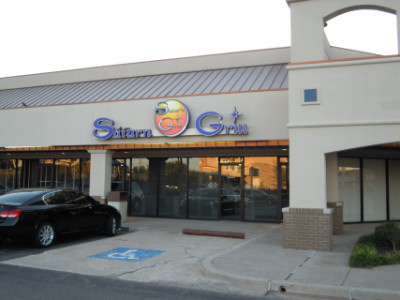 Saturn Grill has long been a popular hangout just off of Western and N.W. 63rd, but the new location at Memorial Road and Meridian seems to be so popular it may have surprised even the owners. Open from 10:30 a.m. to 9:00 p.m. Monday through Saturday, it does a good business at all times of the day.
The menu is simple: sandwiches, salads, pizza, pasta, and daily specials. Most of the specials seem to follow the soup/ sandwich/ salad format, but within these categories is a good variety from both the regular menu and the specials. Almost everything is priced between seven and eight dollars. Whether one item is sufficiently filling probably depends on your appetite. I found it to be enough for a typical lunch or a light dinner (compared to the usual oversized portions found at many restaurants).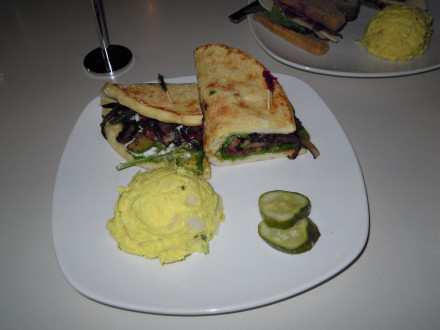 Grilled veggie sandwich
The Grilled Veggie Sandwich is a good example of an item that comes in a fairly modest quantity, but very good quality. The vegetables were grilled, with zucchini and portabella mushrooms being the most prominent of the several types of vegetables served. The pesto mayo was sweet, but had a good flavor and went well with the sandwich. The flat bread was very fresh and flavorful, and was probably more filling than other types of bread. Overall this was one of the best vegetarian sandwiches I have tried.
Potato Salad came with the sandwich, and was excellent. The mustard flavor, flavor, and texture were all top notch, and I was happy that it was neither dry nor too runny.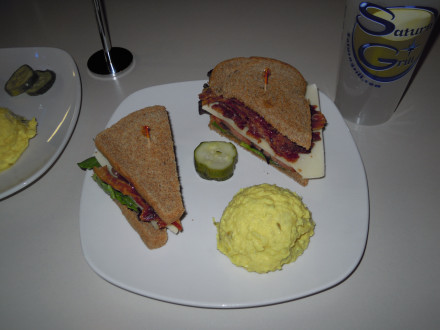 S B L T (Swiss cheese, bacon, lettuce, and tomato)
The S B L T was more than a bacon, lettuce, and tomato sandwich, but the "extras" made it less desirable to me. The bacon was crispy and cooked the way it should be, and the tomatoes were fresh (something that is apparently hard for many other restaurants serving a BLT to find). The Swiss cheese, though, made the flavor different than is typically found in a BLT sandwich. However, the big factor to me was that the honey mustard did not have a flavor I liked with this sandwich (as opposed to the pesto mayo which went very well with the other sandwich I tried).
I only sampled the S B L T, so that the portion of food I ate was typical of what customers would get with a meal. Portions are small compared to a typical restaurant dinner, but were enough that I did not go home hungry.
I would say to be careful in choosing an item, though. Saturn Grill has its own twist on classic items. In the case of the veggie sandwich I thought their twist was quite good, but on the BLT it sort of fell flat. If the menu description sounds good, it probably will be.
Go to Index
Restaurant Web Site
RESTAURANT DETAILS
RATING: 20
Cuisine: Sandwiches
Cost: $$
Hours: Closed Sun.
Accessible: Yes
Additional Location: 6432 Avondale Dr.
Smoking: No Smoking
Alcohol: Beer, Wine
Most Recent Visit
Oct. 13, 2010
Number of Visits: 1
Best Items
Grilled Veggie Sandwich, Potato Salad
Special Ratings
Grilled Veggie Sandwich:


SBLT:


Potato Salad:

MORE ABOUT THIS WEB SITE