Siam Cafe (Closed)
1708 E. 2nd St.
Edmond, OK



With several Thai restaurants in the Oklahoma City suburb of Edmond, I am not sure if they are trying to distinguish themselves by the food served or if it is mainly a matter of convenience to certain surrounding neighborhoods. On my first visit to Siam Cafe, though, the easternmost of the city's Thai restaurants, I found good quality Thai food that was comparable to some of the best places in Oklahoma City. I will have to try more dishes to discover the ones that are considered Siam Cafe's specialties, but I know the one I tried had very good flavor and freshness.

Siam Cafe's menu would make me somewhat suspicious that it was truly trying to be a Thai restaurant, since it also serves sushi, Chinese and Japanese lunch specials, and even Korean barbecue ribs. The great majority of the menu items are Thai dishes, though, so this is clearly its specialty.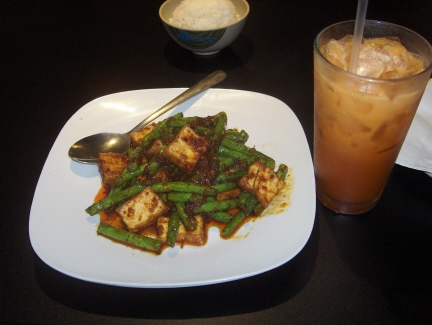 Prik king with tofu
The Prik King I ordered was very flavorful, and I thought had a true "Thai flavor." The dish was made with green beans and red curry that does not have coconut milk (for some reason I seem to like this curry better than the regular ones that are made with coconut milk). The plate had a complex flavor and a good texture of the curry. The tofu I ordered with it was good, and I was quite happy with the meal. I would not say it was better than at Edmond's other Thai restaurants, but it was certainly comparable.
The Thai Tea was good, and like the entrée was about the same as at the other Edmond Thai restaurants. I have not tested a large enough sample of Siam Cafe's food to determine its overall quality, but at least I know they did not disappoint in a couple of items that I order most frequently.
Siam Cafe had a comfortable atmosphere with low enough prices that I would not worry about spending most of my budget on any single meal. I suspect Siam Cafe is trying to appeal to the widest possible customer base by serving Chinese and Japanese food, but Thai food is obviously its specialty.
I looked at the hours on Siam Cafe's menu, and it looks as if it is almost always open except for breakfast. It closes at 9:30 p.m. every evening, including Sunday. Lunch specials are served from 11 a.m. to 3 p.m. (lunch includes both Thai and Chinese dishes). Desserts are available, and several types of both cold and hot beverages are served.
Go to Index
RESTAURANT DETAILS
RATING: 22
Cuisine: Thai
Cost: $$
Hours: Open Daily
Accessible: Yes
MSG: No
Smoking: No Smoking
Most Recent Visit
Sep. 21, 2008
Number of Visits: 1
Best Item
Prik King
Special Ratings
Prik King:

MORE ABOUT THIS WEB SITE