Important Notice:
An update of this review can be found at okgourmet.com .
Swadley's Bar-B-Q
4000 N. Rockwell Ave.
Bethany, OK
(405) 495-5336
It seems that there are enough versions of barbecue in Oklahoma that one person can never try all of them, but a few restaurants have become particularly popular such as Swadley's Bar-B-Q. With the original location in the west Oklahoma City suburb of Bethany, Swadley's recently moved from NW 23rd & Council to NW 39th Expressway & Rockwell and has established several branches throughout the metro. It seems that the family's 80 years of experience in the food industry is paying off.
I really dislike restaurants that answer "everything" when you ask "what is especially good here?" or "what is the restaurant's specialty?". The employees at Swadley's told me "ribs," but even so the brisket was my first priority. Fortunately, Swadley's also makes it easy to try the ribs with orders ranging in size from two ribs to four (and family sizes available as well). I want readers to be aware, though, that the order of ribs in my photo is the smallest one, and is not typical of the size many people order.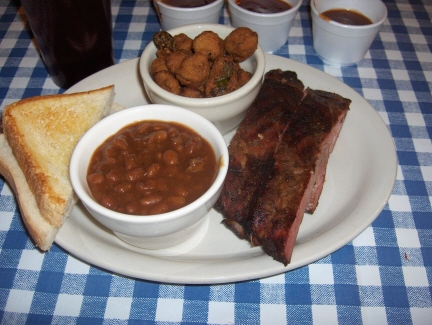 A small order of ribs
Swadley's menu describes the ribs as "Hand Rubbed Honey Rib Dinners," and I thought the flavor was one of the best I had tried. Three types of sauce were available, but before applying any of them I tried the "eating the meat plain" test to see if the flavor was worthy of standing on its own, and it passed with flying colors. I thought it had just the right amount of smoke flavor, but it seems that everyone has their own preference, so this is just my opinion. The meat left a smoky aftertaste in my mouth after the meal was finished, but did not overwhelm the other flavors while I was eating the food.
The really important factor of the ribs, though, was the tenderness of the meat (and this is even more of a factor now that my teeth are no longer in the best shape). This is the one thing I most often find lacking in ribs, especially in other parts of the country (but sometimes even in Oklahoma). I would have to judge Swadley's ribs as being just about perfect in every way, although this does not mean I could not find others (especially in Oklahoma) that are as good or better.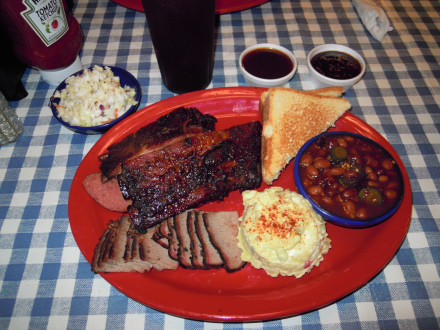 Three meat dinner with ribs, sausage, and brisket
Brisket is probably the next most popular item at Swadley's. This meat is "24 Hour Sugar Cured" and while it is not meat that will fall apart when touched by a fork, it was very tender with the kind of barbecue flavor that would be expected in a good Oklahoma "Q" restaurant. I would say that while I also found this to be quite good, this was the main factor that separated Swadley's from Van's Pig Stand, probably my favorite barbecue restaurant in Oklahoma (that has both outstanding ribs and brisket).
One way to try different types of meat at Swadleys's is by ordering the "2 Meat" or "3 Meat" dinners (as shown in the photo above). One surprise for me was that Swadley's has excellent Turkey, which I tried on one of the plates. In this case I thought Swadley's was better than other BBQ restaurants that serve turkey, such as Oklahoma Station. In turkey I do not like too much smoky taste, and I thought Swadley's was just right, as well as having very good meat.
Sausage was one of the choices on the 3 Meat dinner shown in the photo (and is barely visible under the ribs). This was probably my least favorite of the meats I have tried, not because it was not good, but because I prefer the sausage at the German and other specialty restaurants.
It is interesting that the meat dinners (with one, two, or three meats) come with three ribs, so that it might be hard to split a plate between two people (although this is the only way I have been able to eat them). The "small order" of ribs shown in the first photo is the "light" dinner version of the one meat plate with ribs as the choice of meat. The owner was pointing out that sandwiches are popular at lunch, and this may be a way for people with an even lighter appetite to enjoy the food here. I used to enjoy eating in cafeterias (when Queen Ann was still in business), but the city's barbecue restaurants have become a good substitute so that I can pick and choose the items I want, and just eat the quantity of food that I can handle.
Three types of sauce are served at Swadley's--original, sweet, and spicy. None of them made a big impression with me on the brisket, but I liked the sweet sauce and the spicy one on the ribs. I would say other restaurants have better sauce, but the sauce here was perfectly good and it was certainly enjoyable. Most importantly, though, the meat here is good enough that true barbecue fans probably do not need any sauce to enjoy the food.
Unlike many restaurants that offer beans and cole slaw as sides, Swadley's serves an array of choices that makes it difficult to try all of them. Baked Beans come in two styles--sweet and hot (I was told the hot one was really hot with jalapenos included, but it was not any spicier than most Mexican food). The sweet baked beans were not the best I have ever eaten, but were good quality and are something I would order again.
Okra is one of the choices for a side dish. The one here was extremely non-greasy compared to most versions, and I think is one of the best choices for a side dish.
The Iced Tea is especially good, with both sweetened and unsweetened available.
A free Ice Cream Cone is also served with each meal.
With Swadley's expanding to four restaurants, I believe the challenge is for them to keep the quality to the level that I know it can be. Even at the Bethany restaurant I have experienced some inconsistency, with my first visit not being as good as on subsequent occasions. As long as my best experiences are on the most recent visit, though, I will want to go back. I know that the owners have spent a lot of years perfecting their operation, and I think it is evident when you order the food.
Go to Index
Restaurant Web Site
RESTAURANT DETAILS
RATING: 23
Cuisine: Barbecue
Cost: $$
Hours: Open Daily
Accessible: Yes
Additional Locations: 824 S.W. 89th St. (OKC), 2233 W. Memorial Rd. (OKC), 308 E. Mustang Rd. (Mustang)
Smoking: No Smoking
Alcohol: No
Most Recent Visit
Jul. 13, 2010
Number of Visits: 4
Best Item
Ribs
Special Ratings
Pork Ribs:


Brisket:


Turkey:


Sausage:


Sweet Beans:


Okra:

MORE ABOUT THIS WEB SITE