Thai House Restaurant (Closed)
4548 N.W. 23rd St.
Oklahoma City, OK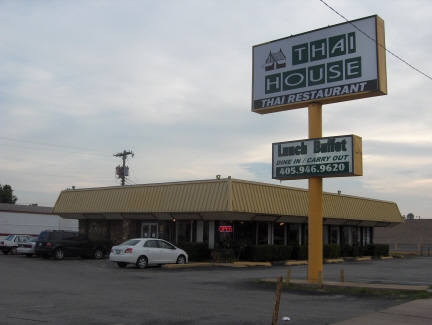 While Thai cuisine in OKC has a large number of devotees, Thai House seems to have customers who are more loyal and more vocal about it than most. Some of the regular customers here are not hestitant to suggest some of their favorite dishes, nor are the wait staff. This makes it somewhat easier to navigate through the 100+ item menu that is one of the most extensive in town.
One good sign is that most items are listed by their Thai name, with an English description that follows. This gives an opportunity to try dishes that have been favorites at other restaurants, or to get a new dish that will come out without any big surprises. One surprise to me was how spicy the food was compared to some other restaurants where I have ordered a similar spice level. I think Thai House follows the Thai "star system," and one should order accordingly.
Thai House has been operating for over fifteen years, and has another restaurant on N.W. 23rd near the Asian District. There used to be another restaurant on Classen Boulevard, but now it only operates the two locations on 23rd Street.
I had previously visited the location on Classen Blvd., and was somewhat unimpressed by their lunch specials. The Thai House I am describing here (at N.W. 23rd and Meridian) has replaced the lunch specials with a buffet, but everything I have tried has been from the menu. I have found from many Asian restaurants that the food on buffets can be quite different than the menu selections, usually being less spicy and less flavorful (not to mention the tendancy for the food to cool off while it is sitting on the buffet). Buffets are good for budget minded customers, but usually do not showcase a restaurant's best food.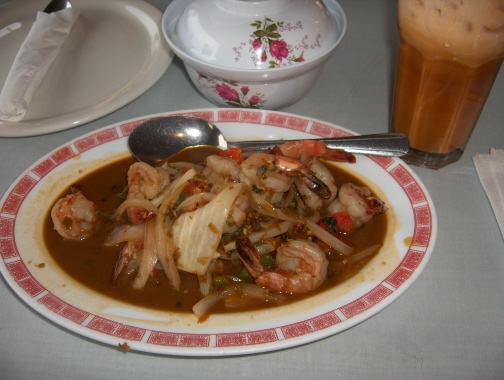 Pad kra pao with shrimp
Items from the menu such as Pad Kra Pao, though, do appear to be some of Thai House's best items. This was one of the "Thai Favorites" listed on the menu, and was one of at least two basil dishes I saw listed. This one had basil leaves in a chile and garlic sauce, and came with a choice of meat. I thought the shrimp I ordered was probably one of the better meat choices, and tasted quite fresh. This dish was rather sparse on vegetables unless the basil was counted (and that was more for flavoring). The bowl of rice that came with it added enough substance so that it was filling if one could get through the hot chiles and finish the dish (which I did once my mouth went through the singeing stage and fell into a state of semi-numbness). Throughout, though, I could taste the flavors that marked this as a classic Thai dish.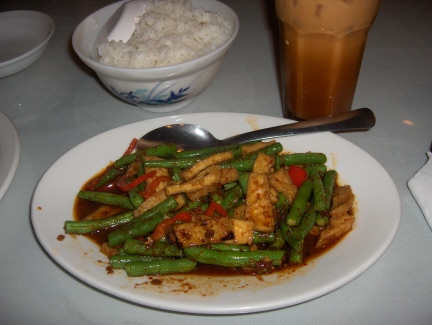 Pad prik king
Pad Prik King is usually one of my favorite dishes, and is made with red curry paste (curry without coconut milk). The one here was very good, and the tofu I ordered with it was quite satisfying. It is strange, though, that I have ordered this dish from three restaurants in Edmond and about a half dozen in Oklahoma City, and all have been good. Maybe I like this curry so much I am not qualified to judge which ones are good and which are less so, but to me they have all been excellent (including the one here). The green beans may vary in quality, and I am sure that depends on what the chef can find at the market. The ones here were crisp and fresh.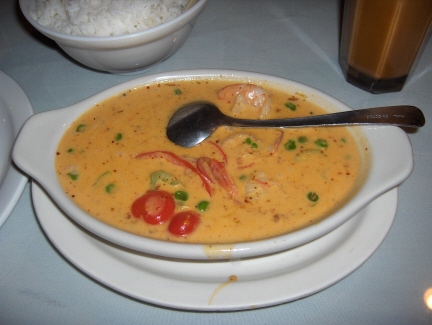 Panang curry with shrimp
Panang Curry was another recommendation of the staff, and I thought was very good. Like other dishes I have tried here, I thought it was enhanced quite a bit by the fresh shrimp that was served with it, although the curry itself had the flavor I associate with good Thai restaurants.
The menu has a section called "Salad" that can pack a big punch in both spiciness (if you order it that way) and flavor. I tried Larb (pronounced "laap") with chicken, although beef and pork are also available (all are ground meat). The meat is cooked with mint leaves, onions, cilantro, rice powder, and lime juice with Thai chilis for a very flavorful dish, with the "salad" being the lettuce and cucumber that are served on the side. If I had tried this dish at Thai House for the first time, I probably would have given it a five star rating, and I definitely liked it. The one I ordered at Thai Garden, though, has been the best I have tried in Oklahoma City, and I thought had better flavors than the one here.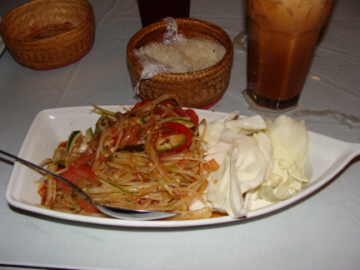 Papaya salad, or som tom, served Lao style, with sticky rice on the side
I found the Som Tom, or papaya salad, to be the most interesting salad I have tried at Thai House. Made with chopped papaya, Thai chiles, garlic, and tomato, the "dressing" or sauce with a shrimp flavor is the key to the dish, and I found the one here to be very good. Thai House offers a bonus on this dish, in that it can be served either Thai or Lao style, with the basic ingredients being the same but coming with different sauces. I have tried the Lao style papaya salad in several restaurants in Amarillo (where there is a concentration of Lao restaurants), and I could not pass up the opportunity to try a Lao dish in Oklahoma City. I am glad I did, since the papaya salad here compared very favorably to the ones in Amarillo (and in fact was better than some of the others I have tried). Not only is this the only authentic Lao dish I have found in Oklahoma City, but I was pleasantly surprised to find that it seemed to be a very good example of the dish. The one here was not as spicy as some others I have tried, but it can be ordered that way (I thought it tasted good with a medium spice).
Thai House has Sticky Rice available, and it goes very well with the papaya salad. Sticky rice is good for dipping into the sauce to enjoy maximum flavor from the salad, but I liked the flavor of the rice itself.
Thai House had a very good Thai Tea served cold to help me get through the hot food.
I have yet to find a Thai restaurant in OKC I did not like. Thai House, though, is one of the places where I think people are more likely to find authentic dishes cooked "Thai style." At least that is what many of the restaurant's loyal customers think.
Go to Index
RESTAURANT DETAILS
RATING: 23
Cuisine: Thai & Lao
Cost: $$
Hours: Open Daily except Mon. dinner
Accessible: No (space is not properly marked and many times not available)
Additional Location: 500 N.W. 23rd St.
Tea: Thai Tea
MSG: No
Smoking: No Smoking
Alcohol: Beer
Buffet: Lunch
Most Recent Visit
Mar. 22, 2009
Number of Visits: 5
Best Item
Pad Kra Pao Goong, Panang Curry, Son Tom
Special Ratings
Pad Kra Pao:


Pad Prik King:


Panang Curry:


Som Tom:


Chicken Larb:


Thai Tea:

MORE ABOUT THIS WEB SITE