Thai Stop (Closed)
14101 N. May Ave.
Oklahoma City, OK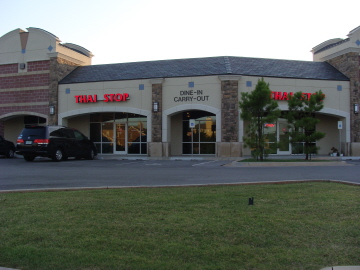 Thai Stop was opened at the beginning of 2009 by the owners of Bangkok, one of Oklahoma City's oldest Thai restaurants (but which was taken over by the new owners not too long ago). I do not see Thai Stop as an attempt to change Bangkok's food as much as to make it more convenient for people in far north OKC. Thai Stop's menu is pretty much a copy of Bangkok's, except that not as many items are offered.
The setting of Thai Stop is quite different from Bangkok, with it being a "bistro" style restaurant where patrons pay at the counter when the order is taken. Although the furnishings at Bangkok have been around for a while, I find them comfortable, and in a lot of ways prefer them to the "fast food" style of restaurant found at Thai Stop. I think there is an attempt at Thai Stop to serve all customers quickly, and the soda machine is available so that you can get your own refills. Otherwise, though, there is not a lot of difference between the two restaurants.
I think the food at Bangkok is quite good, and it seems to have become more authentic with the new owners. To me this means that Thai Stop has the potential to serve the same food that I have come to enjoy over the years, but it also means that Thai Stop could be different when it gets its own cook. Until now I have had the same food at Thai Stop as at Bangkok, since the owners have been at both restaurants when I have gone (Bangkok Restaurant was closed in the evenings during this transition period in early 2009 so that they could get Thai Stop going). Now I hear that the owners plan to work at Bangkok Restaurant full time, and have once again begun opening it at night, so I do not know how this will affect the food at Thai Stop. I do not think the food at Thai Stop will change very much, though.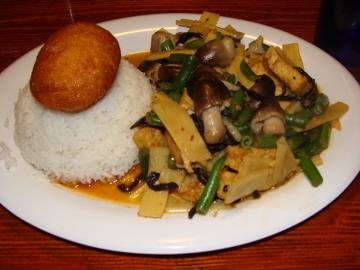 Lemongrass tofu
One thing I feel pretty safe in recommending is the Lemongrass Tofu. This has been one of my favorite dishes through two owners at Bangkok, and was very good when I tried it at Thai Stop. I like the tofu version, but it also comes with chicken or other meats if preferred. To me the flavor of the sauce and the fresh vegetables are what make the dish special. It can be either mild or spicy, but the "default" on it seems to be pretty spicy.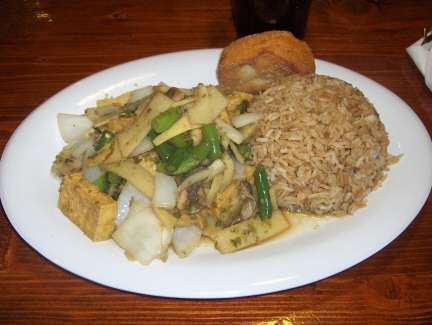 Pad gra prao
Pad Gra Prao (made with basil) is also one of the better dishes I have tried at Thai Stop. Like the lemongrass tofu, I think one of the reasons I like the one here is that the quanity and variety of fresh vegetables served (regardless of the meat chosen) seems much greater than at most restaurants. The basil flavor was quite good, but I can say the same at most other Thai restaurants. I really think that if you appreciate good quality fresh vegetables, a trip to Thai Stop should definitely be considered.
I made the mistake of ordering fried rice with the dish shown in the picture, and for my taste the steamed rice has a better flavor and goes better with most dishes here. In fact, I think steamed rice is standard at most Thai restaurants (and comes with dinners here unless you specify otherwise).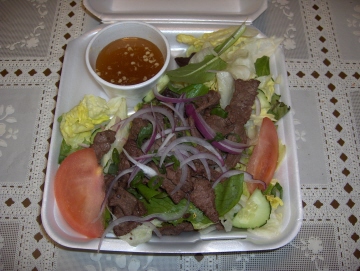 Yum neua
The Yum Neua, or beef salad, sounded interesting, but I did not like it quite as much as similar salads I have tried at other restaurants. Like the other food at Thai Stop, though, the vegetables were very fresh and the meat was good quality.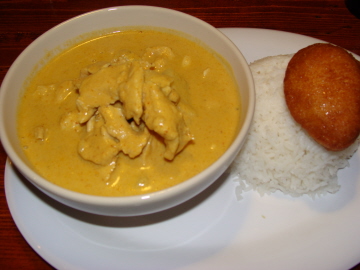 Yellow chicken curry
Yellow Chicken Curry is one of the mildest Thai curries I have tasted, but it has one of the best flavors of any I have tasted. I do not remember if I have sampled all the curries at Bangkok and/or Thai Stop over the years, but I know the yellow one is the curry my family likes and always orders. One reason I do not try the curries more often is that I usually prefer the vegetable dishes (such as the ones already described). One good thing about Thai food, though, is that there is something for just about everybody.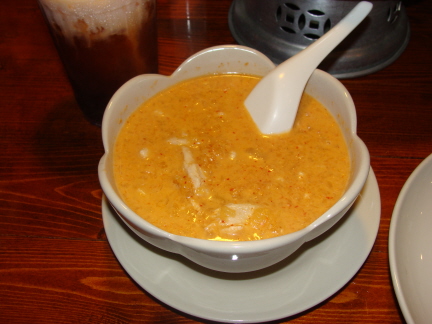 Kang Kua, or pineapple curry with chicken
Kang Kua, or pineapple curry with chicken is sweeter than the yellow curry and seemed to be less spicy, but has a good flavor for those who like it mild. This curry is only served at dinner, though (after 3 p.m.). It is also available with shrimp.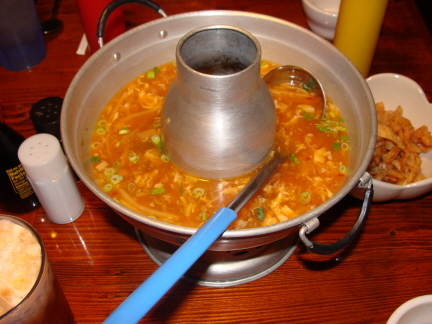 Thai style hot and sour soup
One of the best features of Thai Stop is the Thai style Hot and Sour Soup, which I think is so complex and flavorful it is worth a visit if you have never tried it. This comes in either individual servings or a family style hot pot, and is served with chicken and over a dozen other ingredients (this is Lida's recipe from the original Bangkok Restaurant).
Go to Index
RESTAURANT DETAILS
RATING: 21
Cuisine: Thai
Cost: $$
Hours: Closed Sun.
Accessible: Yes
Tea: Jasmine (bags)/ Thai Tea
MSG: Yes
Smoking: No Smoking
Alcohol: No
Buffet: No
Most Recent Visit
Aug. 11, 2009
Number of Visits: 5
Best Items
Lemongrass Tofu, Pad Gra Prao, Thai Hot and Sour Soup
Special Ratings
Lemongrass Tofu:


Pad Gra Prao:


Yellow Chicken Curry:


Pineapple Curry with Chicken:


Yum Neua:


Hot and Sour Soup:


Thai Tea:

MORE ABOUT THIS WEB SITE