Thai Sweet Basil Express (Closed)
3917 N. College Ave.
Bethany, OK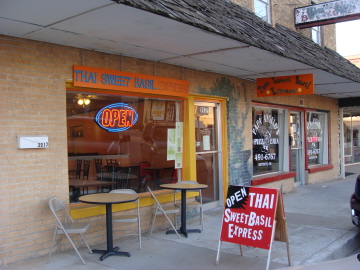 Thai Sweet Basil Express is the third Thai restaurant in about three years to open at this location in downtown Bethany, but I would say the closing of the other restaurants was not for lack of customers or appreciation of the local population for Asian food. Elephant Café, the predecesor to Thai Sweet Basil Express, served both Thai and Japanese food, and I was just beginning to make a list of "best items" when it closed (the owners moved to another city).
Even Thai Sweet Basil Express has gone through an evolution since its opening, though, with a new owner taking over in November 2009. In my opinion the lunch menu has not changed a whole lot except that it is now more expensive and some very good side dishes have been added (both a soup and appetizer are now included at no extra cost). When Thai Sweet Basil Express first opened there were quite a few sweet American style dishes. and many of the lunch plates still taste the same way to me (although some of the flavors have changed somewhat for the better).
Some of my really interesting experiences have been with the dinner menu at the "new" Thai Sweet Basil Express, which includes not only some very authentic dishes but ones that are not found in many other OKC restaurants. I think many customers from the former Thai restaurants that have been located here expect some of the food to be relatively sweet and non-spicy, and the restaurant tries to meet customer expectations (especially at lunch). Some of the dinner items have exotic enough names and descriptions that these are made with a more "Thai taste" by default. Some of the lunch specials have also been made more "Thai style" for me, but unfortunately this has only happened when I have requested it.
Regardless of whether I remember to order the lunches "Thai style" or not, they have all been worthwhile because of the side dishes. The lunch menu comes with both a soup and an appetizer included in the price (and they do not give skimpy portions of either). To me the lunch is a great deal even though prices are almost as high as the dinner menu and the choice of an entrée is limited. The quality of the soup and appetizers is something I would expect to find on the west coast (I have been to quite a few Thai restaurants in Seattle and other cities). Most restaurants on the west coast, though, do not give customers such a good deal as Thai Sweet Basil Express by including these items with the lunch.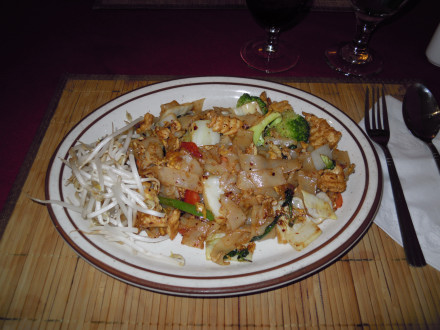 Drunken noodles, otherwise known as pad kee mao, from the lunch menu
Drunken Noodles was one of the best dishes at Elephant Café, and is good here as well. This one stands out among the noodle dishes because of the basil flavor, and the wide flat rice noodles seem to be among the most filling of the various types of noodles that are served. Pad kee mao (the Thai name of the dish) was not spicy, but the restaurant will provide fish sauce with chiles on the side if you want it "Thai hot." Without the fish sauce I did not like it as much as at Elephant Café, but with the sauce it came very close.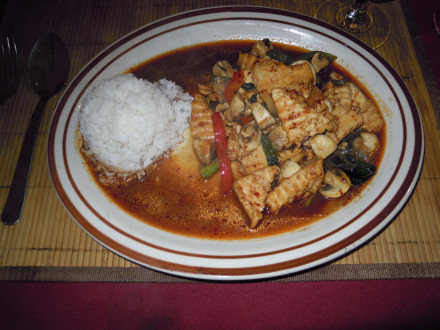 Thai basil with tofu from the lunch menu
I thought Thai Basil would be another good dish with a basil flavor, but I thought the sauce was too sweet (I forgot to ask for it "Thai style"). In fact, just about every other lunch special I have ordered has been better than this one.
Thai Eggplant had a delicious brown sauce, and the eggplant was cooked just right. It comes with a choice of chicken, beef, or tofu, and it turned out to be a filling and interesting dish (especially with the basil added for flavor).
Thai Ginger, a dish available both on the lunch and the dinner menu, was a fresh and vibrant tasting mixture of ingredients with sliced ginger used as the dominant flavor. I ordered this one "Thai style," though, and the standard version may be more Americanized. At least this gave me a benchmark to say that the lunch specials, when ordered "Thai style," are some of the best in the OKC metro.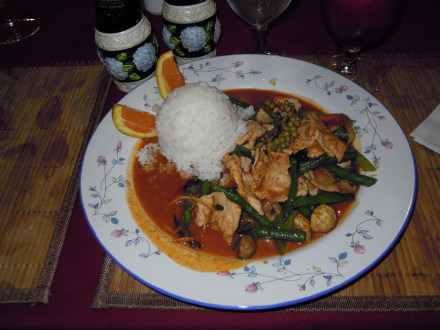 Pad ped from the dinner menu
So far my best experience has been with the Pad Ped from the dinner menu, a dish that was not only very flavorful, but had authentic Thai elements that I had previously experienced only on the west coast. These included lime leaves (not exclusive to the west coast but not common in Oklahoma), basil, and a type of sweet pepper that I had previously only seen in Seattle (they look somewhat like peas in the photo). This dish frankly blew me away because it was so good. This was the first item I ordered in the "new" Thai Sweet Basil Express (not yet knowing that the owner had changed), and it was about as authentic as I could hope to find in a Thai restaurant. Mine came with pork, and I think this added to the wonderful mix of flavors and texture, but other meats or tofu are available as well. It was really the curry and the extra peppers (which are edible, by the way) that made this such a special dish.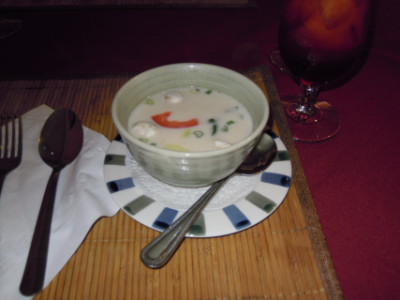 Chicken coconut soup
Several types of traditional Thai soup are available as appetizers, but they come free with the lunch specials (lunch specials include a soup and appetizer, and it cost $9.95 when I ordered it). The lemon grass soup was spicy and very good, but my favorite was the chicken coconut soup (which is also available with tofu or other meat on the lunch special). The fact that meats or tofu can be substituted indicates that the soup is freshly made, and not cooked up in large batches as is common in many Asian restaurants.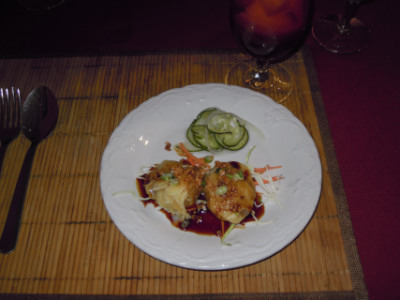 Thai dumplings served as a complimentary appetizer with lunch specials
Som tum was a lime flavored salad available as an appetizer with the lunch specials. I especially liked the Thai dumplings, though, because of the flavorful sauce that comes with them (dumplings are available either steamed or fried, and come with shrimp, pork, or vegetarian).
Crispy rolls (spring rolls) were also very good, but I would not choose them over any of the salads or appetizers already mentioned.
The Thai Tea was very good, and not very expensive. I usually find that iced Thai tea is excellent with spicy food (although the food at Thai Sweet Basil Express is not extremely spicy unless you request it that way). Still, most of what I have eaten has been spicy enough that the Thai tea served as a good refreshment.
There is something about the restaurant's location in downtown Bethany that makes it more relaxed and comfortable than the average restaurant, and I would enjoy going even if I were not as excited about the food as I am. Thai Sweet Basil Express has a distinctive home made flavor that comes from everything being prepared from scratch. Some of the extras, such as lime leaves and peppers served in the pad ped dishes, are very uncommon in American Thai restaurants.
Papa Angelo's Pizza moved into the space next door at about the same time Thai Sweet Basil Express opened, so now customers have a choice of two great restaurants side by side. When I smell the aromas coming from the Thai restaurant, though, it is usually not hard to choose it over the pizza place.
Go to Index
RESTAURANT DETAILS
RATING: 23
Cuisine: Thai
Cost: $$
Hours: Open Daily
Accessible: Yes
Tea: Thai Tea
MSG: No
Smoking: No Smoking
Alcohol: Bring your own wine or beer
Most Recent Visit
Dec. 9, 2010
Number of Visits: 9
Best Items
Pad Ped, Thai Eggplant
Special Ratings
Pork Pad Ped:


Drunken Noodles:


Thai Eggplant:


Thai Ginger:


Thai Basil:


Lemon Grass Soup:


Chicken Coconut Soup:


Som Tum:


Thai Dumplings:


Spring Rolls:


Thai Tea:

MORE ABOUT THIS WEB SITE