Vivo! Italian Restaurant (Closed)
12305 N. Rockwell Ave.
Oklahoma City, OK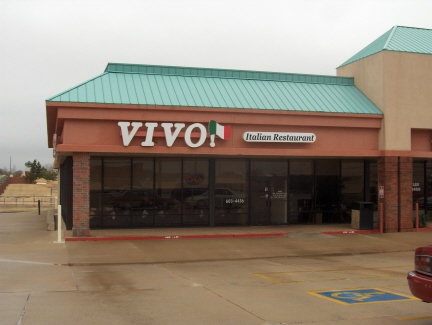 Oklahoma City has several more upscale style Italian restaurants, but until the opening of Vivo I had not found any in the far northwest part of the city, requiring a drive at least as far east as May Avenue to find anything other than casual, family style or pizza places. Vivo seems to be in a somewhat unlikely location, occupying the corner space of a strip mall at N.W. 122nd St. and Rockwell that for years housed a pizza franchise. When they were remodeling the building for Vivo I assumed it would be another casual eatery specializing in pizzas and take-out food. Vivo turned out to be rather upscale, but more so on the food and service than the setting.
The restaurant must have sprung from a love of Italian food, since I do not believe the owners are Italian or that they claim to be using "family recipes." Instead, they seem to have found the best cooking styles to produce quite authentic tasting Italian food.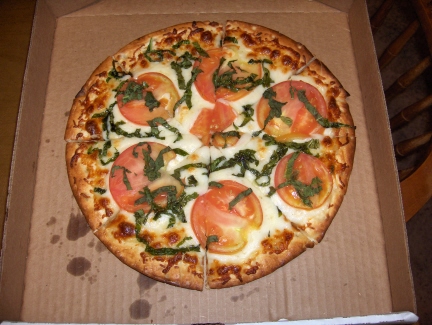 Margherita Pizza has fresh mozzarella cheese, tomatoes, and olive oil
One basis for saying the food is authentic is the Margherita Pizza made with fresh mozzarella cheese and extra virgin olive oil rather than some of the types of pizza with which many of us have grown up. The easier and more marketable approach would probably have been to make a pizza with a more commercial cheese, tomato sauce made in large batches, and lots of meat toppings. I think Vivo is trying to provide something better, though, that cannot be found in many other Italian restaurants.
While the toppings were good, I am not sure the crust was as impressive as the rest of the pizza. The crust was fine, but I just thought it has been more notable in other restaurants.
Other types of pizzas are served, with an emphasis on freshness and light flavors. I think the mozzarella cheese, more than anything else, makes these pizzas some of the best in the city.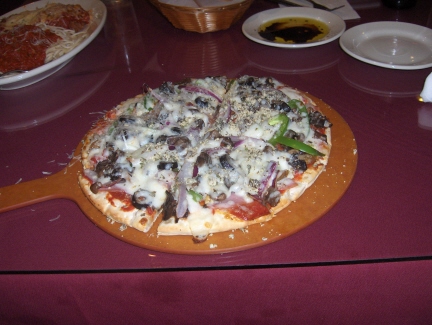 Napoli Pizza is another vegetarian choice
Napoli Vegetarian Pizza had several ingredients piled on top such as bell peppers, red onions, black olives, mushrooms, spinach, basil, and mozzarella cheese. The tomato sauce, though, gave it a different flavor from the margherita pizza, which used olive oil as the "sauce." As a result, the margherita pizza remained my favorite. All pizzas are available with extra toppings, such as feta cheese and different meats.
Cheese Ravioli is one of the "Classico" dinners with stuffed cheese ravioli served on top of linguini pasta and covered with Vivo's homemade tomato sauce. I was as much impressed with the cheese as with the sauce, and I thought this was quite a good dish. It was at least good enough to convince me that the high quality of the pizza was not an isolated case.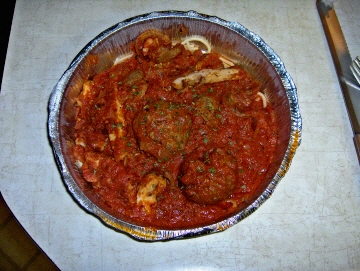 "Spaghetti Feast" with a mixture of homemade meatballs, Italian sausage, and chicken
The Spaghetti Feast was surprisingly good considering that I think an Italian restaurant's meatballs can be one of its greatest assets or one of its biggest downfalls. In this case the meatballs were very good, along with the Italian sausage and the chicken. I discovered from the pizza than I am not a huge fan of Vivo's tomato sauce, but it was good in this dish. Even with all the meat in the "Spaghetti Feast," its biggest component is pasta, which to me is a good thing. I really thought this was one of Vivo's better dishes.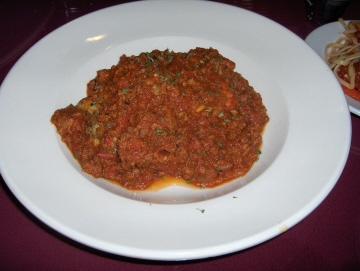 Lasagna
The menu describes the Lasagna as "our combination of meats and cheeses covered in our homemade meat sauce." I thought this was about all there was to the dish, or in other words it was simple Italian food without much that distinguished it from the lasagna at other restaurants. There were others in town that I liked better.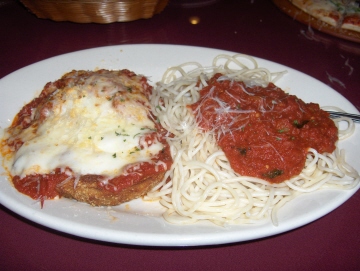 Eggplant parmigiana with spaghetti on the side
The Eggplant Parmigiana had a thick crust and too much of an "eggplant" flavor for my taste (I prefer ones that are disguised better so that they do not taste as much like eggplant).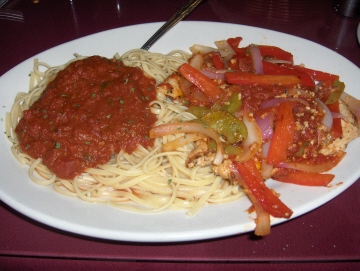 Chicken cacciatore
The Chicken Cacciatore was made with fresh vegetables and had a good linguini with marinara sauce on the side. It came with two chicken breasts, though, and I do not know why so many restaurants do not serve a whole or half chicken, as is traditional with this dish (along with the bones and the dark meat). I think even Papa Dio's serves the dish with chicken breasts, although they still set the standard for the sauce in my opinion.
I did not think it was worthwhile showing a picture of the Salad, since it is the same generic one you can get almost anywhere. I have not ordered the soup, but I have heard some of them are good (a "soup of the day" is served every day, and has varied every time I have gone in). Soup or salad costs extra with a meal, and I usually choose to go without either.
Vivo has a bar with a TV that does not have the sound turned on, but will show major sports events. Tables are comfortable and everything expected with upscale dining will be present here. The only thing that looks out of place is when you walk outside and reemerge in the suburban strip mall environment. At least Vivo made me think I was in a different setting for a while.
Go to Index
RESTAURANT DETAILS
RATING: 21
Cuisine: Italian
Cost: $$
Hours: Closed Mon.
Accessible: Yes
Smoking: No Smoking
Alcohol: Beer, Wine
Most Recent Visit
Dec. 6, 2008
Number of Visits: 4
Best Items
Margherita Pizza, Spaghetti Feast, Ravioli
Special Ratings
Margherita Pizza:


Napoli Pizza:


Spaghetti Feast:


Ravioli:


Chicken Cacciatore:


Lasagna:


Eggplant Parmigiana:


Salad:

MORE ABOUT THIS WEB SITE