Important Notice:
An update of this review can be found at okgourmet.com .
Yakimono Japanese Grill Express
3131 W. Memorial Rd.
Oklahoma City, OK
(405) 607-8134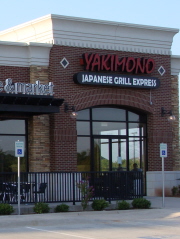 Yakimono is a fast food style Japanese restaurant that specializes in hibachi grill cooking and sushi rolls. Steak, chicken, seafood, and vegetarian dinners are available along with miso soup, salad, and appetizers.
One of the best features of Yakimono is the comfortable setting, and I like the fact that you can get good food in a hurry. It is not that they take shortcuts, but that this type of food cooks quickly. Orders are taken at the counter and they bring it to the table when it is ready, but otherwise be prepared to pick up your own items such as extra napkins.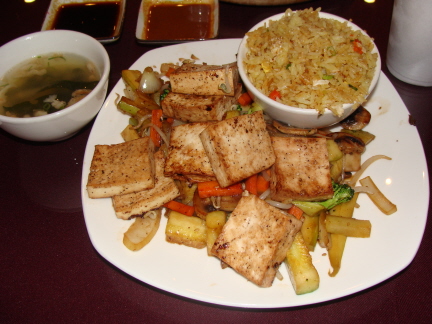 Tofu special dinner
I usually think that vegetarian dishes are less flavorful than meat items, so the Tofu Special Dinner seemed to be a good test of the restaurant's true flavor and quality. The most impressive thing about this was the vegetables, with a fresh flavor and a good mixtures of different items. I thought the tofu was good but average for different restaurants I have tried, and the sauce was not as flavorful as I had experienced elsewhere. Overall this was a good dish, and a good substitute for meat.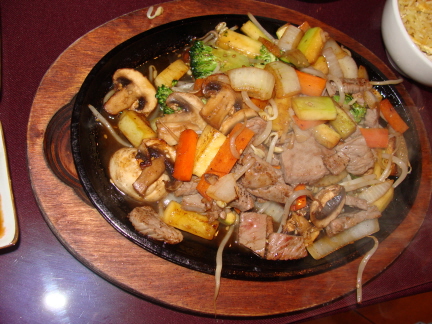 Teriyaki beef
The Teriyaki Beef had much the same characteristics as the tofu special dish, with the sauce being good but somewhat plain. I thought something was missing in what I normally consider to be teriyaki beef in terms of the sauce that was used, but the beef was good. The vegetables were good, as was the case with the tofu dish.
The Miso Soup tasted average to me, as did the Fried Rice.
Although I enjoyed the food, I thought it was on the expensive side. It does help to know, though, that the food is healthy and good quality.
They do not serve hot tea, as I normally expect at Japanese restaurants, but iced tea and tapioca drinks are available.
Go to Index
RESTAURANT DETAILS
RATING: 19
Cuisine: Japanese
Cost: $$
Hours: Open Daily
Accessible: Yes
MSG: No
Smoking: No Smoking
Most Recent Visit
Aug. 17, 2009
Number of Visits: 2
Best Item
Tofu Special
Special Ratings
Tofu Special:


Teriyaki Beef:


Miso Soup:


Fried Rice:

MORE ABOUT THIS WEB SITE