Important Notice:
An update of this review can be found at okgourmet.com .
Zam Zam Restaurant Dining & Houka
3913 N. MacArthur Blvd.
Oklahoma City, OK
(405) 789-8008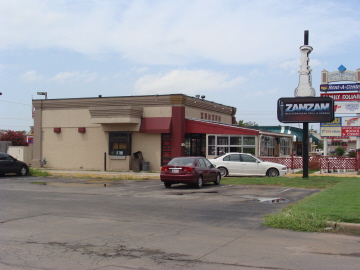 It seems that even though numerous Mediterranean and Middle Eastern restaurants have opened in Oklahoma City, each is unique enough to offer reasons to go there instead of the other alternatives. Zam Zam Mediterranean Grill and Houka gives customer plenty of reasons to visit, and I think is one of the best Middle Eastern restaurants in town. As I have said in other reviews, though, it is a hard choice because so far all of them have been good.
Zam Zam is one of the most casual places I have visited, with the building looking as if it is a converted fast food restaurant and the tables left over from the previous place. There are plenty of restaurants I enjoy with the same type of atmosphere, but I just want to let people know ahead of time.
The large outdoor patio (that contains more tables than the indoor dining room) is set up for hookah smoking and seems to be crowded almost all the time. When I visited during warm weather I wished I could have eaten outside and been able to enjoy my food without second hand smoke, but this was not possible. All outdoor patios in Oklahoma City, though, with a few exceptions, seem to be designed for smokers. At least the hookah pipes provided here are supposedly more healthy than traditional tobacco.
Even though there is a large number of customers who go for the hookah pipes, to me the main attraction is the food. I have found the food to be good enough that I would probably be happy to order it to go and take it home if I had to. Fortunately, though, the indoor dining room is fine for enjoying a meal, and the service is very good.
Zam Zam does not try to offer food from all over the Mediterranean world, as some restaurants do, but is limited to what the owners know and can do well. I have tried a veggie sampler plate and a meat combination order, and these two plates cover a good portion of the items offered on the menu. Like all the other Middle Eastern restaurants I have tried in the city, the meat plate was better, but the veggie plate had a better flavor and more good items than has been the case at several other restaurants. I really do not think customers can go wrong with either.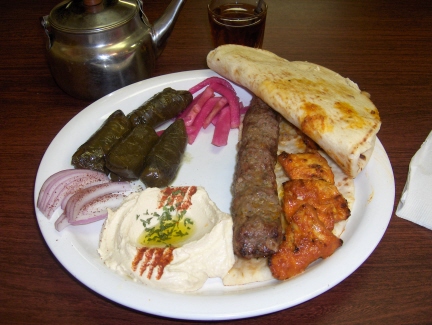 Combination dinner with kufta and chicken skewers
Kufta is ground beef with spices that tasted somewhat like the most flavorful hamburger I have ever eaten. It is not quite correct to call it a hamburger, though, because it was missing most of the grease and fat usually found in regular burgers. Traditional Middle Eastern butchers follow practices similar to the kosher shops in Israel to provide the best quality meat possible, and such seems to be the case here.
Like the beef, the Chicken was cooked on a skewer and then served on pita bread. Even though the chicken was as good as the beef, I think there are a number of places in the city with equally good chicken, making it less noteworthy than the beef.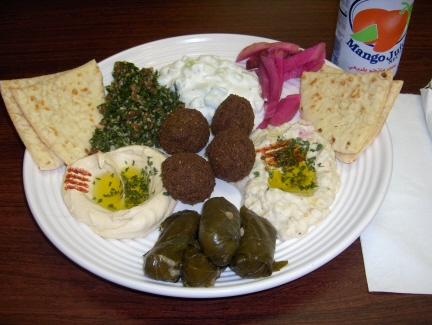 Veggie plate with tabbouleh, yogurt salad, baba ghammouj, grape leaves, hummus, and falafel
The veggie sampler plate gave me just about every non-meat item I could think about trying. Usually my favorite is Falafel, and such was the case here. These were crispy outside and had a good flavor inside, as they should. They do not look very large on the photo but I remember them being substantial enough to fill me up (along with the numerous other items that were served).
The Tabbouleh was probably what I considered to be the other standout item. This had a good flavor and was quite fresh.
The Hummus had a white color that almost reminded me of the labna I have tried in other restaurants. The olive oil provided much of the flavor, but everything seemed fresh.
I do not generally like Baba Ghammouj anywhere, and this eggplant dish was not my favorite here either. This was one of the better ones I have tried, though.
The Grape Leaves were not my favorite, but it is funny that many restaurants that have good grape leaves do not serve hummus and other side dishes that are as good as here. At least this gives an incentive to go around trying different items at different restaurants.
Zam Zam serves a very good Middle Eastern style tea that I thought made a good meal even better. A canned fruit juice (which is also very good) makes a good drink in warm weather.
Several types of Baklava are available, and I think they are great.
Zam Zam is open until 10 p.m. on weeknights, and so far is the only "late night" Middle Eastern restaurant I have found. Whatever time you might be thinking of going, though, I would say this is one of the better restaurants (of any type) in town.
Go to Index
RESTAURANT DETAILS
RATING: 23
Cuisine: Middle Eastern
Cost: $$
Hours: Open Daily
Accessible: No Designated Handicapped Parking
Smoking: No Smoking (Smoking allowed on outdoor patio)
Alcohol: No
Special Features: Houka
Most Recent Visit
Nov. 25, 2008
Number of Visits: 2
Best Items
Kufta, Chicken, Falafel, Tabbouleh
Special Ratings
Kufta:


Chicken Skewer:


Falafel:


Tabbouleh:


Hummus:


Grape Leaves:


Baba Ghammouj:


Baklava:

MORE ABOUT THIS WEB SITE