Birriería Apatzingán Restaurant (Closed)
609 N. 1st St.
Yakima, WA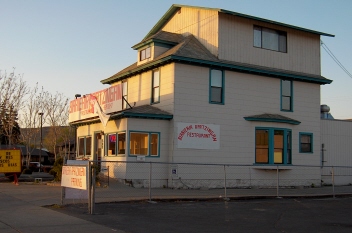 Upon spotting a Hispanic market on North 1st Street, I had a feeling that if I were to ever find good Mexican food in Washington, Yakima would be the place. When I asked in the market for restaurant recommendations, the consensus seemed to be the taco restaurant next to the market, but it was closed. Several other places were mentioned, including Siete Mares, a seafood restaurant. The one that sounded most interesting, though, was an old two-story house just north of the market that had been converted into Birriería Apatzingán Restaurant.
If I were a consultant to ethnic eateries, I would probably advise them not to give names to restaurants that people cannot pronounce. In fact, even the people in the market who spoke Spanish had difficulty telling me the name of Birriería Apatzingán. Fortunately, though, you do not need to be able to pronounce it in order to eat here. In fact, you can be a total novice to Mexican food and enjoy the experience. Everything is explained so you know what you are ordering, and they even have photos of everything served on the menu.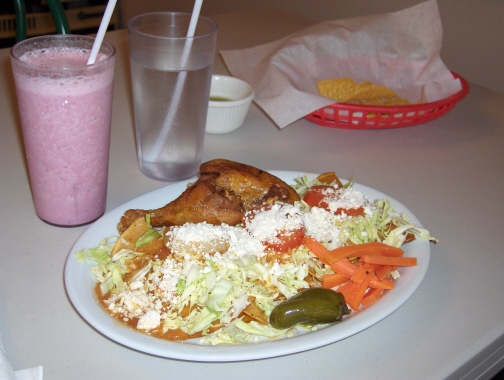 Enchiladas al estilo Apatzingán
The special of the house was Enchiladas al Estilo Apatzingán. Apatzingán is a city in the Mexican state of Michoacán, west of Mexico city. It is always a hopeful sign when a restaurant serves food from a specific Mexican region instead of the generic Tex-Mex. In this case, though, the food came from a specific city that was prepared in a way I had not seen in any other restaurant.
I have had quite a bit of experience eating my way through hole-in-the-wall restaurants in central Mexico. This restaurant was one of the few I have experienced in the United States that reminded me of my experiences in Mexico. In fact, I though the food in general, and the enchilada sauce in particular, was better than I had eaten at just about any restaurant in Mexico.
The Enchiladas al Estilo Apatzingán are served like folded soft tacos covered with cheese, sauce, and assorted items to give extra flavor such as carrots and a jalapeño pepper. It was not particularly spicy, but I thought it had an authentic Mexican style sauce.
The enchiladas come with a variety of meat. The recommended ones are pollo (chicken) or guilotas (quail). The meat is marinated and grilled for a flavor that is so good it rivals the enchiladas themselves.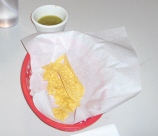 The chips and salsa were authentic. In fact, I did not care as much for the puréed green chile salsa as the ones that are typically served in New Mexico and the Southwest, but I did think the salsa here was an authentic Mexican style.
Some interesting drinks are avilable. I tried a strawberry milk shake, although it was a Mexican style that is slightly different from the ones typically served in American restaurants. Mexican sodas are also served.
I was more than impressed with the food here. El Paso has a number of "authentic" Mexican restaurants, but many are "authentically bad," serving the type of low quality ingredients that poverty-stricken Mexican residents can afford. Birriería Apatzingán, however, serves food from a different region of Mexico, uses high quality ingedients, and I think uses some of the best recipes and cooking techniques from some of the better restaurants in Mexico for the dishes here.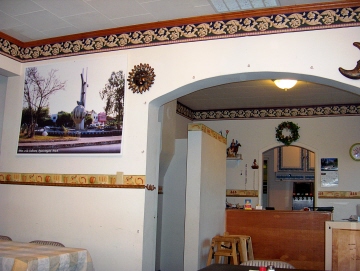 Dining room with photo of Apatzingán, Michoacán
My first (and hopefully not last) visit was on a Sunday evening. I did not see the restaurant's hours posted, but I would judge that it is open just about all the time. It is in an old house but everything was clean. There is a parking lot next door for restaurant customers.
Go to Index
RESTAURANT DETAILS
RATING: 24
Cuisine: Mexican Michoacán
Cost: $$
Smoking: No Smoking
| | |
| --- | --- |
| Chile Index: | |
Most Recent Visit
Apr. 23, 2006
Number of Visits: 1
Best Item
Enchiladas
Special Ratings
Chicken Enchiladas:


Chips:


Salsa:


Milk Shake:

MORE ABOUT THIS WEB SITE