Have I Got News For You (1999)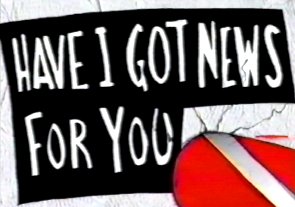 ---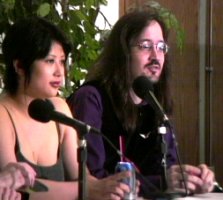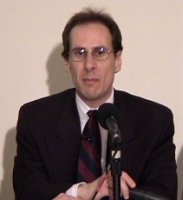 Based on the long-running BBC series (and an American version that's coming hosted by Norm MacDonald), for the past two years at Anglicon I have presented a live version of the current event news quiz Have I Got News For You. Four panelist have to guess the week's news stories from various video clips, headlines, and an odd-man out round. The idea is more to have fun at the expense of the newsworthy, rather than always getting the correct answer.
We've been lucky each year to get one of the Anglicon guests to join us on the panel (along with regulars Jeff Stout - who runs The Society Of The Rusting TARDIS, and Allen Adams, a "second-tier" British media guest). In 1998, John Levine ("Sgt Benton" from Dr Who) was our celebrity guest, in 1999 we had Jason Carter from Babylon 5 on the panel.
The show was recorded using four digital video mini-DV camcorders, with switching equipment provided by Alan Halfhill, and everything edited together using Adobe Premiere on my computer afterwards.
Credits:
Have I Got News For You
27 minutes. Mini-DV videotape. Filmed May 1999, edited and released July 1999.
Panelists. . . Jeff Stout, Allen Adams, Irene Kung, Jason Carter. Presenter. . . Ryan K. Johnson
Written, Produced, and Edited by Ryan K. Johnson.
Copies are available directly from Ryan just by sending a blank tape and postage. E-mail me for details (state which country you are in).

---

Back to Ryan's Homepage
Escape From Seattle | Kill Roy | Doctor Who | Star Trek: The Pepsi Generation
What's Ryan Watching | The Wolfe Project | Mystery Science Theater 3000
Have I Got News For You | The 2001 Movies | Norwescon Movies | Meltdown
---
Written and maintained by Ryan K. Johnson August 1, 1999