Welcome to Ryan K. Johnson's Retro 90s Homepage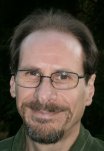 ---
Index
What's New
September 6, 2016
New British TV Reviews and a new Google search engine for the British TV site.
Who is he?
Ryan K. Johnson is a 55-year-old Seattle native and filmmaker. Among his many movies are thrillers, dramas, Star Trek parodies, and fan videos of Dr Who and Mystery Science Theater 3000 (see How can I get copies of Ryan's movies? below for ordering information). His interests include science fiction, movies, and anything British. Ask him about his extensive library of videotapes from England sometime. Check out his reviews. In his spare time, Ryan plays on his computer, writes, and attends meetings of The Society of the Rusting TARDIS, the Dr Who club he started 30 years ago. He also collects rubber sharks which can be seen on display.
What movies has he made?
Ryan's complete filmography:
Click on appropriate title for more information and pictures!

Visit my IMDb page.

Click here to see Ryan's Secret Movie Shame.
How can I get copies of Ryan's movies?
All the above listed movies are available directly from Ryan on DVD although please respect his free time by not asking for every single one (he's happy to make copies of the MST3K movies, Doctor Who and The Pepsi Generation). Everything else is negotiable. I can put 2 hours of material on a disc, and generally $3 covers the cost of the discs and postage within the United States, and US $5 for overseas.
For mailing instructions or more information, e-mail Ryan at rkj@eskimo.com
What is the Society of the Rusting TARDIS?
The Society of the Rusting TARDIS (SotRT) is an informal gathering of people in the Seattle area who enjoy British television. It started in 1985 as a Doctor Who video group (hence the name), and branched out into other British TV shows during the "Wilderness Years" (1989-2004). Thirty years on, it's still meeting twice a month, the 1st, 4th & 5th Wednesday each month at Razzi's Pizzeria, 8523 Greenwood Ave N, in their basement from 6:30 PM to 9:30 PM
---
Comments and suggestions to rkj@eskimo.com Ryan K. Johnson Seattle International Films September 6, 2016