"Let's Make A Movie" Workshop Films
Intergalactic Bad Astra
The Matricks
Run Frodo Run
Ultimate Survivor Norwescon
Con Of The Dead
CSI: Norwescon
March of the Fenguins
Manslugs! The Making of A "Sci-Fi Original"
31
Cult of the Giant Brain
KNWC
Machinechete/World's Deadliest... Convention
Blood In The Hall
It's A Terrible Life
It Came From The Elevator!
Conception
Fantiques Roadshow
Steve: Portrait of a Minion
Warehouse 36
---
I was contacted early in 2000 to participate in a filmmaking workshop at Norwescon, Seattle's big regional science fiction convention. The plan was to shoot a movie at the convention and let folks participate in the making. I have to be honest and say I thought it would never work. However, every year we have shot a movie in two hours (sometimes cheating a bit over) and they have turned out so well, I eagerly show them to people.
Intergalactic Bad Astra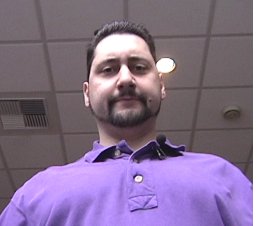 The theme of Norwescon in 2000 was "Ad Astra," latin for "to the stars." Everyone agreed we should do some play on this for the title of our movie which naturally enough, concerns itself with a science fiction convention. Yes, it's the old "fish out of water" gimmick as an alien ("transmogrified" from a pet rat that someone had brought along to the con) attends the convention, not realizing the mixture of fantasy and reality is interfering with his attempt at human reconnaissance. Fortunately for the human race, the invasion is called off due to the erroneous perception that humans have incredible powers and weapons that the rat race would be unable to overcome. This movie was shot entirely "in camera" with no editing.
Credits:
Intergalactic Bad Astra
5 minutes. Mini-DV videotape. Filmed in two hours on April 22, 2000.
Cast ... (if you are in this movie (since we never do any credits), please write me and tell me who you played!)
Written, Produced, and Directed by Edward Martin III and Leopoldo Marino. Photographed by Ryan K. Johnson.
---
The Matricks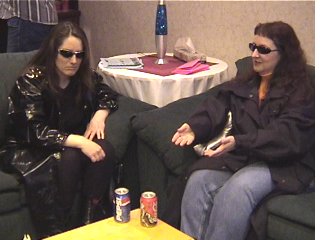 Edward wasn't able to make it to the convention due to illness and Leopoldo had no interest in participating a second time, so it was left to me and Adam Buckner to pull off the filmmaking workshop this year. We were all set to go with another idea (which I've since forgotten) when someone suggested doing a parody of The Matrix. I couldn't resist. Edward's wife Katrina agreed to play "Zero" (our version of Keanu Reeves' Neo), and Janet Borkowski would be "Morpheus" because she looks nothing like Laurence Fishburn. Rounding out the cast was my roommate at the time, Erik Prill, as Agent Jones.
Friday night at the convention, I sat in our hotel room and rewatched The Matrix on the in-house video to come up with material to use. Ten minutes before we were to begin shooting on Saturday morning, I had my wife Kate Waterous take notes as I dictated the entire script. Adam did a great job directing, and we quickly moved from location to location to film the spoof. In our version of The Matricks, Zero drinks from a red Coke can (instead of a blue Pepsi can) and finds out from Morpheus that all of fandom is a construct by evil computers to enslave humanity. There's even a revelation of the truth about chocolate ice cream! Eventually, Zero and Agent Jones fight it out, sadly without the multi-million dollar budget afforded the Wachowski brothers on their epic (the bullets here are on a stick and the actors have to freeze in place as the camera whirls around them). For a second time, scheduling forced us to shoot the entire movie "in camera" with no editing, although later we did add some music and sound effects.
Credits:
The Matrix
5 minutes. Mini-DV videotape. Filmed in two hours on April 14, 2001.
Cast...Katrina Martin as Zero, Janet Borkowski as Morpheus, Erik Prill as Agent Jones.
Produced by Adam Buckner, Ryan K. Johnson, and Brian D. Oberquell, Directed by Adam Buckner, Written & Photographed by Ryan K. Johnson. Post-production audio by Erik Prill.
---
Run Frodo Run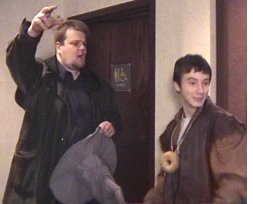 In 2002, both Edward and Leopoldo returned to the workshop and if we were going to do yet another parody, clearly there was one movie in everyone's mind: Lord of The Rings: The Fellowship of the Ring. We decided to combine this with a clever German art-house movie, Run Lola Run (check it out!), and show three possible outcomes of Frodo's attempt to take the One Ring (in our case, a bagel) to Mount Doom and rescue Sam. Everyone really got into the spirit of the movie and we had a huge cast and crew with us as we kept running around the hotel having to do the same scenes in the same places three times in a row (but all shot in sequence with no editing). The movie begins with Frodo, while waiting around a pay phone, receiving a call from Sam telling him to bring the One Ring to Mount Doom. Gandalf emerges from the nearby women's restroom and thus advises him: "Run Frodo, Run!" Frodo's adventures take him past a white rabbit, a large scary fan, a Balrog, Darth Vader, and screaming fans, until the final confrontation (after dying twice, just like Kenny) at Mount Doom (or something fairly similar).
Credits:
Run Frodo Run
6 minutes. Mini-DV videotape. Filmed in two hours on March 30, 2002.
Cast... Theo Hill as Frodo, Brian D. Oberquell as Sam, Jesse Brocksmith as Bunnyman, Brian Hunt as Sauron, Mark Dranek, Kate Waterous, Rachel as Orcs.
Produced by Edward Martin III, Leopoldo Marino, Ryan K. Johnson and Brian D. Oberquell, Directed by Edward Martin III, Written by Edward Martin III and Leopoldo Marino. Photographed and post-production audio by Ryan K. Johnson.
---
Ultimate Survivor Norwescon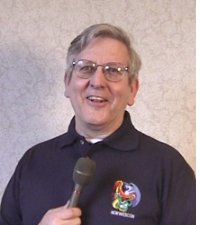 With reality shows being all the rage in 2003, it seemed only natural to do a parody of them. Hence doing an "ultimate" version of Survivor set at Norwescon "where there is no immunity," our host gleefully informs us. In fact, the show begins showing all the former contestants who have already met their demise including Ryan (killed by the "voodoo message board") and Edward (an entire pack of cigarettes crammed in his mouth). We then meet the six finalists who describe themselves in turn and then are given fannish challenges. The first, the "Survive the Panel Panel," was to see who could sit through a 26 hour panel. The second was to safely walk through Day Six of the gaming room where "no personal hygiene" existed. After one character was stabbed in the back by another, the final challenge was a bagel eating contest, but two of the bagels were leftovers from Norwescon I! Only Mike in his Hawaiian t-shirt survived, although when he learned what the grand prize was, an erotic massage from William Shatner, he committed suicide. The host wasn't concerned and urged us to watch next week for "Ultimate Survivor Westercon." As a surprise, we added a gag after our traditional "We made this!" cast shot, just for a change of pace. This was the first production to actually be edited after we shot it, although keeping with our tradition of doing everything on the spot, it was completed in under four hours.
Credits:
Ultimate Survivor Norwescon
6 minutes. Mini-DV videotape. Filmed in two hours on April 19, 2003.
Cast... As themselves: Bob, Dana Halfhill, Lori Hillard, Mike Reddig, Kathleen, Runia.
Produced by Edward Martin III, Leopoldo Marino, Ryan K. Johnson and Brian D. Oberquell, Directed by Edward Martin III, Written by Edward Martin III and Leopoldo Marino. Photographed and post-production audio by Ryan K. Johnson.
---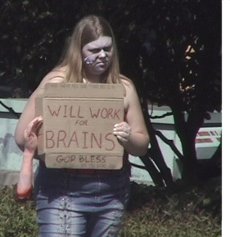 Probably for the first time, we cheated and Edward and I had a brief chat ahead of time to discuss possible themes we could use for our fifth production in 2004. As I recall, I said to him, "What's left to parody? We've already done The Matrix, Lord of the Rings, and Survivor." And without missing a beat he said, "Well the two most popular movies in America currently feature people rising from the dead [Dawn of the Dead and The Passion Of The Christ], so how about zombies?" That was the magic word. As soon as I heard "zombies" I knew we had a winner. So on Friday morning at the workshop planning panel we told everyone our great idea and everyone agreed. Lori Hillard offered to do makeup (and buy -- with her own money -- a fake arm (thank you, Lori!)), people shouted out possible ideas, and we were off and running. An alternative title we considered was "Dawn of the Living Impaired."
It's been pointed out that Shaun of the Dead (written and starring one of my favorite British comics, Simon Pegg) is also a comedy with zombies but at the time we shot this, none of us had seen it, so I don't think it really counts as plagiarism. Besides, the essential joke of our movie is zombies are the latest oppressed minority demanding equal rights, which I think is unique.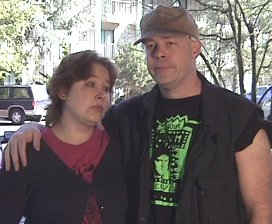 The movie opens with what I think is probably the best-acted scene we've done so far: a hick couple talking about their daughter marrying a zombie. These two were great, with perfect accents (topped only by the guy we recruited at the last second to play an intolerant bus driver) and the look of disdain the guy gives when forced to use the politically correct term "living impaired" instead of "zombies" is priceless. Edward spent the night before coming up with an amazing animated graphic using Adobe After Effects, as well as graphics for our "sponsor" Zombagra. From that point on, it's just joke, joke, joke: zombies picket a theater for showing Dawn of the Dead, Steve Irwin discovers that babies and zombies don't mix, a Kurt Cobain fan isn't impressed with Kurt's zombie version (hilariously performed by David Tackett), and even Jesus gets into the act pointing out he was the original person to rise from the dead. We had our biggest group ever to help out, which meant for the theater scene (shot in the parking lot just outside the back lobby of the hotel) we were able to have dozens of extras in addition to at least 10 zombie protesters. My largest crowd scene ever! We finished shooting in the hotel coffee shop where one of the waitresses even stepped in to assist with the joke. The final gag in the movie was one that Edward lobbied heavily for: having a zombie lose an eyeball in a cup of coffee. This seemed to amuse him to no end.
All the filming was completed in just two and half hours, and Edward and I quickly headed up to his hotel room to edit everything in time for our 4 PM panel. As we edited, Edward's wife Katrina (our "Zero" from The Matricks) just couldn't get enough of the "zombie moan" that our head zombie, the quickly drafted Leopoldo Marino, kept doing throughout and no matter how many times she heard it, she broke up laughing. Hopefully the rest of the world would feel the same way. Despite Edward's computer doing some bizarre crashes, we managed to throw all the shots together more or less in a manner ready for public consumption. Only a few minutes late, we were able to present them to our assembled editing workshop and the result was a huge success.
As usual, the official premiere was Sunday at the Fandance Film Festival (after Edward had sweetened the audio slightly Saturday evening) where it received a great response. Only Edward's quickie "Shadow Dog" got bigger laughs all afternoon.
Edward's webpage for Con Of The Dead with downloadable version.
Credits:
Con Of The Dead
5 minutes. Mini-DV videotape. Filmed in two and a half hours on April 10, 2004.
Cast... Leopoldo Marino ("Keanu Reeves" and head zombie), David Tackett ("Kurt Cobain" and Charlton Heston), Debbie Lentz (Redneck Wife), Daniel Kaufman (Redneck Husband), Alexandra Paris (Zombie Translator), Katrina Martin (Zombagra Voiceover); Theo Hill, Chris Anderson, Thaddeus, Runia (Zombies); Laurel Parshall (Scared Woman), Sera Hartman (Pamphlet Reader), Mike Reddig (Jesus), Mark Dranek (Bus driver).
Produced by Edward Martin III, Ryan K. Johnson and Brian D. Oberquell, Directed by Edward Martin III, Written by Edward Martin III and Ryan K. Johnson. Photographed by Ryan K. Johnson. Editing and sound by Edward Martin III. Props by David Tackett and Janet Borkowski. Make-Up: Lori Hillard.
---
Our rainiest Norwescon yet, and fortunately we planned a movie that could be shot entirely indoors. Not only that, but most of it took place inside a bathroom! After toying with the idea of doing "Klingon Eye For The Con Guy" (which apparently has been done already) we decided the glut of TV police procedurals were ripe for the Norwescon parody treatment. This was helped by the fact our own Brian D. Oberquell has an amazing resemblance to CSI star William Petersen. Former bunnyman (Run Frodo Run) Jesse Brocksmith quickly volunteered to be our featured corpse even though this meant being immersed in a bathtub full of ice!
Two CSI investigators arrive at a con hotel to find Cuddles Jackson dead in his bathtub and all his organs missing. Was it organleggers? Aliens? Or something much more sinister? The crack CSI: Norwescon team (working out of their Seattle World Headquarters) eventually solve the baffling case.
Because so much filming took place in a bathroom, most of the participants of the panel weren't able to directly see what we were doing, hence it wasn't really much a "Roll Your Own" workshop as we intended. Also, we bit off a little more than we could chew in terms of production complexity and ran way over our alloted two hour shooting schedule. Editing was even slower, with Edward finishing a rough cut mere minutes before its premiere on Sunday, nearly 24 hours after we had shot it. Next year, we plan to scale things back a bit, involve everyone more, and keep things simple so we don't spend the rest of the convention doing post-production.
Edward's webpage for CSI: Norwescon with downloadable version.
Credits:
CSI: Norwescon
8 minutes. Mini-DV videotape. Filmed in three and a half hours on March 26, 2005.
Cast... The Victim Cuddles Jackson: Jesse Brocksmith; Investigators: Brian D. Oberquell & Enid Borgerding; Policeman: Mark Dranek; Seductress: Julie Andrijeski; Lab Assistant: Thadeus Wilson; Coroner: Tracey Ernst.
Produced by Edward Martin III, Leopoldo Marino, Ryan K. Johnson and Brian D. Oberquell, Directed by Edward Martin III, Written by Edward Martin III & Brian D. Oberquell. Photographed by Ryan K. Johnson and Eric Morgret. Editing and sound by Edward Martin III. Make-Up: Lori Hillard.
---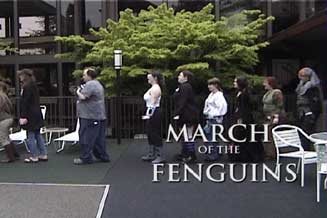 Another rainy Easter weekend, but as promised, we shot this in the allotted time, and editing only took six hours. Ryan had been nursing this idea for a while and quickly persuaded the rest of the workshop to make it this year's movie (though his preferred original title was "March of the Fanboys." This was thought sexist, so it was changed to "Fenguins" -- "fen" is the plural of "fan"). Edward still has not seen the original documentary but he was quickly brought up to speed. We had dozens of quality extras and everyone was able to get face time on screen this year.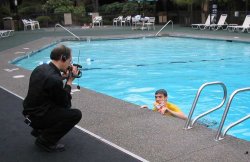 Brave Theo Hill (Run Frodo Run) dove into the pool and provided a stunning underwater swimming shot. His mother informed us he's going into the Army for six years later this year. See you again at Norwescon 35 in 2012, Theo! Many other familiar faces made an appearance this year including Runia, Dana Halfhill, Katrina Martin, Janet Borkowski, and Jesse Brocksmith.
The humble narrator explains how the fen congregate each year at the same time and place, grooming each other, feeding their young, and attempting to mate with their own kind. We meet the only natural enemy of the fen (disapproving parents), as well as sinister scheme to steal their pelts.
Edward's webpage for March of the Fenguins with downloadable version.
Credits: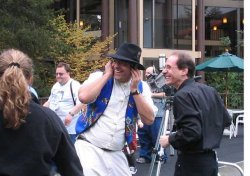 March of the Fenguins
5 minutes. Mini-DV videotape. Filmed in two hours on April 15, 2006.
Cast... Narrator: Leopoldo Marino; Baby Feeder: Mike Reddig; Swimming Fenguin: Theo Hill; Boot Hill Guy: Nathanial Woodbury; Berating Parent: Fern Francavillo; Daughter: Kelly.
Produced by Edward Martin III, Leopoldo Marino, Eric Morgret and Ryan K. Johnson, Directed by Edward Martin III. Original idea by Ryan K. Johnson. Photographed by Ryan K. Johnson. Editing and sound by Edward Martin III. Stills by Ruth.
---
Just to prove we don't always come into these workshops with pre-set ideas, this parody of those awful TV movies The Sci-Fi Channel foists on us every Saturday was about the twelfth suggestion the audience made at this year's planning panel. It was by far the best (and successfully avoided us having to do a parody of "300"--ugh!). We shot an amazing amount of material in just two hours, including Hollywood's worst writers pitching their ideas to brainless executives, the casting session, production and post-production... the rough cut ran over 12 minutes! It was eventually trimmed down to nine and half, the first time we'd ever had deleted scenes and outtakes of any note.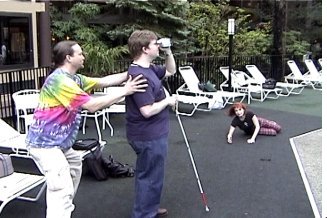 Three executives from the Sci-Fi Channel listen patiently to some of the lamest story pitches ever. The only one they like is for "Manslugs!" The writer is ecstatic although her nightmare begins as the tie-dyed shirt wearing director (previous credits: "Leprechaun 8") decides that Bruce Willis, Nicolas Cage, Johnny Depp and Dakota Fanning are "kind of overexposed," and instead casts unknowns with no experience. Budget cuts cause further rewrites as the army of manslugs is reduced to a single manslug. Shooting begins with the smallest camera ever seen, no tripod, and a blind cameraman. The special effects consist mostly of slime and black garbage bags. No one listens to the frantic pleas of the writer that they aren't following her script. Finally, the promotion department gets a call alerting them of the title change ("Take out the 's'") but as the trailer reveals, there is a slight miscommunication...
Credits:
Manslugs! The Making of A "Sci-Fi Original"
10 minutes. Mini-DV videotape. Filmed in two hours on April 7, 2007.
Cast... Executives: Ryan K. Johnson, Julie Andrijeski, Don Lake; Executive's Daughter: Runia; Director: Mike Reddig; "Bruce Willis": Daniel Kaufman; "Dakota Fanning": Dana Halfhill; Pitches: Ron Lake, Dave Tackett, Laurel Parshall, Jesse Brocksmith, Anita Taylor, Janet Borkowski; Actors: Larry W. Lewis, Cherise, Miranda, Phil Jones; Grip: Eric Weber; The Effects Guy: Brian D. Oberquell; Script Girl: Kate Waterous; Promotion Guy: Edward Martin III.
Produced by Edward Martin III, Brian D. Oberquell, Eric Morgret and Ryan K. Johnson, Directed by Edward Martin III. Written by Edward Martin III. Photographed by Ryan K. Johnson. Editing and sound by Edward Martin III.
Edward's webpage for Manslugs! with a low-res downloadable version.
---
31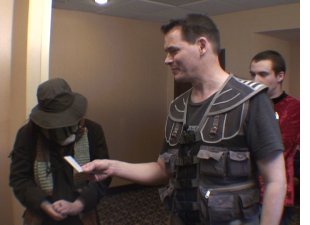 I figured we'd be doing the obvious parody this year, "Cloverfield," but someone suggested doing a Department of Homeworld Security training video and that quickly morphed into a parody of "24" despite the fact Edward has never seen the series. As is tradition though, gamers were the subject of a lot of the humor, although by making them the deliberate bad guys at least they had a chance to defend themselves. The Sony TRV-9 camcorder I have been using for the past eight years broke on Thursday afternoon, so I quickly had to locate a replacement camera for Saturday. R.I.P. TRV-9, you served us long and well. Although there were plenty of parts for everyone, it seems all the speaking parts went to people who had previously appeared in our videos. We aren't allergic to new people, they just never seem to volunteer to act. Theo Hill returned from active military duty to attend the convention and we cast him as Agent Jones. As Edward, Brian and I plotted out the story, we couldn't decide whether Jones should live or die, so we opted to shoot alternative endings and see which one played better. On Friday night, I jumped on Edward's computer and in advance created the graphics we needed: the "31" logo, and the ticking clock. For music, we totally lucked out, Brian had the entire score on his iPod!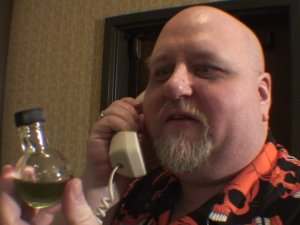 At the headquarters of the Department of Homeworld Security, Director Smith receives a phone call from the Dungeonmaster, head of the Guygaxians, roll-playing gamer terrorists who in 31 minutes threatens to poison the water supply and turn everyone into gamers. Everyone at DHS receive orders, including a suspicious technician. Could there be a mole? Agent Eddie Bauer (Jack's brother) leaps into action along with Agt. Jones. After getting lost in the hotel, they reach the honeymoon suite where one of the gamers has been spotted. He refuses to talk but Eddie threatens to tear up his Black Lotus Magic the Gathering (tm) trading card and he cracks. Back at DHS, the suspicious technician overhears Eddie call for backup in Cascade Room 10. Eddie and his agents burst in on the Dungeonmaster and arrest everyone. Smith thanks everyone, including technician Shifty who continues to look extremely suspicious. Back at the raid, thirsty Agent Jones begins to drink the contaminated water. Eddie leaps to stop him but it's too late and Jones dies in his arms. The clock ticks past 12:31.
Credits:
31
7 minutes. Mini-DV videotape. Filmed in two and a half hours on March 22, 2008.
Cast... Director Smith: Daniel Kaufman; Shifty: Mark Dranek; The Dungeonmaster: Brian Hunt; Female Technician: Kate Waterous; Agent Eddie Bauer: Larry W. Lewis; Agent Jones: Theo Hill; Illegal Alien: Dana Halfhill; Tortured Gamer: David Tackett.
Produced by Edward Martin III, Brian D. Oberquell, Eric Morgret and Ryan K. Johnson, Directed by Edward Martin III. Written by Edward Martin III, Brian D. Oberquell and Ryan K. Johnson. Photographed by Ryan K. Johnson. Editing and sound by Edward Martin III.
---
Cult of the Giant Brain
For the first time we took our workshop on the road to Baycon in Santa Clara, California. Could we succeed at a venue where nobody knew who we were or what we were doing? The answer was a resounding yes! Despite shooting commencing at 9 AM on a Sunday morning, a dozen enthusiastic participants gathered in the lobby of the Hyatt Regency hotel to worship the giant brain (actually the plants the hotel has decorating the lobby). Hotel robes were used for the cult members, as was the adjacent escalator for a suspenseful sequence. Edward had just acquired a laptop and the latest Adobe editing software suite (CS3, including Premiere), so post-production was easy, and Wi-Fi access meant we could search the internet for sound effects and music. A very positive experience although the long drive (and gas hovering at $4 a gallon) and expenses mean we'll have to carefully consider a return engagement.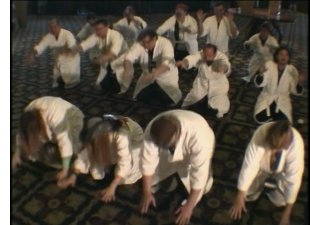 The Giant Brain quickly regales us of how he has subjugated all of time and space under his will, with only the Earth as his final conquest. As his white-robed cultists gather and worship him (chanting "Brain"), the High Priestess announces his commandments. The first is that September will now be known as Giant Brain Month (it's his birthday). The second is all television shows, movies, documentaries, comic books, newspaper articles, blogs and fortune cookies should be about him, the Giant Brain. The Priestess add the phrase "...and his High Priestess." His third commandment is "Thou shalt have no other Giant Brains before me." But the Priestess changes it to "Listen to the High Priestess and everything will be alright." The Giant Brain realizes he doesn't need a High Priestess and fires her...literally, leaving nothing but her robes. The Giant Brain gloats that now nothing can oppose him when suddenly a voice says, "Excuse me!" The cultists gasp in shock as a lowly gamer appears on the balcony and slowly descends the escalator to the lobby to confront the Giant Brain. The Giant Brain is unable to use his mind control or firing power because he only gets three level nine spells a day without resting (the third spell was weather control--the Giant Brain thought it would be chilly). Furthermore, the gamer, quoting the fifth edition player's manual, argues that the Giant Brain no longer has Epic Level because he is one follower short now--indicating the zapped High Priestess. With a scream of horror, the menace of the Giant Brain is over and his cultists are free. But nobody sticks around long enough to hear the gamer tell everyone about his 50th level Paladin.

Credits:
Cult of the Giant Brain
6 minutes. Mini-DV videotape. Filmed in two and a half hours on May 25, 2008.
Cast... Voice of the Giant Brain: Edward Mokuri Cherlin; High Priestess: Taunya Gren; Gamer: Daniel Edmunds.
Produced and Written by Edward Martin III and Ryan K. Johnson, Directed by Edward Martin III. Photographed by Ryan K. Johnson. Editing and sound by Edward Martin III.
---
KNWC
Our 10th anniversary workshop proved just as successful as the first nine. Many of the usual suspects (and some new blood) turned up and were enthusiatic to make a new movie this year. Several ideas were proposed but the favorite was to do a spoof convention newscast. This proved to be a format that would include as many people as possible, plus be a fairly easy production. Edward and I spent the night before the shoot writing a script for the two anchorwomen but figured we would improvise the rest. Unknown to us, Brian Oberquell shot extensive behind-the-scenes footage during the shoot, and Edward stuck it on the DVD as an extra. Mike Reddig and Brian Hunt wrote a ton of material that appears as a crawl along the bottom of the screen. And Tristan Levine spent all night producing onscreen graphics and emailing them to us in time to use them. A great team effort from everyone!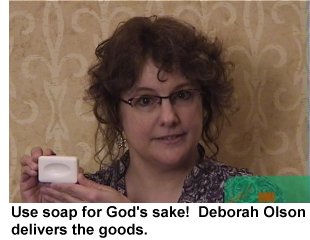 A fan sitting in her room late at night turns on the TV for diversion. The KNWC newscast is beginning, anchored by rivals Lori and Sandi ("with an i"). Headlines include news that an elevator accident has opened up some parking spaces at the hotel. The top story is a live investigative report by Dave ("with a d") deep in the bowels of the hotel where strange sounds have been heard. Turns out it is just some gamers who've been there since Norwescon 1. They seem a bit too happy to see Dave though as we cut back to the studio. Cory the War Correspondent reports from the front of the ongoing Science Fiction versus Fantasy battle. The economic news is a bit grim as the newscast goes through a number of different Financial Correspondents, each of whom takes their own life. A "live" traffic report set in the hallways is followed by an attempt at sports news (but nobody cares). Lifestyle features include a look at a new 4-D movie, and a cooking segment from an overly enthusiastic chef. The final story, about the arrival of the Magical Con Fairy is marred only by Sandi's apparently assassination of Lori. Back in her room, the only fan watching turns off the TV, dismissing it all as, "The same thing as yesterday."

Credits:
KNWC
10 minutes. Mini-DV videotape. Filmed in two hours on April 11, 2009.
Cast... Anchors: Lori Hillard, Sandi Hogben; Roving Correspondent: Dave Tackett; Scared Guest: Deborah Olson; Gamers: Laurel Parshall, Brian Hunt, Don Lake; War Correspondent: Cory; Financial Correspondents: Kate Waterous, Dana Halfhill, Ron Lake, Doug Staudt; Traffic Correspondent: Mike Reddig; Sports Correspondent: Megan; Entertainment Correspondent: Anita Taylor; Soap PSA: Deborah Olson; Lifestyle Correspondent: Tina; Magical Con Fairy: Daniel Kaufman.
Produced by Edward Martin III, Brian D. Oberquell, Eric Morgret and Ryan K. Johnson, Directed by Edward Martin III. Written by Edward Martin III, Ryan K. Johnson & the cast. Crawl Written by Mike Reddig and Brian Hunt. Photographed by Ryan K. Johnson. Edited by Ryan K. Johnson and Edward Martin III. Graphics: Tristan Levine. Sound and DVD authoring by Edward Martin III.
---
Machinechete/World's Deadliest... Convention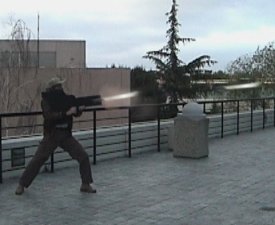 Back down to Baycon where we did two movies for the price of one! The Machinechete is something we came up with during the course of making

World's Deadliest... Convention

as a gag. What could be more dangerous than something that combines a machine gun with a machete? When we did the actual movie, there was no prop! Notice that the firing is all coming from offscreen. It was only afterwards when someone built us a real prop machinechete that we decided a demonstration video was needed. The idea with

World's Deadliest... Convention

was to parody those "World's Deadliest" reality TV shows. Although the host was getting all excited by what was going on at the convention, in fact it was all rather dull and ordinary, at least from his point of view. But behind him, mayhem was breaking out in ever-increasing scope. At least that was the idea. We got bogged down with attempting too many digital effects with the resulting lesson being we would limit ourselves to only one digital effect per workshop movie from now on. Back to basics.

The movie opens with a montage of people reacting in horror to something off screen while a solemn voice announces "World's Deadliest... Convention." Our host takes us through various aspects of the con starting with the elevator, gaming room, a panel, the dealer's room, comparing badge lengths at the pool, a costumer, and peace bonding. Behind him are increasing signs of chaos with fights, machinechete attacks, dead bodies floating in the pool, plane crashes and finally nuclear bombs which destroy San Jose and eventually the convention. But the solemn voice tells us next week we'll be treated to "World's Deadliest...Library."

Credits:
Machinechete/World's Deadliest...Convention
5 minutes. Mini-DV videotape. Filmed in two hours on May 24, 2009.
Cast... Host: James Collum.
Produced and Written by Edward Martin III and Ryan K. Johnson, Directed by Edward Martin III. Photographed and edited by Ryan K. Johnson. Visual effects and sound by Edward Martin III.
---
Blood In The Hall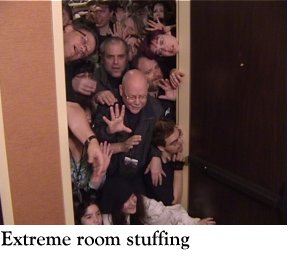 For the 11th year we decided on doing a parody of public safely videos, this one about fannish etiquette (the sort of advice usually found in the pocket program about how to behave at a convention: i.e. don't sleep in the halls, bathe regularly, peacebond your weapons, etc). Of course we were going to do an extreme version of this sort of video with terrible consequences for anyone who violated the rules. Despite Edward's "No Wilhelm" rule (the Wilhelm Scream, a famous Hollywood sound effect, is one of the most overused cliches in cinema) everyone was keen to include it. Rules are meant to be broken and while one Wilhelm scream is a cliche, using it eight or more times, it's hilarious. Or so we hoped! This year we tried something new and had two interns to follow us around and see the sausage-making that occurs behind the scenes away from the workshops (scouting locations, writing the scenes, editing). The deal was, the interns had to stand up and promise everyone in the workshop that in the next year they would each make a movie and bring it to the Fandance Film Festival at Norwescon 34. Two women were selected, Amanda Kundert and Julie Andrijeski (Julie appeared previously in "Manslugs" in 2007 and "CSI: Norwescon" in 2005). Ryan spent Friday shooting B-roll footage of the convention and hotel exteriors to use in the movie, a nice time saving device (okay, and a shameless cheat) but one that did not require a crew. The narration by Mark Dranek was also pre-recorded. Production rolled at 10 AM sharp on Saturday in one of the Evergreen rooms (no windows, but a larger space than usual). Many of the same faces turn up in the movie, and we had a lot of fun doing the room stuffing scene (cleverly using one of Evergreen's doors to simulate a hotel room door--which in reality open in and wouldn't have worked). The torrential rains that had been coming down all day Friday took a break on Saturday, allowing some exterior filming around the pool and in the parking lot. Good old Runia made a return appearance as a passed out drunk after missing last year (she's 9 for 11 now). An out of way bathroom was the location for the blood splatter (courtesy our FX guy Brian) which we

mostly

managed to clean up afterwards.


The seemingly peaceful but teeming halls of Norwescon are narrated by a stern warning to follow the rules. Arriving late to find parking leads to a number of scenes of a car driving around a full lot accompanied by sad music. A bible study meeting is interrupted by a fan who was has come to the wrong hotel. Failure to peacebond has severe consequences (and bad punning). Sleeping in the halls can make you victim to the nightly carpet scraper. Don't keep exotic animals in your room. Be sure and turn on the lights. Don't overstuff your room. Don't steal from the dealer's room. Don't cut in line at registration (based on an actual event!). A drunk tries to recall the 6-2-1 Rule (it

should

be: every day get at least six hours sleep, 2 meals and a shower). But the very worst penalty (thanks Don Glover for the idea!) is not death but banishment to the very end of the hotel in wing 5B to do security. Her screams can still be heard resonating across the parking lot.

Credits:
Blood In the Hall
7 minutes. Mini-DV videotape. Filmed in three and a half hours on April 3, 2010.
Cast... Narrator: Mark Dranek; Bible Study Members: Laurel Parshall, Larry Lewis, Jesse Brocksmith; Hallwall Sleeper: Don Lake; Carpet Scraper: Ron Lake; 6-2-1 Drunk: Daniel Kaufman; Severed Arm: Edward Martin III; Clueless Maid Tipper: Janet Borkowski; Line Cutter: Erica; Room Stuffer: Brian Hunt; Japanese Cleaning Woman: Deborah Olson; Peacebonder: Dan Murphy; Chopped Arm: Dana Halfhill; Passed Out Drunk: Runia; Slapping Girl: Megan; Bartender: Dave Tackett; 5B Security Victim: Lori Hillard.
Produced by Edward Martin III, Brian D. Oberquell, Eric Morgret and Ryan K. Johnson, Directed by Edward Martin III. Written by Edward Martin III, Ryan K. Johnson & the cast. Interns: Amanda Kundert and Julie Andrijeski. Photographed by Ryan K. Johnson. Lighting: Doug Staudt. Edited by Ryan K. Johnson. Sound and DVD authoring by Edward Martin III.
---
It's A Terrible Life
Our third year at Baycon and the turnout was not for lack of publicity on the part of the convention: there were ads in the program book for the workshop and several nice articles in the con newsletters. We also were given the largest venue at the convention center to shoot in, the grand ballroom where the masquerade was held. What were we going to do in such a large space? In the end, not much, we only shot three quick scenes there and then did the rest in the hallways like usual. Folks were very interested in doing a horror movie and the idea was developed to have a demon come to the convention in order to do mischief and get promoted. Quite near the end, it was decided to make it more a comedy but with a rather sinister end which we hoped we could get away with. In the end, we decided it was an inverted version of "It's a Wonderful Life," hence the title. The music is even stolen from the original movie.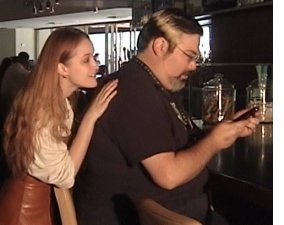 A gamer rolls seven critical failures in a row. Unknown to anyone, this invocation summons a minor demon from hell who is now free to roam the convention in an attempt to earn her horns by tempting people into sin. She has to get 10 points, and during a conversation with a fellow demon on her hellphone (which she obnoxiously uses in public), gets her first point by telling a mother her baby is ugly and causing her to hate it. A man in a bar finds the iPhone prototype and rather than return it, the demon suggests in his ear that he could make a lot of money by selling it to Gizmodo. She angers Guest of Honor Peter S. Beagle by telling him that his panel has been replaced by "Twilight" filking. She stands behind a SCA braggart with a sign saying, "Liar." An attempt to get a nerdy fan to pick up a girl by slapping her on the ass goes wrong when the girl likes it and they begin kissing passionately. The demon loses points and can't believe it. Trying to encourage a goth girl to kill herself fails as well and even a lawyer talking on the phone mocks her as an amateur. Tempting a woman on a diet to go ahead and gorge herself results in a point though. She encourages a boy to throw away a banana peel and litter which then causes a hapless man to slip and fall all the way down the escaltors. The demon sings a truly diabolical song in the filk room, and even though she is off-key and the song points out what hypocrites they all are for applauding, they do so anyway. She tells a woman to check out her room and when she does she discovers her husband has been having an affair and it breaks her heart. Sitting despondently, the woman is surprised to see TV's David Tennant standing in front of her asking her out on a date. It's love at first sight and the demon loses nearly all her accumulated points. She shouts out, "Curse you, true love! And TV's David Tennant!" A fan confronts the demon, having realized what she is up to. The demon tries to deny it, then bribe her with winning lottery numbers (which turn out to be only the numbers from "Lost" which she recognizes). The fan then tweets the entire convention to be on the lookout for the demon and not succumb to her tricks. Ruined and with hardly any points, the demon slowly walks out of the convention. With only minutes left of her time on Earth, our hapless demon is locked in despair, sure she'll never earn her horns. Until, however....
Credits:
It's A Terrible Life
10 minutes. Mini-DV videotape. Filmed in four hours on May 30, 2010.
Cast... Demon: Seanna Ladd; Mother: Taunya Gren; iPhone finder: Edward Goldstein; Himself: Peter S. Beagle; Slapper: William Tracey; Slappee: Miki Violet Sun Goddess; Goth girl: Kayla; Lawyer: Christopher Lipp; Cookie girl: Kathryn "Ryn" Bruce; Banana-eater: Chris Drennan; Banana-slipper: Mike Drennan; Girl with cheatin' boyfriend: Meg Creelman; TV's David Tennant: Jarrod Golgoski; "Lost" fan: Christine Doyle; SCA'ers: Trudi Villareal, Miki, Vega; Gamers: Jarrod Golgoski, William, Joe, Erin Mittmann; Filkers: Actual Filkers!.
Produced and Written by Edward Martin III and Ryan K. Johnson, Directed by Edward Martin III. Photographed and edited by Ryan K. Johnson. Sound by Edward Martin III.
---
It Came From The Elevator!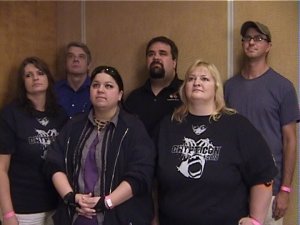 We were asked by fellow workshopper Eric Morgret if we wanted to do it at his horror convention, Crypticon, in Everett, Washington. Even though Eric was not available due to his programming duties, Ryan and Edward took up the challenge. A last minute change of venue and lack of DVD player made for a rough planning panel. Because Crypticon is a shorter convention than either Norwescon or Baycon, we only had two and half days from start to finish. This meant from the time we finished the planning panel Friday evening until we began shooting Saturday morning, there were only 13 hours. And we also wanted to get some sleep. We knew we had to keep it simple and a ride down the elevator provided the inspiration: a movie entirely set in an elevator. Of course we wouldn't have to shoot in a real elevator, it could be faked using any two walls of a room. There were only six parts and fortunately for us, six people turned up to do the workshop.
Six fans at Crypticon board an elevator. The elevator stalls between floors and we can hear the thoughts of the passengers. Though unnamed in the movie, they are: Katy, a paranoid woman who thinks everyone either wants to bother her or come on to her; Vic, a would-be Lothario in the Zapp Brannigan mould; Johnny, who imagines the stalled elevator is a ticket to adventure involving aliens; Sunshine, an existentialist hippie; Norman, who has self-control problems; and Blankie who apparently has no real thoughts at all and just keeps a beat in her head. The elevator eventually continues its journey, but it's too late and everyone's fantasies come crashing into reality and It Came from the Elevator truly earns its wings as our first piece of psychological horror.
Credits:
It Came From The Elevator!
8 minutes. Mini-DV videotape. Filmed in two hours on June 19, 2010.
Cast... Vic: Shawn Pack; Johnny: Jason Pease; Katy: Stephanie Ratliff; Sunshine: Jacynda Scott; Blankie: Kacy Anderson; Norman: Larry McConnell.
Produced and Written by Edward Martin III and Ryan K. Johnson, Directed by Edward Martin III. Photographed and edited by Ryan K. Johnson. Sound by Edward Martin III.
---
ConCeption
Parody-time, although we mostly borrowed the concept of a hit movie (i.e. infiltrating dreams from Inception) to make our own statement about fandom. Indeed, this is our most serious movie, with only a few deliberate jokes. While it may not have the audience-pleasing power of a joke-a-minute Blood In The Halls, it was appealing to us to try something different, with a bit of heart. Edward was keen to exploit the likeness between frequent contributor David Tackett and Fran Kranz who played Topher on Dollhouse. Ryan was dead-set against any Dollhouse references but a scene was shot and put at the end as a punchline to the movie.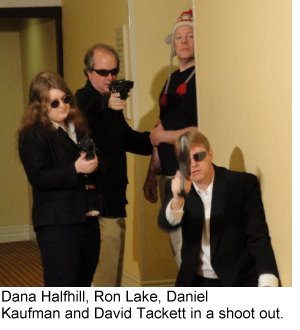 A girl complains to her friends that her father won't let her attend a science fiction convention. They decide it's time for an inception. While reading his bible, the father falls asleep and suddenly finds himself in standing in line at a convention. He dismisses them as "loser weirdos" but overhears a conversation from others in the queue that makes them sound intelligent. But he must go deeper. He wakes again in the second level, a surreal panel. The agents burst in and tell him he's trapped in a dream and must escape with them. People in the dream are becoming aware of them and beginning to fight back. An exciting shoot-out still disappoints the father, so he is taken to the third level. Dressed strangely, he is at the dance where he sees his daughter having a great time and being complimented for her costuming. He realizes that this is what makes her happy. The agents kick him back to the second level where he joins in the shoot-out with much glee. They kick him up to the top level, a surreal scene where three people try to blow out a candle. The father walks in and says you need a badge to put it out. Later, in the real world we see him talking on the phone with his daughter telling her he'll drive her to the con. He then picks up the book he was reading: a Dungeons and Dragons handbook. One final scene has the father waking up from a familiar chair...
Credits:
ConCeption
6 minutes. Mini-DV videotape. Filmed in two hours on April 23, 2011.
Cast... Daughter: Lori Hillard; Inception Agents: Dana Halfhill, Ron Lake, David Tackett; Father: Daniel Kaufman; Line person: Mike Reddig; Fighters: Anita Taylor, Liz Dahlstrom, Andrew Kinman; Fighting Jesus: Jim Moniz; Candleblowers: Helga.
Produced by Edward Martin III, Brian D. Oberquell, Eric Morgret and Ryan K. Johnson. Directed by Edward Martin III. Photographed and edited by Ryan K. Johnson. Sound by Edward Martin III. Lighting: Lisa Sherman and Doug Staudt. Costuming: Anita Taylor. Intern: Heather Candelaria.

---
Fantiques Roadshow
Doing a fannish version of the Antiques Roadshow format promised lots of opportunities to both do gags and feature a lot of different people in a short amount of time. We added an extra layer with it being the last-ever episode and some of the post-production staff becoming disgruntled. Most of the props were provided by the people who presented them in the movie, with usually an added gag we had devised earlier. Unlike most productions which used "done in one" set-ups, each sequence was shot three times with a wide master shot, and angles on each presenter. This added a bit of time in editing but helped recreate the look and feel of the original show. The opening credits were stolen from the PBS version of the series which is hosted by Mark Wahlberg (hence the Marky Mark joke we did).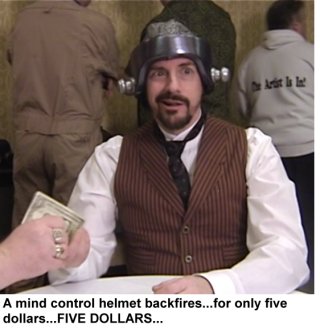 Marky Mark introduces the final episode of Fantiques Roadshow from Norwescon 35 in Seattle, Washington. The items: The Deadly Pair of katanas, Titantic hat, William Shatner's orange, prop boy, mind control helmet, Matrix spoon, Braveheart kilt, Supernatural guns, dagger, steam punk carriage, scarf, sword, medallion, egyptian necklace, vase. Meanwhile, the increasingly frustrated caption writer expresses his displeasure at this being the last show and losing his job.
Credits:
Fantiques Roadshow
10 minutes. Mini-DV videotape. Filmed in two hours on April 7, 2012.
Cast...Marky Mark: Doug Staudt. Assessors: Brian Hunt, Lisa Sherman, Thomas Gray. Hat woman: Anita Taylor; Orange woman: Liz Dahlstrom; Father: Mike Reddig; Son: Griffin Reddig; Mind Control Helmet man: Dave Tackett (pictured, left); Spoon woman: Kate Waterous; Kilt man: Don Lake; Dagger woman: Tina; Gun woman: Gabby; Baby carriage woman: Lori Hillard; scarf woman: Dana Halfhill; Medallion man: Ray; Necklace man: Ryan K. Johnson; Vase man: Brian D. Oberquell.
Produced by Edward Martin III, Brian D. Oberquell, Eric Morgret and Ryan K. Johnson. Directed by Edward Martin III. Photographed and edited by Ryan K. Johnson. Sound by Edward Martin III. Lighting: Doug Staudt. Interns: Todd Gardiner, Hank.
---
Steve: Portrait of a Minion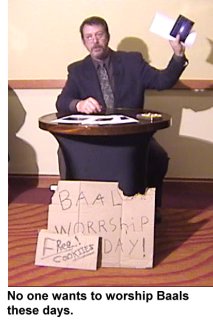 We returned to Crypticon after a one year absence, and a slightly altered schedule which had us plan the movie Friday night and then shoot it Saturday afternoon and present it to everyone at noon on Sunday. We wanted something with a horror theme and latched onto the idea (based on the many booths and dealers at the con) of the last minion to a nearly-forgotten demon, Baal. Baal would not be seen in the movie, it was more about the hard life of Steve, the man who had been serving him for over 3,000 years. The main joke being that the name of Baal sounds very similar to...ball. We set up our own fake display area to shoot his interactions with passerbys, then the interview portion. On the way out to the pool for some location shooting, we ran across a guy in full Hellboy makeup. One of the running jokes we had intended was for Steve to keep complaining that Hellboy wasn't real. The cosplayer was quickly drafted into making a cameo in our movie. When editing began, massive dropouts on the first five minutes of the videotape were discovered, which caused some sequences to be shorted or cut out of the movie. Although meant to be funny, we liked doing a poignant movie about a loser, somewhat similar to what we (accidentally) achieved in

Manslugs

with the abused writer.

After an over-the-top commercial for Baal (done in the style of a monster car show), we are introduced to Steve manning his booth at a convention with his hand-lettered (and misspelled) sign. We learn he is the last minion for Baal, having been in the job for 3,000 years but clearly not adapted to modern times of marketing. An interview with Steve is intercut with his mostly lame efforts to recruit new worshippers for Baal. Other interviewees include Jeff a former Baal worshipper now with Fox News, and Steve's ex-wife. Steve's day ends with him packing up his signs and taking a lonely walk up a long flight of stairs.

Credits:
Steve: Portrait of a Minion


7 minutes. Mini-DV videotape. Filmed in two hours on May 26, 2012.



Cast

...Announcer: Patrick Sherman; Steve: Brian Hutchins; Hittite worshipper: Doug Staudt; Jeff: Joe; Recruitee: Jacynda Scott; Mary: Lisa Wright-Thiroux; Dollar Bill Tosser: K.C. Keely Caldvan.
Produced and Written by Edward Martin III and Ryan K. Johnson, Directed by Edward Martin III. Asst. Director: Lisa Sherman. Photographed and edited by Ryan K. Johnson. Lighting: Joe. Sound by Edward Martin III.

---
Warehouse 36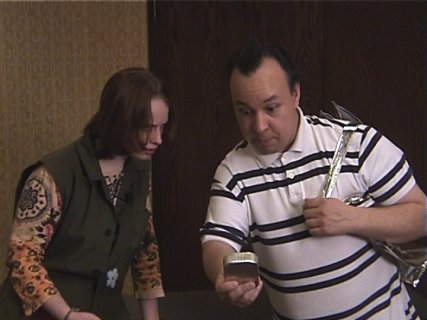 Our 14th (!) year at Norwescon, and still shooting on my crappy one-chip TRV-9 but with satisfactory results. As an innovation we captured the video directly from the camera via firewire into Edward's laptop so that editing could begin immediately after production wrapped. We cast some newcomers in the lead roles this time, but relied on old favorites for the supporting cast. Doing a straight-up parody of SyFy's "Warehouse 13" wasn't the most original idea in the world, but fans of the series think we were pretty close, and it lent itself to a number of quick gags. For most of the shots, the camera was mounted on the con's A/V cart which meant not only could it be easily moved about the room, but smooth dolly shots were executed using it. About the only thing to go wrong was during the editing workshop when Premiere Pro refused to load the project in front of a room of patient viewers. But everything was resolved in the end.

The agents from Warehouse 36 are tasked by Artie to find four linked artifacts before the evil Eitra and his minions can get their hands on them. At Norwescon 36 they find William Shatner's toupee (very reminiscent of a tribble) but it is stolen when the agents get distracted by their own cute bantering. The second artifact is Gandhi's dhoti (being worn by a very laid-back Klingon), but it too is taken when the agents set it down. They are also too late to get the third artifact: Joss Whedon's pen. They try to retrieve Billy May's shirt but a confrontation with the minions temporarily stuns them. The minions present Eitra with the four artifacts which he then puts together to form The Artie-fact. The agents are too late, but suddenly the Artie-fact begins to glow and backfires on both Eitra and Artie with surprising results.

Credits:
Warehouse 36


7 minutes. Mini-DV videotape. Filmed in two and half hours on March 30, 2013.



Cast

...William Shatner: Mike Reddig; Agents: Madeline Virtue, Umberto Lenzi; Artie: Jesse Brocksmith; Eitra: Brian J. Hunt; Klingon: Don Lake; Woman with pen: Sherry Kirk; Billy Mays: Mark Virtue; Minions: Janet Borkowski; Merged Man: Brian D. Oberquell.
Produced by Edward Martin III, Brian D. Oberquell, Lisa Sherman and Ryan K. Johnson. Directed by Edward Martin III. Photographed and edited by Ryan K. Johnson. Sound by Edward Martin III. Lighting: Doug Staudt; Intern: Keith Burnard.

We made this!
---

Back to Ryan's Homepage
Escape From Seattle | Kill Roy | Doctor Who | Star Trek: The Pepsi Generation
What's Ryan Watching | The Wolfe Project | Mystery Science Theater 3000
Have I Got News For You | The 2001 Movies | Let's Make a Movie Workshop | Meltdown
---
Written and maintained by Ryan K. Johnson April 20, 2013