Anita's Restaurant
704 N. Piedras St..
El Paso, TX
(915) 566-1645
Anita's Restaurant opened in 1990 in the heart of the Five Points neighborhood in central El Paso. Although it has maintained a loyal customer base throughout the years, many people do not even know it exists. A prominent sign on North Piedras Street points to Anita's Bar, adjacent to the restaurant. With little noticeable signs in front, though, Anita's Restaurant seems to get most of its business through word of mouth and perhaps through a few people who see it while passing by. Anita's is in good company, though, with other restaurants that serve the type of quality Mexican food that keeps local people coming back.
Parking is not allowed on Piedras Street, but the alley beside the restaurant and the lot behind the building usually provide adequate space. The restaurant has about a dozen tables, and I think many who eat here walk from surrounding businesses or neighborhoods. If a restaurant attains the status of a "local institution," as Anita's has, most people do not care whether it has much ambiance as long as the food is good. Actually, the fact that Anita's could be classified as a "hole in the wall" is part of its attraction as a local eatery. Prices are reasonable, the restaurant is clean, and people do not have to pay for mariachi bands or expensive buildings that house some of the restaurants that are more popular with tourists.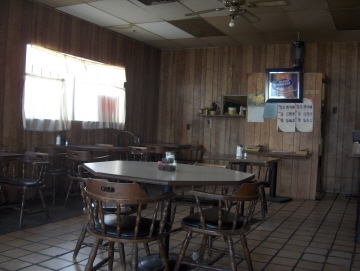 Anita's Restaurant is small, and separate from the bar
The lunch crowd at Anita's starts around 11:00 at gets rather thin after 1:00 p.m. Patrons can get anything from a snack to a full meal, but most people order a comida corrida style meal with soup and a plate with a choice of a main item, beans, and rice. Most restaurants offer comida corrida for lunch at a reduced price with a limited choice of items. At Anita's, patrons have the choice of anything the restaurant serves and the prices are just as cheap as other places that only offer one or two items.
All customers are given complimentary Chips to begin the meal. I would not be tempted to fill up on them except that the red chile Salsa is so good the chips seem to disappear quite quickly.
Since Anita's opened I have always associated it with one of the best versions of Caldo de Res in the city. I probably should say its beef and vegetable soup is one of the best in the country, but I haven't sampled enough versions in other cities to really make this statement with authority. I do know, though, that it rivals the one at Jalisco Cafe, the restaurant that I consider to serve the best caldo.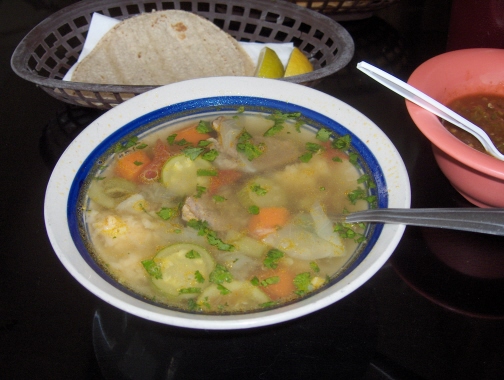 Caldo de Res with Home Made Tortillas
The caldo de res at Anita's contains large chunks of roast beef, fresh vegetables, and rice at the bottom (some other restaurants serve rice on the side that you put in the soup yourself). The good points about Anita's caldo are almost everything, with the flavor that I have come to expect with this bowl of soup. The beef is a little fatty, and it is sometimes lacking in the green vegetables that I prefer. In all essential aspects, though, the soups I have eaten recently have been as good as ever, and in terms of taste are a good representation of this classic El Paso dish.
The home made Corn Tortillas are another essential aspect of the caldo experience, and go perfectly with the soup. Flour tortillas may also be requested, and these are good as well, but I think the corn ones go best.
Although I used to go to Anita's regularly, it has been more difficult in recent years because my work is no longer in the downtown area. I will have to start fresh in reviewing individual dishes as I am able to make visits now that I am writing reviews. I do know, though, that the food served here is about as authentic as you can get anywhere.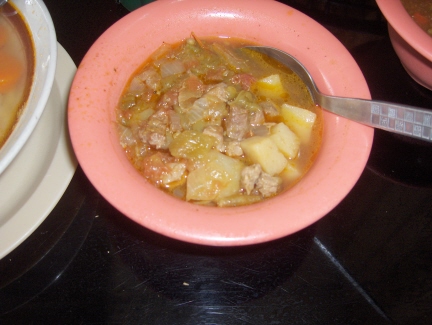 This chile verde is smaller than the typical order, but just as good
Chile Verde is an example of the excellent choices that are available. I was really surprised that it was even better than I remembered, with basic ingredients that are combined in such a way that this could also be described as a classic version of an El Paso style dish. Chunks of green chile provide spice, while potato and tomato tone it down a bit. Anita's makes both chile verde and chile colorado with beef, and I would say it is a good cut. Anita's also avoids overdoing the chile verde with spices and additives, trying to keep as natural a flavor as possible. Personally I think this is what makes it so good, and provides a flavor so close to home made this is probably the best you can do in a restaurant.
The chile verde pictured in the photo is a small serving, but it is usually served on a plate with rice and beans. Patrons can get servings as large or as small as they wish--the restaurant is not trying to make extra money by serving oversized platters of food.
The use of vegetable oil in the cooking and the limited use of additives are deliberate attempts to make the food more healthy than was typical in the "old style" El Paso cooking. Beef is used instead of pork in many of the dishes for the same reason, although pork is available in some dishes for people who really want to order it.
Lemonade is served, and I thought it was sweet but good. Sweet foods or drinks seem to quench the fire from hot chiles such as the innocent looking but potent green chiles in the chile verde. I think Anita's has one of the least expensive home made lemonades in El Paso, so I can forgive it for being a little weak on the lemon flavor. There should be plenty of limes on the table if you want to add some extra tartness.
I really enjoy the fact that eating here is almost like eating at home. You can order what you want and you are not limited to the plates the restaurant wants to serve. The food is healthy, and rather than tasting bland, I think it is better than at most other restaurants. Certainly the caldo has been one of the best parts of my meals.
Go to Index
RESTAURANT DETAILS
RATING: 23
Cuisine: Mexican El Paso
Cost: $
Hours: Until 3 p.m. Mon.-Sat.
Cooking Oil: Vegetable
Smoking: No Smoking
| | |
| --- | --- |
| Chile Index: | |
Most Recent Visit
Feb. 13, 2008
Number of Visits: 10+
Best Item
Caldo de Res
Special Ratings
Caldo de Res:


Chile Verde:


Chile Colorado:


Chips:


Salsa:


Lemonade:

MORE ABOUT THIS WEB SITE