Bonsai (Closed)
225 Shadow Mountain Dr.
El Paso, TX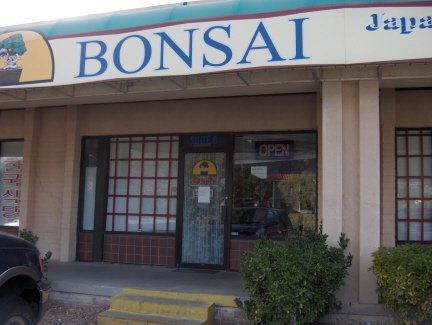 Bonsai and Japanese Kitchen are owned by the same family, but serve different types of food. Japanese Kitchen does the "show" where they cook the food on the grill in front of you, while Bonsai is more of a traditional Japanese restaurant. Bonsai also has an oriental grocery store that as far as I know is the only one on the west side of El Paso. Bonsai has joined the growing trend in El Paso by providing patrons with a sushi bar.
Most of Bonsai's menu is Japanese, but there are also a dozen or more Korean dishes on the dinner menu. The Korean food was discontinued in 2006, but as of 2008 it was back on the menu. I think this was a smart move, since this is not only the sole source for Korean cuisine on the west side, but it is competitive with many places on Dyer Street in terms of quality.
Some Japanese items are available as lunch specials during the week. The cost savings on the specials does not seem to be significant, but every little bit helps.
The good thing about the lunch menu is that it contains a fairly wide variety of Japanese dishes. The Oyako-Don, for instance, consisted of chicken and egg on top of steamed rice--it was actually a huge lunch and tasted pretty good. What I did not like, however, was the fact that it contained a large quantity of chicken, but not of very good quality (I would be much happier with a small amount of high quality meat). I do not think any vegetarian items are offered on the lunch menu.
The Ginger Salad served at lunch was topped with a good dressing, but mine had less-than-fresh lettuce.
The Tempura Udon on the dinner menu contained a rather ordinary broth, and I did not like the noodles at all. However, it had quite a few vegetables that made it more interesting than others I have eaten, and came in such a huge bowl that I had plenty to eat even without finishing the noodles. The big surprise, though, was the vegetable tempura that was served on the side. As I expected, it was not the best tempura I ever had, and was on the greasy side. The vegetables, though, were fresh and came in a large variety. There were so many vegetables they made a meal in themselves. I would not order vegetable tempura as an entrée because it was so greasy, but it was a very good compliment to the udon, and I enjoyed the meal quite a bit despite its various weak points.
As far as I am concerned, though, the Korean menu is the way to go at Bonsai. One dish I tried was the Yook Gae Jang, a spicy soup with beef brisket, on the advice of the waiter. It was about the same quality as can be found at Kal Bi House on Dyer Street, and was definitely something I would like to order again.
The Dyen Jang Chigae, another item on the Korean menu, was a non-spicy soup made with "bean paste tofu casserole." The actual dinner, though, was somewhat more exciting than the menu description, containing beef brisket, dumplings, and a few vegetables that were more for color than flavor. I liked this dish a lot, and would recommend it for times when a large bowl of hot soup seems like a good meal.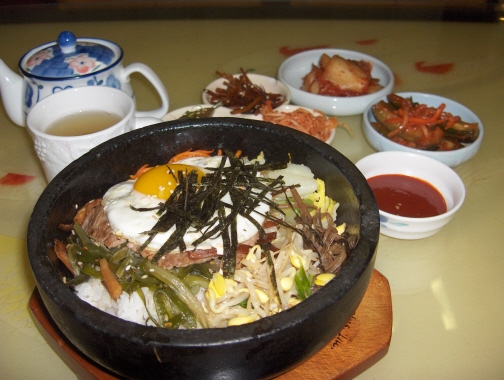 Dot Sol Bi Bim Bap with vegetable side dishes
Dot Sol Bi Bim Bap was a casserole dish with beef, vegetables, and a fried egg on top of a bed of rice. I thought it was a little weak in flavor compared to the Dyer Street Korean restaurants, but I enjoyed the freshness and good quality of the food. The casserole was not spicy, but a bowl of red chile was provided to add as desired. In addition to adding spice, the chile provided the necessary flavoring to make the bowl a delicious meal. While I am somewhat tolerant of good food that is weak on flavor, it is a lot better when the flavor level gets up to the point that it is actually memorable (as was the bi bim bap with the red chile).
The Korean dishes came with a small selection of side dishes that generally had a good flavor, but did not have the variety found at most other restaurants. The Kimchee was my least favorite of the side dishes--it tasted as if it had been prepackaged. The fish cake was very good, as were some of the vegetables.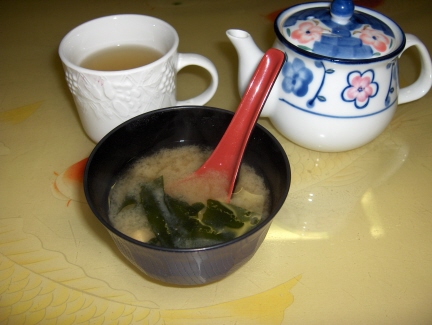 Miso soup is served with all meals at Bonsai
Meals start with Miso Soup, and the one here was one of the better ones I have tried.
I have had a lot of experience with Japanese restaurants in Seattle, and in my opinion Bonsai is only a fair Japanese restaurant (although better than most in west El Paso). The Korean food, though, has been a lot better when I have tried it. I would be more forgiving of the Japanese food if it were less expensive. The Korean food, while not a bargain, is probably worth the money (although that is something for each person to judge).
Go to Index
RESTAURANT DETAILS
RATING: 18
Cuisine: Japanese & Korean
Cost: $$$
Hours: Dinner Daily; Lunch Mon.-Fri.
Tea: Green (brewed)
MSG: No
Smoking: No Smoking
Alcohol: Beer
Most Recent Visit
Mar. 20, 2008
Number of Visits: 5
Best Items
Dot Sol Bi Bim Bap, Miso Soup
Special Ratings Japanese
Tempura Udon:


Oyako-Don:


Ginger Salad:


Miso Soup:

Special Ratings Korean
Dot Sol Bi Bim Bap:


Dyen Jang Chigae:

Not spicy
Yook Gae Jang:

Spicy
Vegetable Side Dishes:


Kimchee:

MORE ABOUT THIS WEB SITE