Chinese Cafe
9659 Dyer St.
El Paso, TX
(915) 755-3366

When I started going to the Chinese Cafe in early 2005 it was a great discovery--a Chinese restaurant in El Paso where the food actually tasted Chinese. Specializing in Hunan food (spicy), cooking all dishes without MSG, and relying on reasonably priced menu items rather than a buffet were all things that set this apart from other restaurants.

The menu is very interesting with several specialties such as Hunan style fish and shrimp, meat, and vegetable dishes. Dyer Street is not exactly a vegetarian mecca, but the Chinese Cafe has several dishes available, including home style tofu that has become one of my staple dishes when I do not want to eat meat (although I think it comes with oyster sauce and thus is not vegetarian).

The Home Style Tofu I ordered here was a huge serving with fresh broccoli and snow peas, tofu that was not crispy enough but good quality, and a flavorful brown sauce. While this is not the most exciting Chinese food a person could order, Chinese Cafe had one of the better versions of this dish.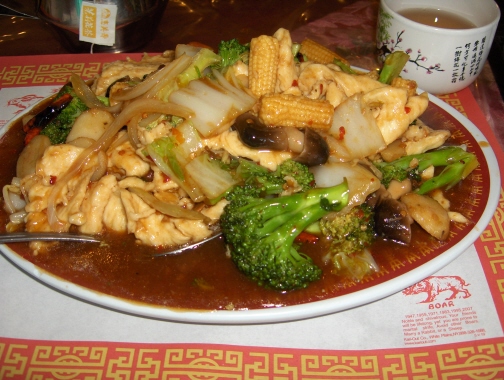 Hunan chicken is a specialty of Chinese Cafe
Hunan Chicken was recommended to me as probably the restaurant's best dish. This came on a large plate with a good sauce, fresh vegetables, and good quality chicken. The thing that was not very exciting was the vegetable selection that contained American style broccoli and the same kind of baby corn that I find in many Chinese buffets. While the sauce and the vegetables tasted the same as on the home style tofu, I thought the chicken made this a better dish.
Chinese Cafe lost its origianal cook in the summer of 2005, and then went through a period when I thought the sauces tasted pretty generic. When I returned in 2008 I found better food and sauces that were much as they had been originally. The only thing that seemed to be lacking from the original restaurant was a board that listed daily specials of the chef's recommendations such as fish and seafood dishes. I did not ask if some of these were still available, since most were of a larger quantity than I wanted to eat at the time. It would not hurt to ask, though, if you want something prepared that is not listed on the menu.
Go to Index
RESTAURANT DETAILS
RATING: 19
Cuisine: Chinese
Cost: $$
Hours: Closed Mon.
Tea: Jasmine (bags)
MSG: No
Smoking: No Smoking
Most Recent Visit
Apr. 25, 2008
Number of Visits: 6
Best Item
Hunan Chicken
Special Ratings
Hunan Chicken:


Home Style Tofu:

MORE ABOUT THIS WEB SITE