Hamachi Sushi Japanese Restaurant
9861 Dyer St.
El Paso, TX
(915) 755-5180

The recommendations I heard for Hamachi Sushi were so convincing that I figured I had to try it, and I was not disappointed. There has been a trend in the past few years for Asian restaurants in El Paso to be higher quality than in the past, and I think Hamachi recognizes the need to meet these higher expectations. I thought it delivered good quality Japanese food in all the ways that really mattered (freshness, quality, and flavor).

The specialty of Hamachi is sushi, and one good sign is that it had a large sushi bar with its own chef. Just about every table I observed in the restaurant was ordering either traditional sushi or the sushi rolls, so this told me it was good enough to be popular and also that it probably maintained its freshness through a high turnover rate.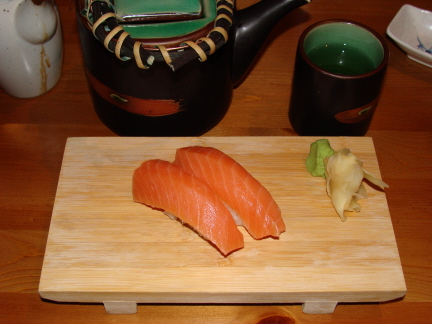 Salmon sushi
Another good sign that I associate with good sushi restaurants was that I was able to ask the chef for recommendations. In this case, since I asked for a nigiri recommendation, I was told that the Salmon Sushi was good. The salmon was good enough that I thought it was probably the highlight of the meal. The freshness was frankly surprising for El Paso, with the kind of flavor and texture that overwhelms the senses of a true salmon lover such as me. The salmon looked rather pink in color (one of my least favorite types if I were eating it in the Pacific Northwest), but was good compared to many I find away from the coastline. I thought they did a very good job with the sushi.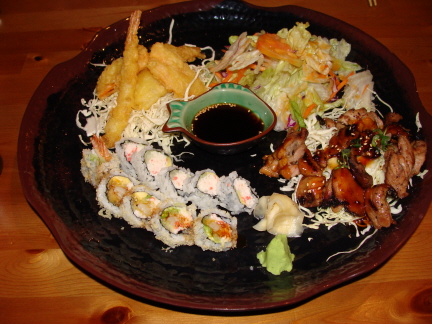 Hamachi Special with shrimp tempura, California roll, crunch roll, chicken teriyaki, and salad
The most popular feature of Hamachi seemed to be the large variety of sushi specialty rolls available. Two of these were served on the "Hamachi Special" plate including the California Roll and the Crunch Roll (with the dark sauce). I thought the rolls tasted very similar, but the crunch roll came with shrimp tempura (visible at the left end). I will admit to not being a fan of sushi rolls, and I just tried a sample of the ones on the Hamachi Special plate, but I thought they were good. I could at least tell they were fresh, and this is the main thing that counts.
The Chicken Teriyaki had a good flavor and good meat, and I understand is a very authentic version of this dish. The sauce was sweet, but in a balanced and complex way that is typical of Asian style sweet sauces.
The Shrimp Tempura was one of the better items. Many places find ways to make the batter unappealing, but I liked the one here, being light with little grease.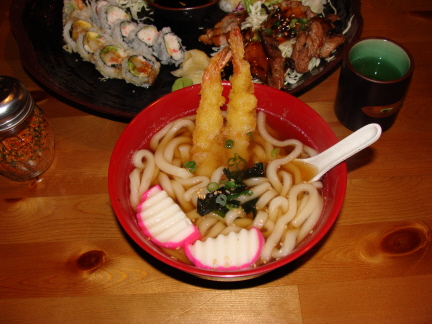 Tempura udon
The Tempura Udon was good, and I was impressed that they had a clear broth as I have seen in many good Japanese restaurants. This is a dish that should not be changed from the traditional way of making it, and I was happy that it tasted the way I expected it to be. As I usually do with this dish, I added a generous amount of red chiles for flavor (I understand that this is also traditional).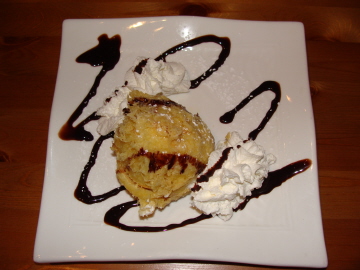 Fried ice cream
The Fried Ice Cream for dessert was a nice touch after a good meal. They brought vanilla instead of the green tea flavor I ordered, but I concluded that the vanilla was probably just as good.
Even though the food at Hamachi was better than I expected, I would probably say that the prices were higher than I expected, even considering the quality of food that is served. I have been to several high end Japanese restaurants in Seattle that did not cost as much as Hamachi, so I would say this is the down side to the equation (but I also know it is harder to get fresh ingredients to the Southwest). It is not really the entrees that are overpriced, but other items such as the green tea ($2.50 here while it is served on the house at Matsuharu) and the ice cream ($5.95, even though they did not bring the correct flavor). The nigiri sushi was the one item that I thought was pretty much of a bargain compared to other restaurants.
Another comment I would make is that while the food at Hamachi is good, the selection of traditional Japanese items is quite limited. Matsuharu, also in northeast El Paso, has a much wider variety of authentic Japanese food, particularly with fish, noodle dishes, and appetizers. While Hamachi has good quality, Matsuharu has flavor subtleties that I think make it a better restaurant overall.
Go to Index
RESTAURANT DETAILS
RATING: 21
Cuisine: Japanese
Cost: $$$
Hours: Closed Sun.
Accessible: Yes
Tea: Green (brewed)
MSG: No
Smoking: No Smoking
Most Recent Visit
Feb. 5, 2010
Number of Visits: 1
Best Items
Salmon Sushi, Tempura Udon, Shrimp Tempura, Chicken Teriyaki
Special Ratings
Tempura Udon:


Shrimp Tempura:


Chicken Teriyaki:

Sushi Ratings
California Roll:


Crunch Roll:


Salmon:

MORE ABOUT THIS WEB SITE