Important Notice:
An update of this review can be found at okgourmet.com .
Hello Pizza
1071 Country Club Rd.
El Paso, TX
(915) 581-5000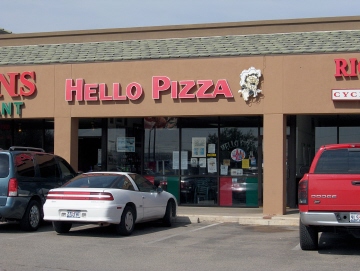 Somehow a pizza place and Italian deli has more credibility when the owner is from New York, as is the case with Hello Pizza. Everything on the menu is "New York style," including the drinks and desserts (many of which are shipped directly from the Big Apple). Like most delis it has a large number of meat items, but some of the vegetarian dishes are very good.
Upon entering the senses are almost overwhelmed with the sights, smells, and the total ambiance of a New York style deli. Several coolers serve as the repositories for a wide selection of sodas and specialty drinks, many of which are shipped from New York (although I know some of them are also available in the local grocery stores). The soda selection is quite impressive, and most of the brands are ones that I would consider "special occasion" drinks rather than just mere "soda pop." Snapple drinks and Arizona Tea are among the big sellers, some of the drinks such as Italian soda may be more of a special occasion drink, and some are drinks I may expect to find only here, New York, and a handful of other places (ones from the menu that stick out include Hanks Philadelphia, Chinotto, Zuber Fizz, and Manhattan Special). I know that the drink menu is modified slightly from time to time, but this gives a good idea of what is available.
Signs around the small restaurant clue the customer to the availability of a multitude of items such as desserts, one of Hello Pizza's specialties. I have seen cans of olive oil, and I do not know whether they were for sale, but I know that quite a few interesting items are available if one is in search of something specific. Some items available include New York bagels, Sabrett hot dogs, nova lox, and whitefish salad. I am woefully uninformed about New York delicacies, but I know if Larry carries anything at Hello Pizza it will be something that New Yorkers would consider an important part of the diet.
Hello Pizza's counter takes orders for the restaurant and offers pizza to go
The counter where one views the ovens and the food preparation area provides several opportunities for making decisions about an order. The standard menu items are listed on a board, with an emphasis on several types of pizza. While it can be said that this is really a pizza restaurant, the other items available are cooked in the same ovens, and I believe at a very high temperature. Hello Pizza does not have a full Italian menu, but enough dishes are available to qualify it as a "sit down" restaurant (the atmosphere is always informal, though, with orders taken at the counter and a television usually on showing sports events or other programs). The outdoor patio is popular in summer, and actually is well used throughout the year in El Paso's mild climate.
An erasable board usually lists specials, and as far as I remember have always been meat items. The specialty is supposed to be veal, usually available on weekends. I have not tried the veal, though.
I would advise spending a little bit of time at the counter not only to be aware of all the menu choices, but also to greet Larry (who always seems to be there) and allow him to advise patrons of any specials or of items that have recently arrived from New York. The Big Apple is usually considered one of the culinary capitals of the world, and a little bit of it is available in El Paso as well.
The Lasagna is made individually from scratch, meaning that it not only tastes fresh, but I can order it without hamburger or other meats that would be put inside the mass-produced variety. The thick melted mozzarela cheese and mushrooms that came in my veggie lasagna were pretty good, although I think spinach would have been better. Probably the biggest disappointment was a lack of tomato sauce on top (sort of like when Mexican restaurants do not put enough chile on the enchiladas). The flip side to this, though, is that the tomato sauce is so good that even a modest amount makes this dish worthwhile. The lasagna normally comes with Italian sausage, and this is obviously how it was intended to be eaten, but I did not feel shortchanged with the veggie version.
The Ziti was very much like the lasagna--fresh and very good.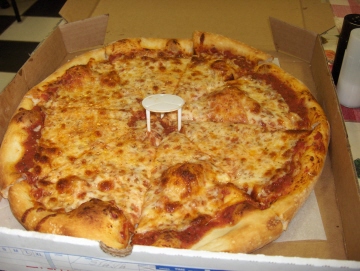 Cheese pizza is one of the best I have eaten anywhere
Pizza is definitely the specialty here--served New York style. It is not only my favorite in El Paso, it also compares favorably with some of the best ones I have tried in other areas (and some readers have said the pizza is better than the ones in New York). Larry also makes a crustless version for those on the Atkins diet, but points out that the crust and sauces are made without sugar, and would be safe for diabetics.
Cheese Pizza is one of my favorites, especially when I have to try to eat an entire pizza by myself (something I have never been able to fully accomplish, even when I order the small one). It is clear to me, though, that the crust, cheese, and sauce are the basic ingredients that make the pizza one of the best I have eaten anywhere. Any toppings would just be according the the individual's taste or craving--the cheese pizza by itself is a treat. The secret spices which Larry will not reveal give the cheese pizza enough flavor that I can say it is anything but "plain."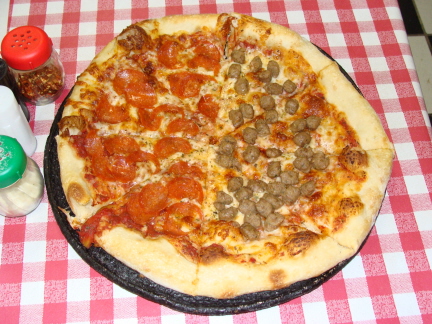 Pepperoni and sausage pizza
For pizza with added toppings, I was really impressed with the Italian Sausage Pizza. The picture above shows a pizza served half and half with sausage and pepperoni, and Hello Pizza can do this with any extra items. The funny thing, though, is that the person sharing the pizza with me thought the Pepperoni was the best item, so I think anything ordered would probably be good.
Several "gourmet" pizzas are avilable including pesto, but these only come in a large size.
Other specialty pizzas are available including Chicago style thick crust and Sicilian style. I was disappointed with the thick crust pizza I tried because of the fact that it was not heated thoroughly in the middle, but the ingredients were top notch as with the other pizzas. I did not send it back, though, so I am not ready to say that I would avoid ordering it until I give it another try.
I saw on a local news program that Larry was honored at a national convention in Las Vegas with a pizza he invented with chiles cooked into the crust and a special cheese on top. I saw one that he cooked, and it looked as good as it did on the television segment.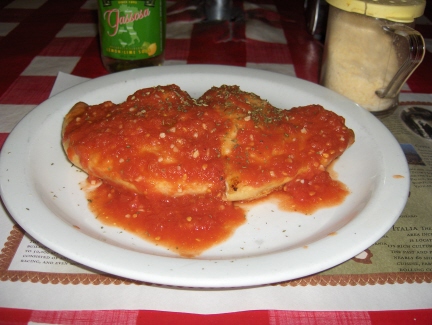 The calzone at Hello Pizza is excellent
The Calzone is supposed to be Hello Pizza's other specialty (besides pizza), and was one of my favorites. I tried the one with mushrooms inside, which I thought were very good. Unlike the lasagna, though, this dish had a large quantity of tomato sauce on top, giving it a fresh and zesty flavor. I enjoyed the soft and thick crust, and I thought Hello Pizza had an excellent example of this dish.
If you want Salad you have to pay extra, and it is on the expensive side.
Dessert at Hello Pizza is something for which I don't mind splurging. The cakes I've tried from New York have been worth the money, although I'm sure that a lot of the cost is in the shipping. If eating dessert seems superfluous after a large meal of pizza or pasta, it will be just as good if you take it home.
Hello Pizza is only open for dinner, but serves lunch on Saturday and Sunday. Breakfast is served on Saturday. The owner says the best breakfast dish may be the omelette--either vegetarian or with several types of meat.
There are very few types of food outside of Mexican cuisine in which I can say the best I have tried has been in El Paso. The pizza at Hello Pizza is one of those items, which alongside Giordano's in Chicago is my favorite that I have had so far. In fact it has been difficult to assign an accurate rating to Hello Pizza because it does not fit the traditional definition of "fine dining," thus I did not give it the same rating as some of the best upscale restaurants. For what it serves, though, I am firmly convinced that Hello Pizza is one of the best you will find anywhere.
Go to Index
RESTAURANT DETAILS
RATING: 24
Cuisine: Pizza/ Italian/ Deli
Cost: $$
Hours: Dinner daily; Lunch Sat. & Sun.; Breakfast Sat.
Accessible: Yes
Smoking: No Smoking
Alcohol: No
Most Recent Visit
Mar. 18, 2010
Number of Visits: 10+
Best Items
Cheese Pizza, Sausage Pizza, Desserts
Special Ratings
Cheese Pizza:


Italian Sausage Pizza:


Pepperoni Pizza:


Calzone:


Thick Crust Pizza:


Lasagna:


Ziti:

MORE ABOUT THIS WEB SITE