Italian Kitchen West
450 Thorn Ave.
El Paso, TX
(915) 842-0775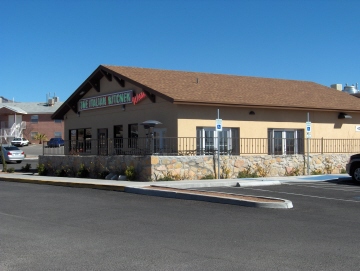 Italian Kitchen West opened in 2006, and is the west side outpost of Italian Kitchen, a small restaurant on Pershing Drive in central El Paso that is popular with the local population. Judging from the business that the west side location is doing, it has not taken long for it to become quite popular as well.
One outstanding feature of Italian Kitchen is the budget prices that are charged, especially at lunch. Most dinners fall within my low cost ($) category, although they fall into the moderate range if you order a soup or salad, something that I think is a necessity to have a more balanced meal than just a red sauce dish and side of spaghetti. In my opinion most Italian restaurants charge prices that are too high, but Italian Kitchen is lower than many of the others.
As a veteran diner at the original location, I am pretty familiar with the food. I have always found the Lasagna to be enjoyable, although I do not consider it particularly noteworthy.
The Eggplant Parmigiana at Italian Kitchen West is topped with the restaurant's unremarkable red sauce, but the eggplant itself has what I consider to be a better than average flavor (that is, that it does not taste very much like eggplant). Like most dishes here, I would say that it is good but not great, and worth the money that is charged.
Manicotti is indistinguishible from the other dishes when looking at it covered with red sauce. The ricotta chese inside, though, makes it arguably more enjoyable than the other dishes served (possibly tied with the lasagna).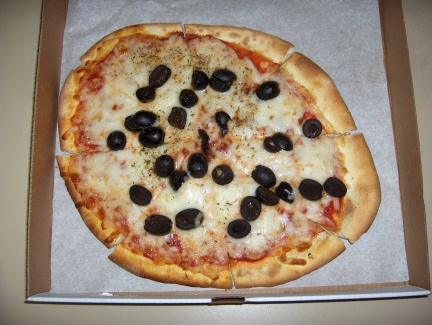 Pizza with cheese and black olives
Pizza is the one dish that truly got me excited about the food here. El Paso has a surprising number of very good pizzas, and I count the one here among them. Although the cheese is not the most remarkable in town, I thought it was quite good. Several toppings are available, and the black olives I tried were good. The best part of the pizza, though, compared to others in town, was the crust. This was perfectly cooked and crispy with a good flavor. I do not know what is considered the proper crispiness for a pizza crust, but I liked this one quite a bit.
The Minestrone Soup comes with a dark broth and I would say is relatively unflavorful. One order I received had an almost total lack of vegetables, but others have been more substantial.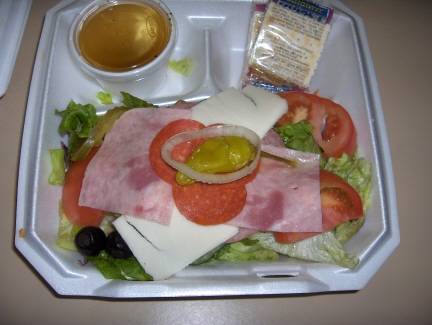 Antipasto salad
The dinner salad is so unremarkable I did not even mention it in my original review. The Antipasto Salad, though, was quite fresh and enjoyable. I thought the meat was much better than average, tasting like something that was either home made or that the restaurant had spent some effort in finding good quality. I have heard from various sources that they liked Italian Kitchen more than I did, and perhaps the cold cuts (something I do not normally order) was one of the factors that earned the restaurant its following.
Italian Kitchen serves the old style garlic bread that consists of toasted buns with garlic butter. While this is not gourmet, I would classify it as enjoyable.
The interior of Italian Kitchen West is not elegant, and I would say whether it is comfortable or not depends on where you sit. It is a family restaurant, though, and is not meant to be fine dining--just neighborhood Italian food. The service is excellent, and once you become one of the "family" of regular diners they will probably know your preferences without having to mention them.
Italian Kitchen West has a pretty impressive bar with a big screen television. I am happy that the sound of the TV is normally off, but if you are interested in a program it will be raised enough to hear it at the bar.
To be honest, I find the low prices, service, and neighborhood atmosphere more of an attraction than the food, but the food is fresh and flavorful. Probably more than anything, I appreciate the fact that patrons are not paying for the atmosphere as is the case with many of the upscale Italian restaurants. This is a "family restaurant" in every sense of the term.
Go to Index
RESTAURANT DETAILS
RATING: 17
Cuisine: Italian
Cost: $$
Hours: Open Daily
Accessible: Yes
Additional Location: 2923 Pershing Dr.
Smoking: No Smoking
Alcohol: Beer, Wine
Most Recent Visit
Mar 3, 2008
Number of Visits: 5
Best Items
Pizza, Antipasto Salad
Special Ratings
Cheese Pizza:


Lasagna:


Eggplant Parmigiana:


Manicotti:


Scallopini:


Minestrone Soup:


Antipasto Salad:

MORE ABOUT THIS WEB SITE