Las Fuentes Restaurant
6845 Doniphan Dr.
Canutillo, TX
(915) 877-5161

Las Fuentes is the type of divey, greasy-spoon neighborhood place that a visitor to the El Paso area is unlikely to find, much less be tempted to use as their Mexican food dining experience. It is a mini-chain, with several locations in the El Paso area, but each seems to vary somewhat in quality. I once thought the Canutillo location was much better than the other branches, and worthy of a recommendation to visitors and local people alike. However, this has proven to be one of the most inconsistent restaurants in El Paso, with the main difference being how fresh or stale the food tastes, and how greasy or non-greasy it is.

My experiences at Las Fuentes at Doniphan and Thorn have been similar to the poor experiences at the Canutillo location. Many times the food in Canutillo has been a lot better, but I do not think I can count on it being so. I have decided to rate both restaurants the same, but occasionally the food at the Canutillo location would exceed this level.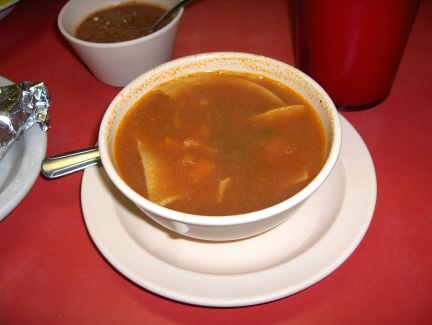 Tortilla soup
All meals at Las Fuentes are preceded by a complimentary bowl of homemade soup. Different types of soup are prepared, but my last few meals have all had Tortilla Soup made with a thick broth, tortilla chips, vegetables, and large chunks of white Mexican cheese (but interestingly, no chicken). I think this has been the highlight of every meal in which it has been served. It has more flavor than most, and is definitely one of the freshest ones in El Paso. I'm glad the chicken chunks are omitted, since the flavor of the cheese and the vegetables have more of a chance to come through.
I have eaten some of the best Flautas in town at Las Fuentes, but like most of the food they do not seem to be the same quality every time I visit. The ones shown in the photo looked good, but they were pretty greasy and lifeless when it comes to flavor. The guacamole was rather thin and runny.
Chile Verde is a stew with green chiles and brisket style meat that was about as spicy as I have found in El Paso. Las Fuentes has the classic border style of this dish, and this is one of the better versions offered.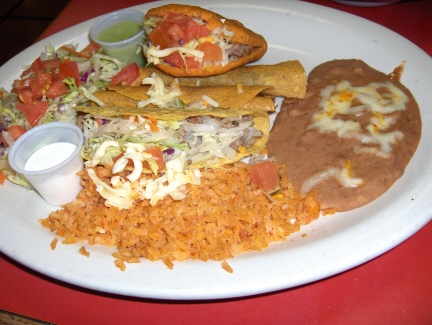 Taco, flautas, and gordita
Beef Tacos came with a pretty flavorful ground meat mixed with potatoes. The shell was a little greasy but the meat was fine.
The Gordita had the same meat and potato filling as the beef taco, but it came with a puffy shell. This was good, but less than a mile away is Little Diner that probably has the best gorditas anywhere.
I enjoyed the Tostadas--the bean more than the avocado.
From this point, though, my excitement about the food begins to wane. The chips and salsa were good, but nothing exciting. The salsa did not have much flavor, but it tasteed fresh as if it had been made the same day.
Both the red and green Enchiladas can be good, but I think these items are a lot better at other restaurants. The green enchiladas are particularly disappointing when compared to the ones at the Little Diner. Las Fuentes seems to be more of a true Mexican style restaurant while Little Diner serves New Mexico style food, so this enters into my preference for the different styles of enchiladas. I just think Las Fuentes does not do them as well as other restaurants, even the ones that serve the same style.
The Chile Relleno is one of the items here that I find least appealing. It is rather strange that in El Paso food tends to be cooked different ways in different parts of town. In the Upper Valley, in which Canutillo is located, many people prefer New Mexico style chiles rellenos with a spicier chile from the Mesilla or Hatch Valley, a thick, fluffy batter, and with no sauce on top. Since Las Fuentes is a chain out of El Paso, it seems that the rellenos must be served "El Paso style" with a milder chile, very little batter, and Spanish sauce on top. I generally do not care much for this style of relleno, but the worst part was that the ones at Las Fuentes were not even as good as at most other El Paso restaurants. The ones here were very greasy, and I have even had ones burned on the bottom.
The Chicken Tacos were not very impressive either. The chicken lacked flavor, but at least it did not taste bad (dry, old, or spoiled), as I have experienced at some other restaurants.
Las Fuentes also serves comida de cuaresma (Friday specials during Lent), and I have had some good meals at that time.
Las Fuentes is clean and open late. I used to think the prices were reasonable, but I have had some bad experiences trying to order appetizers or extra dishes that changed my mind. Breakfast is served, but I have not tried it. The restaurant is a dive, and looks very similar to many neighborhood restaurants in Mexico (it even plays Mexican radio stations on the stereo). At least it is a clean dive, though.
Even though I have mixed opinions about the restaurant, I have always enjoyed the tortilla soup. I recently found out that the Horchata is equally good, so every meal here can have at least a couple of good experiences.
Go to Index
RESTAURANT DETAILS
RATING: 19
Cuisine: Mexican Chihuahua
Cost: $$
Hours: Open Daily
Additional Locations: 5300 Doniphan Dr., 3033 McRae Blvd., 1188 N. Yarbrough Dr., 3130 N. Lee Trevino Dr.
Cooking Oil: Vegetable
Smoking: No Smoking
Special Features: Serves Breakfast
| | |
| --- | --- |
| Chile Index: | |
Most Recent Visit
Nov. 17, 2007
Number of Visits: 10+
Best Items
Chile Verde, Tortilla Soup, Horchata
Special Ratings
Flautas:


Chile Verde:


Red Enchiladas:


Green Enchiladas:


Chile Relleno:


Chicken Tacos:


Beef Tacos:


Gorditas:


Tortilla Soup:


Tostadas:

bean
Tostadas:

avocado
Chips:


Salsa:


Horchata:

MORE ABOUT THIS WEB SITE