Los Canarios Flautas (Closed)
955 N. Resler
El Paso, TX


Los Canarios follows the style of food served in Ciudad Juárez that has become quite popular in El Paso in recent years. In the case of Los Canarios this means authentic Mexican style flautas and tacos, as well as a number of other items made the traditional way (or at least traditional in terms of northern Mexican border food). While there are many similarities to what I call "El Paso style" cuisine, it is different enough to be quite distinguishable for those who have experience eating the the Mexican state of Chihuahua.
The restaurant is next door to a Mexican candy store operated by the same owners called "Chamoyito's." Los Canarios does not serve beer, and I think the idea is to operate a restaurant that is cheap, casual, and family friendly. The dinners at Los Canarios are at most about six dollars, plus the drink. Portions are large, and this is one of the few restaurants in which everything on the menu falls into my inexpensive ($) category (so far, though, this has not included a spending spree for me next door at the candy store).
Several types of flautas are served, all with different toppings and all with a choice of beef, chicken, or potato filling. Different types of tacos, burritos, sopes, and quesadillas are also served. I have found, though, that if they can prepare something that is not on the menu they will do that as well.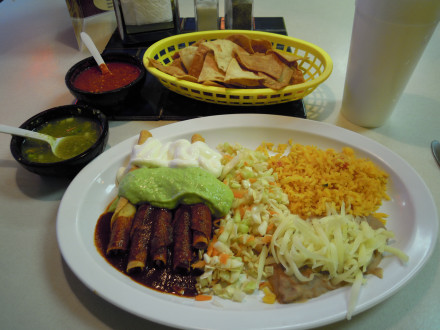 Flautas México
Flautas México is one of the styles of flautas served (all orders come with five flautas). The red sauce, sour cream, and avocado form the colors of the Mexican flag (red, white, and green), making this traditional dish (which is also one of my favorites). When I tried these flautas the seemed very enjoyable except for a very thin guacamole sauce. The down side, though, was that they seemed to be fried in so much oil that it left an aftertaste for me. In spite of the flautas being the specialty of Los Canarios, I did not think this was the restaurant's best dish.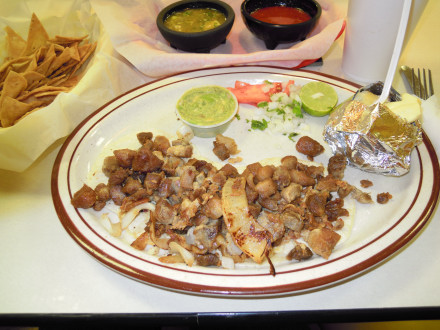 Tacos de carnitas
Tacos de Carnitas, on the other hand, seemed like an almost perfect example of excellent northern Mexico style food. The carnitas (made with pork) had a good flavor, and were not too fatty, gristly, or greasy. The oil aftertaste did not occur because the tacos were made with soft tortillas (not fried ones). The carmelized onions and garnishes available to put on the tacos provided an added flavor to an already good one. Carnitas are not always one of my favorite meats, but I thought they were very good here.
A third meal I had with Chicken Mole had mixed results. Chicken mole is not on the menu, so it can be considered a "special dish" (except that I think they will serve it to anyone upon request). The mole was sweet, dark, and moist, and would be something recommended to try on the flautas (flautas enmoladas are on the menu). The chicken, though, was dry and hard to the point that I had to use a knife to cut it. It tasted good, though, and was not old or past its prime (only cooked too much).
The rice was good, but the beans were some of the best I have had in El Paso (and I would say much better than the rice).
The chips were good, and I especially liked the green salsa made with guacamole (which also makes a good topping for tacos). The red salsa was hotter but I though with not as appealing of a flavor as the green one.
Traditional Mexican style Aguas Frescas are served, and the choices change daily and seasonally. Out of the three I tried the watermelon was by far the best. The canteloupe was too sweet and too thin, and pineapple is one that I generally do not like as much as other flavors.
The restaurant was not as accessible as it should be on any of my visits because of the fact that picnic tables were blocking the path between the ramps and the door.
I have been informed that the restaurant is not affiliated with the restaurant of the same name in Ciudad Juárez, so I have not listed it as an additional location.
Go to Index
RESTAURANT DETAILS
RATING: 21
Cuisine: Mexican Chihuahua
Cost: $
Hours: Open Daily
Accessible: No
Smoking: No Smoking
Alcohol: No
Special Features: Open until midnight Mon.-Sat.
| | |
| --- | --- |
| Chile Index: | |
Most Recent Visit
Aug. 25, 2010
Number of Visits: 3
Best Items
Tacos de Carnitas, Salsa, Aguas Frescas, Baked Potato
Special Ratings
Tacos de Carnitas:


Flautas Mexico:


Chicken Mole:


Baked Potato:


Rice:


Beans:


Chips:


Salsa:

red & green
Watermelon Drink:


Pineapple Drink:


Cantaloupe Drink:

MORE ABOUT THIS WEB SITE