Marcello's Ristorante Italiano (Closed)
5380 N. Mesa St.
El Paso, TX


When I visit an upscale Italian restaurant I am usually looking for one of two things: either an across the board excellence in the food or a special dish that sets it apart from other restaurants. After one visit to Marcello's, one of the newest eateries on El Paso's west side, it is impossible to judge the quality of the menu overall. On the second criterion, finding a "special dish," Marcello's did not really do it for me with the dish I ordered. I did find an excellence in the food quality, though, that made me think there was the possibility of finding several outstanding items among Marcello's menu.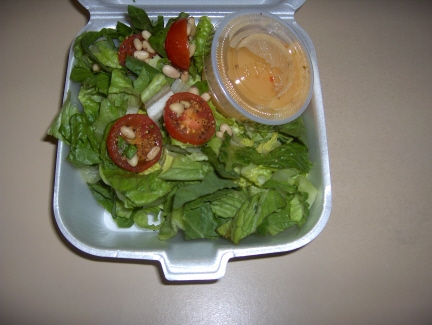 A fresh salad comes with dinners
As the photos indicate, I chose to get a take-out order on my initial visit. The complimentary salad was made with fresh greens, and I thought was equally good on my own plate as it would have been in the restaurant. I was equally pleased that they did not add salami or try to load it up with other types of meats, as many of the "old style" Italian restaurants do, primarily because they do not use the quality of lettuce that is found at Marcello's. People in El Paso do not seem to go to restaurants because of the salads, but this might change if all salads were as good as the one here.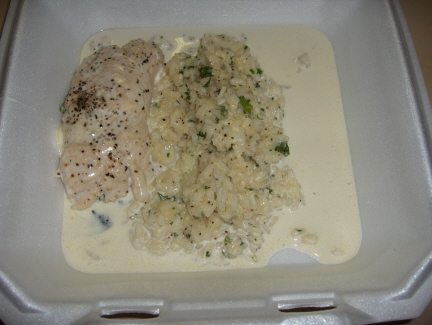 Pollo al formaggio in a gorgonzola sauce with risotto parmiggiana
Pollo al Formaggio was the entrée I decided to try, since I was looking forward to trying the gorgonzola sauce. It was disappointing in the sense that the sauce did not have the flavor I experienced in one of my favorite Italian restaurants on the west coast that serves a similar dish. The chicken, though, was very good, and was especially appropriate for diners like myself who only want the highest quality meat. In addition, though, the gorgonzola sauce was much more enjoyable than many of the cream sauces I have tried in other El Paso restaurants.
The chicken came with a side of Risotto that I enjoyed not only for the flavor, but also because it was the first time anything I had ordered in El Paso had come with this type of rice.
Marcello's has been open in east El Paso for some time, and apparently it has been popular enough to support a second restaurant on the west side. While the prices are a little steep, I could tell that everything was top quality.
I have heard that there is really no such thing as "Italian food," but that each region in Italy has developed its own cuisine and is known for its specialties. I think the same is true with El Paso's high end Italian restaurants: they are all slightly different with enough interesting twists in the food to make a visit to any of them worthwhile. I would certainly add Marcello's to the list of places I would like to visit again.
Go to Index
Restaurant Web Site
RESTAURANT DETAILS
RATING: 22
Cuisine: Italian
Cost: $$$
Hours: Open Daily
Accessible: Yes
Additional Location: 1360 N. Lee Trevino Dr.
Smoking: No Smoking
Most Recent Visit
May 12, 2008
Number of Visits: 1
Special Ratings
Pollo al Formaggio:


Salad:

MORE ABOUT THIS WEB SITE