Maria Chuchena Mexican Cuisine (Closed)
5860 N. Mesa St.
El Paso, TX



Maria Chuchena is one of several upscale Mexican restaurants from Ciudad Juarez that have opened in El Paso, making it much easier to get traditional Mexican food without crossing the border. Maria Chuchena proclaims itself to be a "Mexican" restaurant, serving chips and salsa before the meal, and concentrating largely on well known Mexican dishes such as tacos, mole, and tampiqueña steak. It serves a great variety of dishes, though, being closer to the type of food served in homes than the typical restaurant menu. I am very pleased that Maria Chuchena, along with several other restaurants now operating in El Paso, gives a more accurate representation of true Mexican cuisine than was found in the past.

The menu at Maria Chuchena includes dishes from several Mexican states, most of them located around Mexico City. Some of the staff told me the food was from "south of Mexico City," but in any case this is not the typical border cuisine. The restaurant looks more expensive than it is, but it is definitely upscale Mexican food.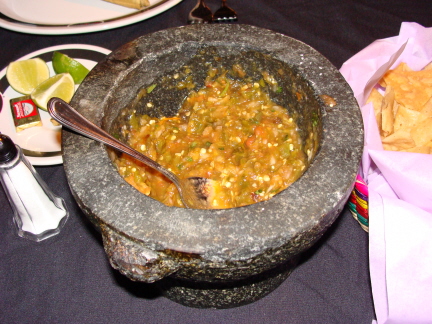 Salsa is made at the table
The Salsa is made at the table when customers are seated. In addition to being quite fresh, this has the advantage of allowing some flexibility in the ingredients that are used (and of how spicy you want it). This salsa was a definite plus to the meal.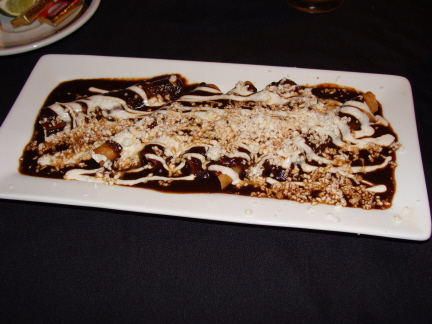 Coxitos is an appetizer of taquitos in chile pasilla sauce
My "cost category" rating indicates that Maria Chuchena is moderately priced, and this is true for most entrées. It might be argued, though, that it is worthwhile splurging and ordering some additional dishes such as one of the appetizers. The Coxitos, for instance, were almost a meal in themselves, and may substitute for a main dish (although without the normal side dishes). These were taquitos filled with shredded beef and covered with chile pasilla sauce and sour cream. The sauce was similar to a mild mole, and I thought was quite good.
Barra vieja with a red snapper fillet
Barra Vieja (pan seared red snapper) was one of several fish dishes available, and combined fresh tasting fish with Mexican style cooking. This had a talla style sauce ("red chili and garlic," according to the menu), with refried beans enfrijoladas covered with sour cream and cheese. Roasted potatoes and artichokes in mustard cream sauce were on the side. My usual comment about fish in El Paso is that this is not a seaport town, and I think the fish usually loses something in transport. The barra vieja at Maria Chuchena, though, was better than most. I thought the sauces used on the fish and on the potatoes were both quite good.
The table was comfortable, and it had somewhat of an upscale setting. However, the restaurant had several large screen televisions (with the sound turned down), and there was one large dining room, giving the impression that it wanted to be thought of as casual enough to bring the entire family. I thought it was much like Barrigas, except with the food being from farther south in Mexico.
I have been told by several sources that Maria Chuchena is known for its steak tampiqueña. It seemed, though, that everything they serve is good.
Go to Index
Restaurant Web Site
RESTAURANT DETAILS
RATING: 23
Cuisine: Mexican Interior
Cost: $$$
Accessible: Yes
Smoking: No Smoking
Alcohol: Beer, Wine
| | |
| --- | --- |
| Chile Index: | |
Most Recent Visit
Jan. 7, 2010
Number of Visits: 1
Best Items
Barra Vieja, Coxitos, Salsa
Special Ratings
Barra Vieja:


Coxitos:


Salsa:

MORE ABOUT THIS WEB SITE