Mesa Street Grill
2225 N. Mesa St.
El Paso, TX
(915) 532-1881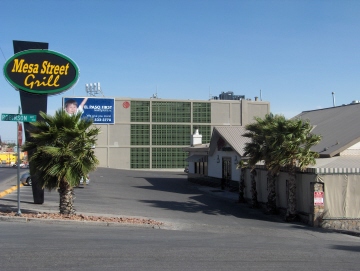 Mesa Street Grill is the kind of "fine dining" restaurant that one would expect to find in just about any city in the U.S., but is all too rare in El Paso. Everything here is upscale, in a way that makes you comfortable. The food and decor are both good. The service is genuinely good-- you are given what you need, at the right time, without the wait staff "hovering" over your table (a recent El Paso Times review pointed out that this was a deliberate strategy of the management).
The meal starts out with a soup or salad. All the salad dressings are made in house, and I can say that the greens are probably the best I have had outside of the Pacific Northwest.
A couple of the menu items were marked "New," and both were vegetarian. I tried the Pasta Primavera, and although it tasted good, I did not think it was a special dish worthy of a "special occasion" restaurant.
It is apparent that the fortes of Mesa Street Grill are the meat items and salads. The vegetarian dishes seem to be an afterthought (Kern Place Market is across the street, and does a much better job on non-meat items). However, if you like meat or fish, I think the two chefs and one pastry chef here will provide a pretty good meal.
Go to Index
Restaurant Web Site
RESTAURANT DETAILS
RATING: 21
Cuisine: American
Cost: $$$
Hours: Open Daily
Accessible: Yes
Smoking: No Smoking except on outdoor patio
Alcohol: Beer, Wine, Bar
Special Features: Outdoor Patio
Most Recent Visit
Feb. 21, 2005
Number of Visits: 1
Best Item
Salad
Special Ratings
Pasta Primavera:


Salad:

MORE ABOUT THIS WEB SITE