Important Notice:
An update of this review can be found at okgourmet.com .
Phő Tre Bién
6946 Gateway Blvd. East
El Paso, TX
(915) 598-0166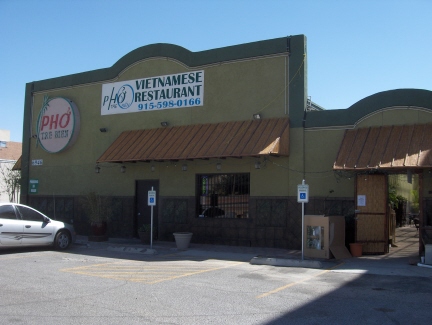 Phő Tre Bién (or Pho Tre Bien in case your computer has trouble reading the Vietnamese accent signs) is pretty much the type of Asian restaurant I like best. Not only is the food a good representation of the cuisine served, but the décor and the feel of the restaurant help create the sensation that one could be in Southeast Asia. Local residents are catching on to the pleasures of Asian style dining and the benefits of eating this type of healthy food.
Phő Tre Bién specializes in pho, rice dishes, noodle dishes, and banh mi sandwiches. Menu choices are not as varied as in typical large city Vietnamese restaurants, but I think customers will find most of dishes they would expect from this type of restaurant.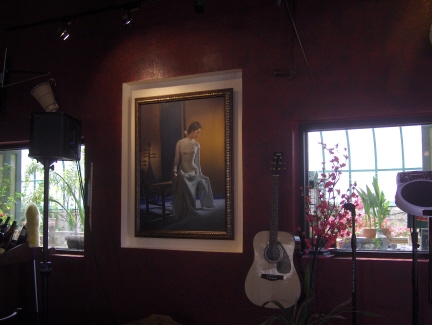 The walls are adorned with Vietnamese art work
When the restaurant first opened I was reluctant to explore the menu to a great extent because a large number of dishes contained MSG that was pre-mixed into many of the sauces. Now the preparation of the sauces has been modified so that MSG can be omitted if desired. The owner warns customers that the pho uses a sauce made elsewhere that may contain MSG, but I have not had a problem with it (I would likely get a headache if it had a significant amount).
From observation of a large number of patrons, I would say the pho is the specialty of the restaurant, and the most popular dish served. When Phő Tre Bién opened on Viscount Boulevard I usually stayed in my comfort zone of ordering the vermicelli noodle dishes, my favorite dish from Oklahoma City's Vietnamese restaurants, especially since Pho Tre Bien made a good vegetarian version. For those who enjoy a little meat with the meal, though, pho is a great choice, especially on days when hot soup seems to hit the spot. The vermicelli dishes can also be ordered with meat, and make a refreshing meal during the hot summer months when the lettuce and cucumber garnishes can be especially enjoyed.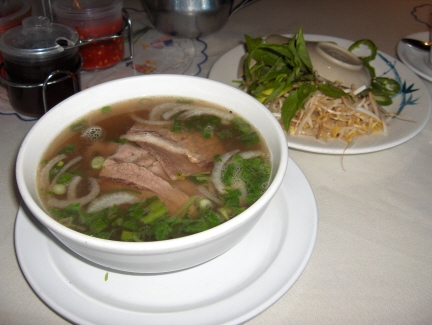 Pho comes with mint, bean sprouts, and vegetables on the side
I have tried a couple of styles of Pho here, with the rare steak being my favorite (and also the first one listed on the menu). Vegetables were served on a side dish, with the bean sprouts providing substance to the soup and the mint providing flavor. Lime and hoisin sauce can also be added to taste. All in all I thought the pho here was genuinely good, probably more because of the broth than anything else. The rare steak was not too shabby either.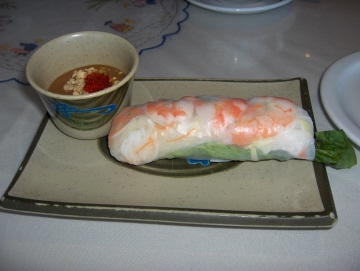 The spring roll makes a good appetizer
Spring Rolls as an appetizer seem to be as popular as the pho, and I would say they are equally good. The restaurant serves versions with shrimp and with shrimp and pork. I found out that there is a vegetarian version but it is listed on a separate section of the menu. A dipping sauce comes with it that tastes like a rather good quality peanut sauce. Although I have been blown away by some of the spring rolls I have tried on the west coast, the one here has not been too far behind. The wrap was fresh and the vegetables were good. I did not take a lot of time to analyze the spring roll, I just enjoyed it.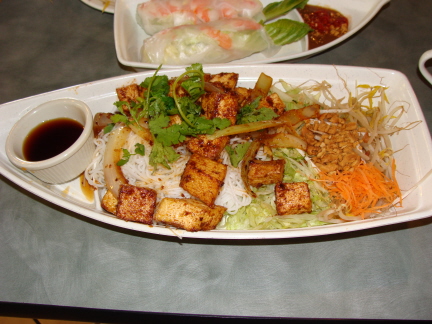 Tofu with lemongrass on vermicelli
One of my favorite dishes is Lemongrass Tofu served on vermicelli noodles. I started out ordering Mixed Vegetables on rice, but substituting bún noodles for the rice. At the new restaurant on Gateway East they have added the lemongrass tofu dish to the menu, so I do not have to substitute anything. I did find out, though, that the kitchen will prepare dishes the way you want if they are able, even if they are not on the menu.
One variation I have found with the vermicelli dishes is whether they will be spicy or not. The mixed vegetable dishes were not spicy, but came with a side dish of red chile that patrons could add to taste. By ordering lemongrass dishes, though, I think the cooks assume that the patron wants a little bit of spice, and they add some chile to the dish by default. If the customer has a preference about how spicy any dish should be, it is important to communicate it.
The lemongrass tofu does not have the variety of vegetables found in the mixed vegetable dish, but the lettuce, cucumbers, carrots, bean sprouts, and peanuts go just fine with the tofu. Thai style fish sauce is served on the side to add a traditional, but non-vegetarian flavor.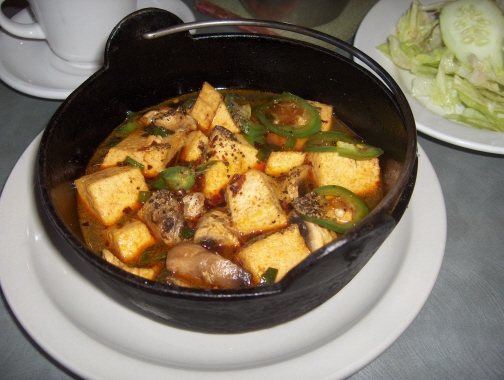 Clay pot tofu is one of the "House Specials"
Clay Pot Tofu is one of several varieties of clay pot dishes offered (others include fish, shrimp, chicken, or pork). This is a very spicy dish with a dark sauce at the bottom of the metal pot (I think clay pots are only used in Asia) served with mushrooms, lettuce, cucumbers, vegetables, and rice. I like to put everything on the rice, but it can be eaten straight from the pot if desired. I think Saigon Taste has mastered this dish, and the one here was a little less flavorful in comparison. I still enjoyed it, though, and thought it was one of Phő Tre Bién's better and more traditional dishes.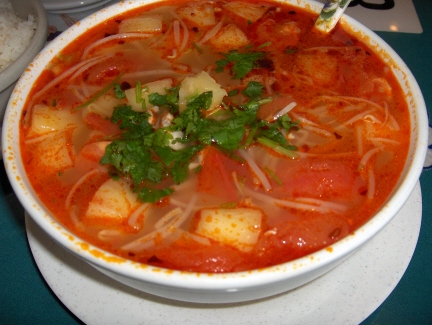 Vietnamese sweet and sour soup
The Vietnamese Sweet and Sour Soup is an example of a very good hot pot dish with the traditional Vietnamese sweet and sour taste comprised of pineapple and tomato. It makes a very substantial meal, and is good for sharing. The soup comes with a choice of meats, with the fish or shrimp being the traditional choices. Early versions of the dish I tried when the restaurant was on Viscount were served in a hot pot with a burner underneath to keep it warm. Now, however, it is served in a bowl--probably something that does not affect the flavor but it does not provide as much of an authentic experience. I have noticed a change of flavor over the years, though, with it being sweeter and less balanced on the "sour" side than before.
Banh Mi sandwiches come with a variety of meat, and the ones I have sampled have been pretty good. These come with fresh bread, fresh meat, and a good sauce. While the bread reflects the French influence in Southeast Asia, I still prefer rice or noodle dishes.
Phő Tre Bién was the original restaurant in El Paso that served bubble tea, and it is almost as expensive as the meal itself. I thought it was very good, though, and possibly worth the price if you are in the mood for it.
One thing I like about the restaurant is that it is open later than a lot of other places (until 10 p.m. every day except Sunday), so it makes a good "late night" hangout .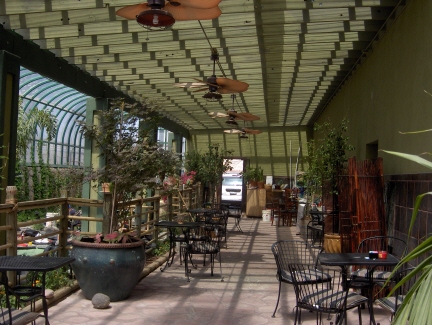 The restaurant's entrance is through the outside patio and greenhouse
There is an outside patio that for a long while looked as if it was still under construction, but tables are available to eat there regardless of whether the patio is officially "finished." The old restaurant on Viscount had outdoor patio, but this one looks as if it is enclosed.
The inside dining room is very comfortable and attractive with practically a museum of Vietnamese art work hanging on the walls. The new location on Gateway East near Hawkins has a larger dining room that I think makes for more comfortable seating than before.
Phő Tre Bién has had some changes in the food since it opened, and I believe this is due to different cooks that have been in the kitchen. Some dishes, such as the lemongrass tofu, seem to have gotten better over time. The Vietnamese sweet and sour soup is an example of a menu item I thought was better when the restaurant first opened. The fact that ingredients are now individually prepared to the point that MSG can be omitted is certainly an improvement.
One factor that has limited my sampling of different items is the fact that many plates are very large and are meant to be served family style (shared by a group of people) as is the tradition in many Asian restaurants. These include hot pot dishes and meats that I would consider too much for the average lunch, and even for the average dinner. The cost of these dinners is rather high as well, but would not be so if shared by several people.
El Paso has a rather small Asian community, but it seems that a good number of people come to Phő Tre Bién, giving their stamp of approval that this is not the typical Americanized Asian food.
I have heard that Phő Tre Bién now has another location on Fred Wilson just off of U.S. 54 where True Thai used to be, but I have not yet tried it.
Go to Index
Restaurant Web Site
RESTAURANT DETAILS
RATING: 22
Cuisine: Vietnamese
Cost: $$
Hours: Closed Wed.
Accessible: Yes
Additional Location: 4309 Fred Wilson Ave.
Tea: Jasmine (loose leaves)
MSG: Yes
Smoking: No Smoking
Most Recent Visit
May 6, 2009
Number of Visits: 10+
Best Items
Pho, Vermicelli Lemongrass Tofu, Spring Rolls
Special Ratings
Pho:


Lemongrass Tofu:


Vietnamese Sweet and Sour Soup:


Clay Pot Tofu:


Banh Mi Sandwiches:


Curry Chicken:


Spring Roll:


Bubble Tea:

MORE ABOUT THIS WEB SITE